With the discovery of the new variant of coronavirus, the Czech covid travel restrictions defined by the Ministry of Health remain to be tight. While travel to the Czech Republic from outside, an EU Member State or Schengen Associated Country remains banned, people from EU Member State or Schengen Associated Countries are allowed to travel to the Czech Republic, but only for essential reasons. However, the Czech Ministry of Health has issued a list of high-risk, medium-risk countries that have strict restrictions. Travelers from low-risk countries can move freely.
Fill the Czech Passenger Locator Form now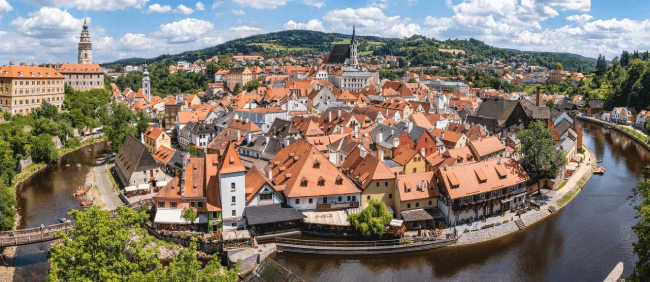 Why should I apply in advance?
Applying in advance keeps you tension-free and is a cheaper option. Moreover, obtaining your QR code(s) for the Czech airport processing will significantly reduce airport screening and processing time. You will also be able to get your pre-travel testing done in time for departure.
Visit iVisa.com and apply now to get the best travel experience and find out more about Czech covid travel restrictions.
Frequently Asked Questions
We are aware of the dubiety around the topic of traveling during the coronavirus pandemic. Hence, we try our best to answer all your questions about Czech covid travel restrictions and ensure safe travels. Learn more about this process by visiting iVisa.com.
Do I need a COVID vaccine or vaccination certificate to enter Czech Republic?
No, you don't. As of today, COVID vaccination passports or certificates are not a mandatory to enter the Czech Republic. Now if you are a Covid vaccine certificate holder, you won't need to present a negative PCR test nor to follow a quarantine.
Approved vaccines are Pfizer, Moderna, AstraZeneca, Janssen, Sputnik V, Vero Cell.
Since information may change quickly, we advise you to follow up on the latest Czech Republic travel updates and/or contact your local embassy.
What is the application process?
The application process with iVisa.com is as easy as it can be. All you need to do is:
Go to iVisa.com.
Fill your application form carefully.
Select your processing time.
Make sure to scan and attach required documents to your form before submitting it.
Make payment for your application via the mode of payment of your choice.
Which risk category is my country?
Travelers arriving from low, medium, high and very high-risk countries are able to travel to Czech Republic for the purpose of visiting friends or tourism. Only residents of the Czech Republic can travel from the extreme-risk countries.
Low-risk countries: Argentine, Australia, Bahrain, Chile, Jordan, Canada, Colombia, the Republic of Korea, Saudi Arabia, Namibia, New Zealand, Peru, Rwanda, United Arab Emirates, Qatar, Kuwait, Taiwan, Uruguay, Vatican, Hong Kong, Macau
Medium-risk countries: France, Italia, Malta, Monaco, Portugal, Spain
High-risk countries: Finland, Cyprus, Luxembourg, Norway, Poland, San Marino, Romania, Sweden, Switzerland
Very high-risk countries: Rest of the world
Extreme-risk countries: None
What are the specifications for high-risk countries?
Czech covid travel restrictions require travelers from red or high-risk countries to:
Submit an antigen or PCR test taken within 48 hours or less.
Fill in the Czech Passenger Locator Form.
Take a second PCR in the Czech Republic within the 5th day from entry.
Self-isolate until submission of the second PCR test
What are the specifications for medium-risk countries?
The Czech covid travel restrictions mandate that travelers from all orange or medium-risk countries:
Submit an antigen or PCR test done within 48 hours or less.
Fill the electronic Czech Passenger Locator Form
Do I have to quarantine once I arrive in the Czech Republic?
There are no quarantine requirements for fully vaccinated travelers.
Travelers coming from low-risk and medium-risk countries can enter the Czech Republic for tourism purposes without quarantine provided testing or vaccination requirements are met.
Unvaccinated travelers coming from high-risk and very high-risk countries need to quarantine for 5 days and take a PCR test after day 5 in the Czech Republic before finishing their quarantine.
Only residents of the Czech Republic can travel from the extreme-risk countries. Unvaccinated travelers are required to undergo a PCR test within 24 hours of entering the Czech Republic and quarantine for 10 days and undergo another PCR test after the 10th day.
What is the Czech Passenger Locator Form?
The Czech Passenger Locator Form is a screening travel document designed to collect information from arriving visitors to the Czech Republic. It is mandatory for all travelers to fill this form. This document will help track any possible infection entering the country.
What are the other essential documents required?
According to Czech covid travel restrictions, the following documents will be required while applying via iVisa.com along with Czech Passenger Locator Form:
A valid photo ID
Passport: A valid passport that does not expire for at least 3-6 months is an absolute necessity.
Certificate of Health.
Proof of Accommodation.
Email Address: A functioning email is required to remain updated about the progress of your application and to receive your documents.
Credit card/Debit card/ PayPal: These will be required to make payments for your form so it is important to attach a valid payment route.
To learn more click here
Do I need to follow the procedure if I am traveling from the United Kingdoms?
Citizens of the United Kingdoms cannot travel to the Czech Republic. The Czech covid travel restrictions only permit Czech citizens or those who hold residency or a long-term valid visa for the Czech Republic to enter the country from the United Kingdoms. All travelers must follow the guidelines set forth for the red countries.
What is the processing time and price?
The following options are at your disposal with iVisa.com :
Standard Processing; which allows you to get your documents at a cheaper cost

USD 20.00

-

24 hours

.
Rush Processing; which helps you get your documents quicker than the standard processing time with a little extra charge

USD 35.00

-

8 hours

.
Super Rush Processing; which helps out in case of extreme urgency as you can get your documents immediately. Extra charges are applied

USD 60.00

-

4 hours

.
How safe is iVisa.com?
iVisa.com holds responsibility for your travel documents and promises utmost discretion of them. Take a look at our website to see what our clients have to say about our policies and services.
I still have questions, what do I do?
Our customer support is employed 24/7 to solve all your queries. If you are still left with questions, you can visit iVisa.com for more information.
iVisa.com Recommends
Despite being a small country in Europe, the Czech Republic does not disappoint when it comes to tourism. It's almost like the quest for paradise ends in the Bohemian Paradise in Prague. Amid the most beautiful rock towns, interesting castles, sandstone towers, and the well-preserved folk architecture, one is destined to be lost. The incomparable beauty of rocks can be seen in Prachovske Rocks, which flaunts the impressive Císařská chodba and the prospects of Peace. Hruboskalsko Town will mesmerize you not only with thousands of impressive Rock Towers and beautiful hiking paths but also with an interesting Rock Castle and a Kopic estate.
Talking about castles, it's difficult to ignore the Drábské světničky (Beadles dwelling), with its infamous history of inconvertibility. The sight of river Jizera shadowed over by the Sandstone rock towers connected by wooden bridges is nothing short of Paradise.
iVisa.com wishes you a safe journey to your paradise!