The discovery of the new variant of coronavirus has travelers wondering, is there quarantine in Czech Republic? The answer to that is, yes, there is a partial quarantine situation in the country. The Czech Ministry of Health has prohibited Czech citizens and foreigners living in the territory of the Czech Republic to travel to an EU Member State or Schengen Associated Country. It has also issued a list classifying the EU Member States or Schengen Associated Countries as high-risk, medium-risk, or low-risk on the basis of the risk of COVID-19 transmission. Traveling to these countries is allowed but only for essential reasons. The high and medium risk countries have strict restrictions while travelers from low-risk countries can move freely. However, all travelers must first fill out the Czech Passenger Locator Form.
Fill the Czech Passenger Locator Form now
Note: Since April 9th, 2022, the Czech Republic Passenger Locator Form is no longer necessary to enter the country.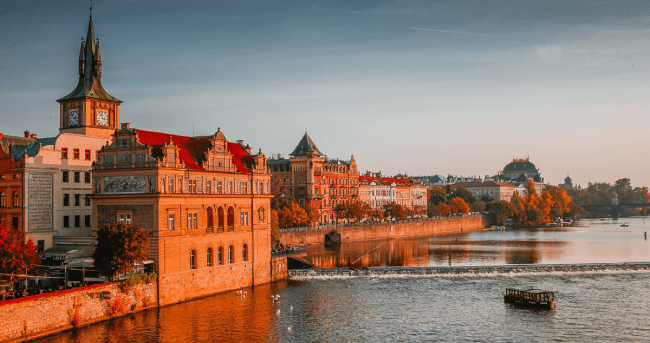 Why should I apply in advance?
Applying in advance is a lot more convenient. You will be able to get your pre-travel testing done in time for departure and your journey will be totally hassle-free.
Apply now to get the best travel experience and find out more about Is there quarantine in Czech Republic.
Frequently Asked Questions
We know now nervous traveling during the coronavirus pandemic can make you. Hence, this portion is dedicated to answering all your questions, including 'is there quarantine in Czech Republic?' Visit iVisa.com for more information.
Do I need a COVID vaccine or vaccination certificate to enter the Czech Republic?
No, you don´t need a COVID vaccination certificate to enter the Czech Republic.
Approved vaccines are AstraZeneca, Moderna, Pfizer, Janssen, and Covishield.
You are considered vaccinated if all doses of a vaccine against SARS-Cov-2 have been administered for at least two weeks before traveling.
Since information may change quickly, we advise you to follow up on the latest Czech Republic travel updates and/or contact your local embassy.
Do I need to take a COVID-19 PCR test before traveling to the Czech Republic?
COVID test requirements: There are no testing requirements.
What is the application process?
iVisa.com likes to keep things as simple as possible. All you need to do is:
Click on iVisa.com.
Fill in your application form carefully.
Select your processing time.
Make payment for your application via the mode of payment of your choice.
Scan and attach required documents to your form before submitting it.
Do I have to quarantine once I arrive in the Czech Republic?
Quarantine requirements: There are no quarantine requirements in the Czech Republic.
What is the Czech Passenger Locator Form?
The Czech Passenger Locator Form is a screening travel document designed to collect information from arriving visitors to the Czech Republic. It is mandatory for all travelers, of all ages, to fill in this form. This document will help track any possible infection entering the country and thus ensure safe traveling. Note that this form does not, in any way, replace a visa.
What are the other essential documents required?
The following documents will be required while applying at iVisa.com along with Czech Passenger Locator Form:
A legally valid photo ID
A passport that does not expire for at least 3-6 months is an absolute necessity.
Certificate of Health
Proof of Accommodation
A functioning email is required to remain updated about the progress of your application and to receive your documents.
Credit card/Debit card/ PayPal: These will be required to make payments for your form so it is important to attach a valid payment route.
To learn more click here
Is there quarantine in Czech Republic for travelers from the United Kingdoms?
Citizens of the United Kingdoms cannot travel to the Czech Republic. Only Czech citizens or those who hold residency or a long-term valid visa for the Czech Republic are allowed to enter the country from the United Kingdoms. All travelers must follow the guidelines set forth for the red countries. So is there quarantine in Czech Republic? Yes!
What is the processing time and price?
iVisa.com gives you a variety of options:
Standard Processing; which allows you to get your documents at a cheaper cost.

USD 29.49

-

24 hours

.
Rush Processing; which helps you get your documents quicker than the standard processing time with a little extra charge.

USD 51.99

-

8 hours

.
Super Rush Processing; which helps out in case of extreme urgency as you can get your documents immediately. Extra charges are applied.

USD 90.99

-

4 hours

.
How safe is iVisa.com?
The team at iVisa.com works with absolute discretion to ensure the safety of your travel documents. Please refer to our website to see our client's testimonials about our policies and services.
I still have questions, what do I do?
Do visit our customer support at any time, to for any queries. We're happy to oblige. If you are still left with questions, you can visit iVisa.com for more information.
iVisa.com Recommends
With the fascinating century-long history of the Czech Republic comes splendid Romanesque, gothic and baroque architecture. It is almost impossible not to find this place fascinating when you can visit the largest castle in the history of the world. It is the Prague castle, located in the city's Hradcany neighborhood. This castle, existing from the late 10th century, has been home to Holy Roman Emperors, the Habsburgs, the Bohemian kings, and even the Czech Republic's president lately.
Here you can avail yourself English guided tours to its various highlights that will immediately connect you to its history and culture. Its most significant highlight is the Old Royal Palace that has the magnificent Vladislav Hall, and 16th century the Royal Garden which flaunts a Singing Fountain. You can't have a city break to Prague without making the most of the lively nightlife. Keep an eye out for groups of men and women celebrating upcoming weddings on European-style hen and stag parties.