If you are looking to discover some incredible nature in the Czech Republic, then you must visit the Krkonoše National Park. Take a cable car ride or do some trekking to reach the park's highest peak, Sněžka. The breathtaking panoramic view is unbelievable. Start planning your trip to the Czech Republic and check the latest news about entry guidelines.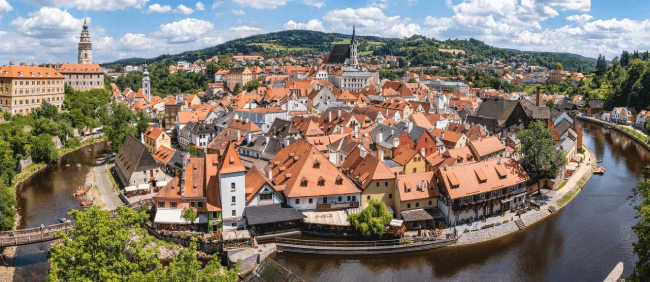 Citizens of Uruguay who want to visit the Czech Republic should know about the Czech ETIAS. ETIAS is the new mandatory form for international visitors.
You can relax because iVisa.com is already working on the Czech ETIAS, so you can enjoy a fast, simple and reliable product.
Do you want to explore more of the Czech Republic? Then keep reading about the ETIAS.
Frequently Asked Questions (FAQs)
What is ETIAS?
ETIAS is an authorization document implemented by the European Union to collect information from international visitors. ETIAS is the acronym for European Travel Information and Authorization System.
Due to high crime rates and illegal immigration, the EU will use ETIAS's information to detect potential threats to European countries.
The ETIAS is easy! Continue exploring more with iVisa.com!
I'm a citizen of Uruguay, should I obtain an ETIAS?
As a citizen of Uruguay, you need an ETIAS to enter the Czech Republic. Any country that is visa-free to the Schengen area will need to acquire a Czech ETIAS. In this case, Uruguay is part of that group of countries.
Is the Czech ETIAS valid for different countries in Europe?
This will depend on the countries you would like to visit. The Czech ETIAS is valid for the 26 states in the Schengen zone, but you should be careful because not all countries in Europe are part of the Schengen agreement. Use the iVisa.com Visa Checker to confirm you only need an ETIAS for the countries in your itinerary.
Ready to start your European journey? Citizens of Uruguay can explore further here.
Is Czech ETIAS valid for several trips?
The Czech ETIAS doesn't establish a limit for trips to the Schengen zone. However, review the next characteristics:
What is the required information?
Uruguay citizens should provide details about name, address, date of birth, education, nationality, among others. As well, there will be questions about any criminal past and previous trips to risky countries.
Make sure you also have the following:
Not sure you have the right docs? Connect with a customer service agent to clarify if you have the correct documentation.
What are the processing times?
Citizens of Uruguay have the following alternatives:
Which are the steps for the Czech ETIAS?
Uruguay citizens only need to go through the next three steps:
What will I receive in my email?
You will receive the Czech ETIAS in your email inbox. Uruguay citizens should provide a valid email address during their application so they don't have issues receiving the ETIAS. At your arrival, show the ETIAS document to airport officers.
We want you to have a smooth entry, so start by checking the ETIAS application.
I have children in my group, do they also need an ETIAS?
Of course! Non-EU visitors, like Uruguay citizens, will need an ETIAS before arrival. Children are not exempt from the rule, so start the application of every child you have in your travel group.
Can I trust iVisa.com with the ETIAS?
iVisa.com is a 100% trustworthy company. iVisa.com works with a professional team that manages every travel document with the highest quality standards.
Feel confident choosing iVisa.com by exploring our customers' reviews.
Who should I contact for further info?
Reach out to our iVisa.com support team that is available 24/7. As well, you can send an email to help@ivisa.com.
Apply with iVisa.com and travel to Europe!