Planning a trip to Prague? Just keep in mind to add the spectacular libraries in the Clementinum and Strahov Monastery in your travel itinerary. These three libraries are the oldest and loveliest libraries in Europe. The National Library of the Czech Republic is one of the largest libraries in Europe and you can find a large number of interesting things like the library hall for its frescoed ceiling and the Astronomical Tower for lovely views. The Philosophical Library and the Baroque Theological Library for beautiful furnishings & paintings of ceilings and stucco work respectively. Visiting Czech from Palau? Make sure to apply for a Czech ETIAS before your departure date.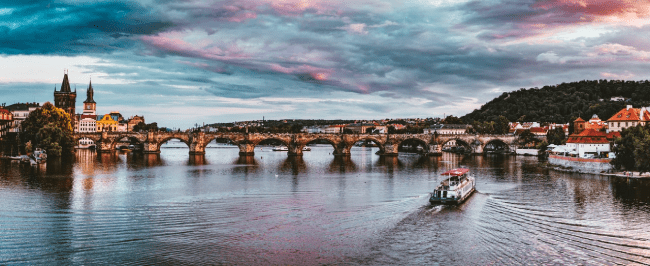 If you don't have time to apply for Czech ETIAS by yourself, you can contact iVisa.com to obtain your travel document easily and quickly. You have to fill in an online application form that asks for your basic personal information like full name, contact details, passport, and birth details. You will receive your document depending on the processing time option you choose.
You can get more details about Czech ETIAS for the citizens of Palau by reading the following FAQs:
FREQUENTLY ASKED QUESTIONS
What does Czech ETIAS mean?
Czech ETIAS is a mandatory travel document that is newly developed by the European Union to regulate the entry of illegal immigrants and control terrorism by enhancing border security. This document is required by the Czech government from the citizens of any of the visa-free countries like Palau.
How does the Czech ETIAS process work?
When you apply for a Czech ETIAS you will provide some of your basic details. These details will be checked against different databases. If any discrepancy will be found, your document will be rejected. Therefore, you must provide all the correct information about yourself in the application form. Your ETIAS will be approved when the government officials will find it perfect.
What if my ETIAS got rejected?
If the ETIAS is rejected, you can appeal for re-application based on the reason given for the denial of your travel document. After applying for this travel document, an email provides you with the reason for your denial.
What time is required for the processing of Czech ETIAS?
The processing of your Czech ETIAS depends on the processing time option you select. There are three types of processing time options with a different price range, you can select that suits you best. We cannot provide you exact processing time as this document is still not operational. But it will give you an idea about the alternatives:
Standard Processing Time Alternative: This option is selected by most people as it is the most affordable option. You will receive your document in a standard amount of time with this option.
Rush Processing Time Alternative: You will get your travel document in a quicker amount of time when you apply with this option. The price for this option is a little on the higher side.
Super Rush Processing Alternative: This is the most expensive alternative that provides you with your travel document at our quickest rate.
How can I apply for Czech ETIAS with iVisa.com?
The application process for a Czech ETIAS is very simple with iVisa.com. You have to follow 3 easy steps and you are all set to get your document in the shortest possible time.
First, fill out the online application form to provide your basic personal information.
Second, re-read the information provided to double-check any incorrect information.
Third, upload your documents, pay your fees according to the processing time, and submit your application.
Can I find iVisa.com services reliable for Czech ETIAS?
Yes, you can completely rely on the services of iVisa.com for a Czech ETIAS. We utilize advanced systems for security. So, your documents will be safe and secure with us. There will be no information breach.
How do I clear my doubts regarding ETIAS?
You can go to our website to clear your doubts regarding ETIAS. You can also email our customer care representatives to get more info regarding this travel document.
We hope to see you traveling soon. Allow us to help you start here.