Konopiste Chateau is one of the loveliest places in the Czech Republic. It is almost fifty kilometers away from Prague. This place was established in the 13th Century and became famous as the final residence of Austrian Archduke Franz Ferdinand. You can see the bullet that killed him in the museum of Chateau. Also, there is a display of animal trophies and many original artifacts owned by Archduke once. Other attractions in this place are a collection of ancient armor and weapons, a lovely garden, and an indoor shooting range. Planning a trip to Konopiste Chateau from Saint Kitts and Nevis? You need to understand and apply for a Czech ETIAS before your departure date.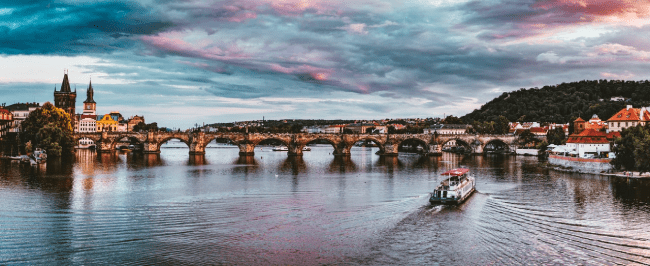 Czech ETIAS is an online travel authorization document that has to be applied and obtained online. You don't need to visit the embassy to get this travel document. You don't have to worry about its procedure and how to apply for this document! Contact iVisa.com and use our amazing services for travel-related documents. To understand better about Czech ETIAS for the citizens of Saint Kitts and Nevis check the following FAQs:
Frequently Asked Questions (FAQs)
What is Czech ETIAS for the citizens of Saint Kitts and Nevis?
Saint Kitts and Nevis fall under the category of visa-exempt countries and by 2022 every citizen of this country requires an ETIAS to enter any of the Schengen countries in Europe as per the new rule passed by the European Union. For instance, if you are a citizen of Saint Kitts and Nevis and planning a trip to Czech, you need to apply for a Czech ETIAS.
For how long I can stay in Czech with Czech ETIAS?
When you submit an application for Czech ETIAS and obtain your travel document, it allows you to enter Czech multiple times for 3 years. You can stay in the country for a maximum of 90 days within this duration. You can also visit other countries that come under the Schengen zone as well.
If I am traveling with my kids should I apply for Czech ETIAS for them as well?
Yes, you need to apply for your kids as well if they are traveling with you to Czech because it is mandated by the European Union that every citizen of visa-free countries should apply for a Czech ETIAS before their travel to the Czech Republic.
What are price options for the processing of Czech ETIAS?
This travel document is a newly developed document and not yet operational. Hence, it is difficult to get exact information about price options for processing of your Czech ETIAS. We can give you an idea about this information when you apply for this document with iVisa.com but note that we can tell you about processing options that will be available:
Standard Processing Time: Get your document in a standard time by paying the most affordable cost for the processing time.
Rush Processing Time: Get your document in a quicker time that standard by paying a little extra amount than the standard one.
Super Rush Processing Time: Get your document as quickly as we can get it to you by paying the most expensive cost for processing time.
What is the procedure to apply for a Czech ETIAS for the citizens of Saint Kitts and Nevis?
When you associate with iVisa.com for obtaining your Czech ETIAS you need to follow three easy steps. These steps are:
First, go to our website and fill out an application form available with some basic personal details.
Second, before submitting your application you need to recheck all the answers you have given so that you can avoid any incorrect information.
Third, upload the required documents like passport and photograph, etc. and then submit the application.
Can I trust iVisa.com for Czech ETIAS for the citizens of Saint Kitts and Nevis?
Yes, iVisa.com services can be completely trusted for Czech ETIAS and other travel-related documents. We provide complete online services and assure you that your documents will be safe with us.
How can I resolve my unresolved queries regarding Czech ETIAS for the citizens of Saint Kitts and Nevis?
You can resolve all your unresolved queries by contacting our customer care executive through email. You can also visit our website to get more info about Czech ETIAS.