If given a chance, who wouldn't want to visit the "heat of Europe"? The Czech Republic is not only literally in the middle of Europe, but its location gives any tourist the best flavor of the continent.
One can easily travel within the Czech territory to discover small towns filled with enchanting castles and the long yet complex history of the land. Did you know that the Czech Republic has 12 UNESCO World Heritage Sites, which is more than in Austria, Jordan, or even Egypt? So if culture is what you want to find in Europe, the Czech Republic is your best option.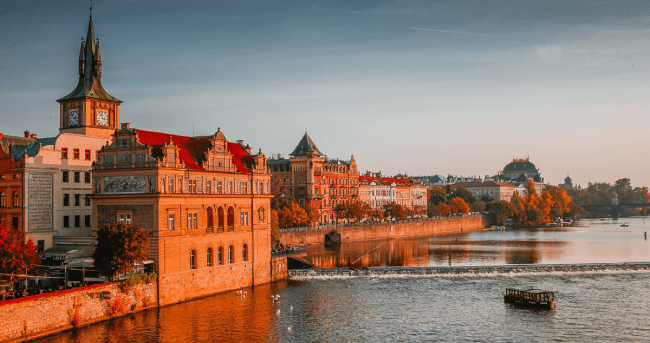 What is even greater for citizens of Canada is that they can visit the country for a short time with no Schengen visa required. The only negative is that very soon all visitors nationals from Schengen visa-free countries will need to apply for a Czech ETIAS before starting their travels.
But being able to keep traveling easily from Canada to the Czech Republic with only the request of one document is still better than going through a heavy embassy process to get a Schengen visa. You must only consider that this document will only be available for travelers flying for leisure, business, or medical visits.
The following article has gathered the most relevant FAQs that explain the Czech ETIAS process for citizens of Canada. You can also find info on the online application with iVisa.com and the primary documents needed for the authorization.
Frequently Asked Questions
Why do Canadian citizens need a Czech ETIAS?
The Czech ETIAS is a travel document that will be required for any traveler entering a Schengen country and arriving with a nationality passport from a visa-exempt country. With an approved ETIAS application form Canadian citizens are authorized to visit the Schengen Area destination for a short-time period and with the purpose of business, leisure, or medical visits. ETIAS will serve as a prescreening process for all incoming travelers to increase the security system in the Schengen region.
Do all citizens from Canada need the ETIAS?
All Canadian citizens that wish to visit any of the Schengen countries must request an ETIAS before traveling. The document will allow you to enter the Schengen states freely and with multiple entries flexibility.
Citizens of all ages must send their applications before their trip. What may change is the price for travelers younger than 18 and older than 70 years old.
Which countries can I visit with the Czech ETIAS?
The Czech ETIAS was made by the Schengen members and is valid to visit any of these member countries. Therefore, travelers with their approved ETIAS document can visit unlimited times the Schengen countries for a short time of 90 days every 180 days while the ETIAS is still valid.
How long can I travel with ETIAS?
Once you have applied for the ETIAS and have your approved results, you are allowed multiple entries to the Schengen countries, and your stay can be of no more than 90 days during 180 days. And yet, the validity of ETIAS can be limited for the duration of your trip or up to 3 years.
How fast can I get the Czech ETIAS?
Although the Czech ETIAS application is straightforward and fast, once submitted, there is no definitive time frame in which you get results. By applying with iVisa.com, you can determine the specific speed at which you want your application to be processed and get your results.
The processing speed options with iVisa.com are:
Standard processing speed: After application submission, results are delivered in 24 hours.
Rush processing speed: Once you submit your form, you'll result will arrive in about 4 hours.
Super rush processing speed: After you fill out the form and submit it for processing, you will get your ETIAS results in 30 minutes.
Which is the application process of Czech ETIAS for citizens of Canada?
The online application for the ETIAS can be done following three steps:
First, you must fill out the questionnaire with your details, and select the processing speed you want to apply for your application from the options mentioned above.
Second, confirm that the info from the previous step is correct, and pay the online fee.
Third and final step is to answer any additional questions regarding the ETIAS and submit.
By doing it through the iVisa.com platform, if you have any problems, you can contact the 24/7 support service.
How reliable can the iVisa.com platform be?
Providing your personal details to any platform can create some doubt about the safety of it against digital threats. To ensure you trust iVisa.com, its platform and databases are protected by a reliable security system that will keep each piece of your info well-kept during your ETIAS application process.
You can find honest reviews from our past clients about our services here.
Do I need to know anything else about the Czech ETIAS?
The top essential and useful facts about the Czech ETIAS are found above as part of the FAQs. While making your online application you must remember to double-check your information, so it's not immediately rejected. If you have any questions regarding the subject, you can contact us through a message or review the iVisa.com website.