The Czech Republic or Czechia is found as the hidden gem to Central Europe that travelers are starting to discover. And to some travelers like citizens of El Salvador, being part of the Schengen visa-free program, there's an easy pass for them to enter the country.
You must have Czechia as your travel destination if you're looking for adventure, culture, gastronomy, and why not add a fantastic transportation system. The country might have a medium size, but there's a lot of ground to go through and enjoy each castle spread around the country, and beautiful town architectures.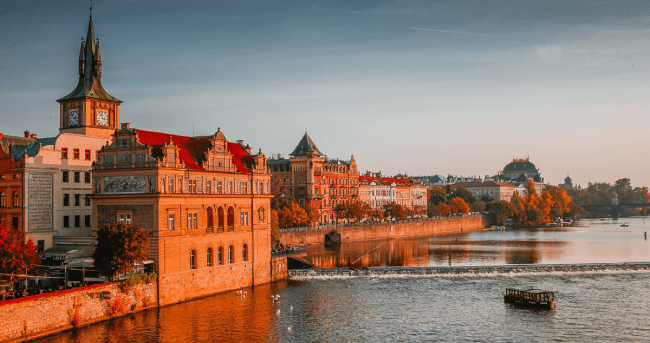 If you think the Czech Republic doesn't have enough attractions to cover your trip, you can easily visit the nearby Schengen countries with a quick train ride, bus trip, or an express flight. Its unique location can fit all travel budgets and adventure quests you want.
These plans can still continue to work for citizens of El Salvador and other travelers, but will soon have only one requirement to do so, the ETIAS. All travelers arriving from Schengen visa-free countries will be required to apply and present their Czech ETIAS before departing.
The ETIAS authorization pass will work as prescreening of the incoming tourists to have a better tracking system and revision of the visitor transit to reduce illegal immigration and terrorism in the Schengen region.
In this document are the most important FAQs, which explain the Czech ETIAS requirements for citizens of El Salvador. The content also includes the application process, and how iVisa.com can help you speed up the submission.
Frequently Asked Questions
Why is an ETIAS needed for citizens of El Salvador?
At the moment, foreigners that travel with any national document from a Schengen visa-exempt country will be the only ones required to hold a Czech ETIAS travel authorization. This document will allow them to continue their simplified access pass to any of the Schengen countries, but only for a short period of no more than 90 days.
The ETIAS will be a mandatory travel document for all incoming visitors, so you will need to apply for one before departing your country.
How does ETIAS benefit El Salvador citizens?
The Czech ETIAS will work for the Schengen governments as a prescreening process for all travelers arriving with a national document from any Schengen visa-exempt country. Carrying an approved ETIAS travel authorization allows the visitors to enter any of the Schengen countries on a multiple entries condition.
Can I visit all European countries with the Czech ETIAS?
The ETIAS is a travel document created by the Schengen region members and implemented on the condition of being valid only to access Schengen countries. This means that once you apply for the ETIAS document and receive the approved results, you can travel among any of the Schengen states whether they are part of the European Union or not.
Is the ETIAS validity different for tourists?
The requirement of applying for a Czech ETIAS to visit the Schengen countries is only valid for travelers looking for a short trip as tourists or business purposes. The validity you might get for this authorization will depend on the information you provide on your application form. Although there is still no definitive results on the validity of it, it's most likely to be given to travelers a validity length of the planned journey, or a maximum of 3 years.
For how long can citizens from El Salvador stay in the Czech Republic with ETIAS?
Before applying for an ETIAS, you should have a basic idea of the countries in the Schengen Area you will want to visit and for how long. You must consider that the ETIAS is a travel document for all travelers planning short visits of no more than 90 days. This means that you can stay in the Czech Republic or other Schengen countries for no more than that time, for 180 days.
And still, the length of your stay will be determined by the validity the ETIAS is given to you.
What do I need to apply for the Czech ETIAS?
The ETIAS application process is very straightforward, and as part of the requirements of the Czech ETIAS for citizens of El Salvador, you will mainly need your passport information. These are the primary documents you will need to complete your ETIAS application:
Passport: you will need it to include your necessary information, and additionally, a digital copy of it in case the application asks for an uploaded version of it.
Email address: you must provide your current and valid email address to receive any notification about the ETIAS process results.
Way of payment: because it's an online process, the payment shall also be made online. You can use a PayPal account or a debit/credit card to make the fee payment.
How can El Salvador citizens apply for the Czech ETIAS?
Citizens from El Salvador can apply for their Czech ETIAS through the official government website, or you can also choose to start your application with iVisa.com. Its services include an easy and not tedious application process that also has the option and flexibility of specifying how fast you want your ETIAS results delivered.
Choose the more accessible process, and start your process with this iVisa.com 3-step method:
1.First, you must fill out the application questionnaire with your data, and choose the best processing option that fits your documentation needs.
Standard processing option: is the cheapest option for a secure application process but will take regular time to get the results delivered.
Rush processing option: is a slightly more expensive option to getting your ETIAS application submitted and processed faster than the standard option.
Super rush processing option: will be the most expensive processing option, but it will deliver your application results in less time than any other.
2.Second step is to revise that the information you have provided is correct, and pay the online fee.
3.Finally, you should upload any document that has been requested during the application form, and when you see every complete, click on submit.
How safe is the iVisa.com platform for my details?
Starting your ETIAS online application through the iVisa.com platform will ensure that your information is secure from creating your account to submitting your form. The website works with the most reliable security system to keep your data safe while you finalize your application, and it's submitted for analysis.
Here are some reviews from our past customers' about the iVisa.com services.
Where can I find more data on Czech ETIAS?
For more details about the Czech ETIAS for citizens of El Salvador, we recommend you send us a message with your query for support. You can also visit the iVisa.com website for general information and tips on how the platform can make your ETIAS application easier.