As a citizen of Azerbaijan, you must apply for a Schengen Visa to enter the Czech Republic. This is necessary because Azerbaijan isn't one of the Schengen visa-free countries. Plus, the Czech Republic has been part of the Schengen area since 2007.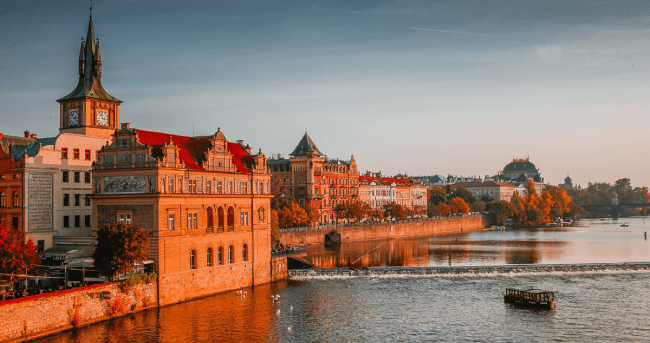 Getting this visa by yourself is a little bit tedious, but this process might change in the future thanks to the online application we're already developing at iVisa.com. This way, you could receive your Czech Republic Schengen Visa for Citizens of Azerbaijan in less time than doing it all on your own.
In the article below you'll learn more details about this visa and what you need to apply for it.
Frequently Asked Questions
What is a Czech Republic Schengen Visa and why is it important?
The Schengen Visa is one of the most important documents to enter the Schengen Area, at least for those countries that don't have a visa-free agreement with the EU. As you can guess, Azerbaijan is one of those countries, so you must apply for a Schengen visa to visit all the countries in the Schengen Area.
The Schengen Visa is a conventional visa that grants you legal permission to travel to the Schengen zone for a short time (you can stay there only for 6 months).
This document is available only by going to a local embassy that issues it. However, we'll be able to help you with this matter soon.
Get more details about the Czech Republic Schengen Visa for Citizens of Azerbaijan on this link.
How many types of Czech Republic Schengen Visas are there?
Keep in mind that mentioning the Czech Republic Schengen Visa is the same as mentioning the Schengen Visa because this visa can be used to visit not only the Czech Republic but also the other countries in the Schengen zone.
As for the Schengen Visa variations, you can find many of them depending on your travel purposes.
The most well-known is the Uniform Schengen Visas (USV), and this one can also be classified as a Single-entry visa, Double-entry visa, and Multiple-entry visa.
Once you have the USV, you can also determine if your journey will be made for business or other purposes (once you go to the embassy).
Another type of visa is the Limited territorial validity visa (LTV), which is useful if you don't have an authorized travel document but you still want to visit a country in the Schengen zone (especially if it's an emergency). This visa can also be useful to complete stopovers.
By clicking on this link you can find out more information about these visas.
What documents or items do I need to get the Schengen Visa?
If you want to obtain your Schengen Visa on time, you have to get the following items (it would stay the same with our online form):
The most important thing is your unexpired passport with a copy of the first page.
It's also important to get 2 professional and recent photos.
A copy of your return-ticket reservation.
A valid travel insurance with a minimum coverage of 30,000 €.
You also need a Flight schedule.
A valid Proof of reservation.
A proof of enough financial means while staying in the Czech Republic.
You need a travel itinerary and a letter declaring your travel purposes.
A valid email address to be informed about the process by email inbox.
Lastly, you might need a Paypal or debit/credit card for payments in case you use iVisa.com's online service.
What are the prices for the Czech Republic Schengen Visa?
As for the price, the average is $90 for adults and $45 for kids who're older than 6 years old. Children that are less than 6 years old don't pay.
Notice that these prices can change a little if we offer an online form as we'd charge an extra fee to prepare your visa quicker.
Once we launch the online form, you'll be able to choose one of the following processing times:
Standard Processing time, which is the slowest but also the least pricey.
Rush Processing time, which is more expensive because it makes you wait for less time.
Super Rush Processing time, which is the most expensive and also the fastest one.
How can I get the Czech Republic Schengen Visa for Citizens Azerbaijan?
Take into account that this visa is available only at a local embassy. At iVisa.com, we're developing an online form that will help you with this process very soon.
By using iVisa.com's online form, you'd only have to do the following:
Step one, fill in the online application form and also choose the processing time you prefer to get your Schengen Visa as fast as needed t.
Step two, don't forget to verify that all the information you gave in step one is correct before proceeding with the payment platform using a Paypal account or debit/credit card.
Step three, attach the scanned documents we asked you for at the beginning of the application form and click the 'submit' button so that you can complete the entire process.
Once you obtain the approval letter via email inbox, print it out, and take it with you the day you visit the local consulate or embassy to receive the actual visa. You'd only have to complete an interview after that.
How safe is iVisa.com's website?
We know that using online forms might be very risky, but that shouldn't be an issue when using our website because we have at our disposal a 100% secure system that won't put personal details in danger.
Also, we count on amazing agents that are always available for you in case you have doubts while applying for your document. You can contact them here.
Where can I find other information about the Czech Republic Schengen Visa for Citizens of Azerbaijan?
If you want to obtain more information related to the Czech Republic Schengen Visa for Citizens of Azerbaijan, contact our customer service center which is always available to assist you with any doubt.
You can check this link as well if you prefer to read more FAQs.
Stay tuned to our website while we prepare an easier solution to get the Schengen Visa!