The Czech Republic has many things to explore, including the great 9th century Prague Castle and the small city of Český Krumlov. You can plan your trip to this country at any time, but you should first consider some recommendations, especially if you have a Benin passport.
Firstly, you'll have to apply for the Czech Republic Schengen Visa for Citizens of Benin to enter this country.
Secondly, this visa is issued only at the embassy, which is why you'll have to schedule an appointment with the nearest European embassy. You might think that this is a time-wasting task, but don't worry, we'll be able to simplify it for you very soon.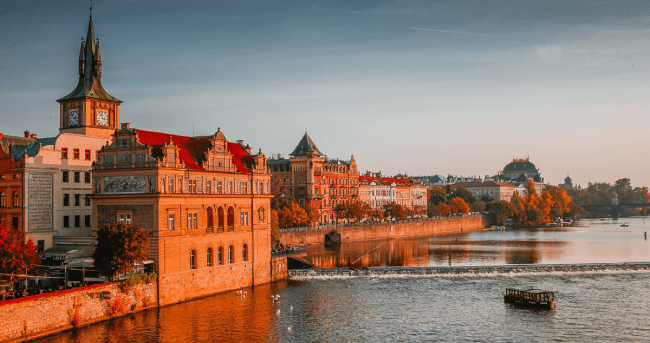 At iVisa.com we focus on delivering eVisas and other travel documents to make traveling an easier experience. That's why we'll be launching an online form to get the Schengen Visa much faster and more straightforward.
We suggest you read the list of questions below to get ready once this form is launched. Plus, the list includes other useful tips to get the Schengen visa right now.
Frequently Asked Questions
Do I need a Czech Republic Schengen Visa if I'm from Benin?
Yes, you must apply for a Czech Republic Schengen Visa to enter the Czech Republic safely.
This document is mandatory not only for Beninese but also for other countries that aren't part of a Schengen visa-waiver program.
To see more information about the Czech Republic Schengen Visa for Citizens of Benin, we recommend you to visit this page.
What does it mean to have a 'Schengen Visa'?
When you enter the Schengen zone, you're asked for a document that validates that entry. It should be noted that this only happens with citizens who're not from the Schengen zone.
For some travelers, the requirement is an ETIAS, but for others, a Schengen Visa is required.
By obtaining the Schengen visa, you receive a guaranteed pass to travel in this area of ​​Europe for a short time.
Does the Schengen Visa work for all the Schengen zone?
Yes, the Schengen Visa can be used in the entire Schengen Zone. This document isn't exclusive to the Czech Republic. However, this validity can vary a little depending on the type of visa.
If you apply for a Transit Schengen Visa, then you might be able to enter only one country and not all of them.
What items do I need to apply for a Czech Republic Schengen Visa for Citizens of Benin?
For now, it can be a bit difficult to obtain a Schengen Visa, although that could change in the future thanks to the online applications that we're designing.
As for the list of documents, it wouldn't change if we launched an online form, as these requirements are usually very important to receive visa approval:
You have to complete the visa application form.
You need 2 passport-sized pictures that were taken in less than 3 months.
Your passport is essential to apply, including a scan of the first page.
A round trip reservation is also required.
A valid proof of accommodation is important too.
You need proof of financial means.
Also, travel insurance with a minimum coverage of 30,000 euros in case of a medical emergency.
An email address to get the updates of the process.
Payment options To purchase the document, including debit/credit card or Paypal.
How much does the Czech Republic Schengen Visa cost?
The official price that has been established so far is 90$ or 80€ in the case of adults, and 45$ or 40€ in the case of children over 6 years of age.
Children under 6 years of age, as well as scholarship students or relatives of residents of the Schengen zone, do not have to pay these fees.
Even so, keep in mind that these rates don't include other extra services.
When we launch our online form, you'll have to pay an extra fee to be able to receive your visa faster.
These are our plans:
Standard Processing: in case you are not in a hurry with your visa and prefer to pay less.
Rush Processing: if you don't want to wait that long, pay a little more.
Super Rush Processing: if your case is an emergency and you want your visa very fast, despite the price.
How to get the Czech Republic Schengen Visa for Citizens of Benin
At the moment, you can receive your Czech Republic Schengen Visa for Citizens of Benin by going to the embassy, ​​where the authorities will do a personal interview for you.
The whole process must be done by yourself.
That's why we're preparing a faster online form so that this procedure isn't so cumbersome.
You'd only do the following:
Write your basic information data in the first step and choose the processing time.
Review the written data and proceed to payment by clicking on review and checkout.
Scan and add the required documents to the form. Once you're done, send it.
That's all! From there, you'd only have to wait for the approval by email to go to the embassy just to complete the quick interview and receive the document.
Is it completely safe to use iVisa.com?
Yes, especially with our safe platform that doesn't allow unauthorized access to the database. That's why thousands of travelers have chosen us, and you can see that information here.
Where can I find more information regarding the Czech Republic Schengen Visa for Citizens of Benin?
Go to our blog page to read more useful tips about the Schengen Visa. You can always contact our super agents to get faster assistance while applying.
Let us simplify your travel plans! You won't regret it.