The Czech Republic has a lot of tourist spots for anyone, including the great 9th century Prague Castle and the bohemian city of Český Krumlov. Planning a trip to this country is possible at any time, but we recommend first to acknowledge some suggestions, especially if you have a Bhutanese passport.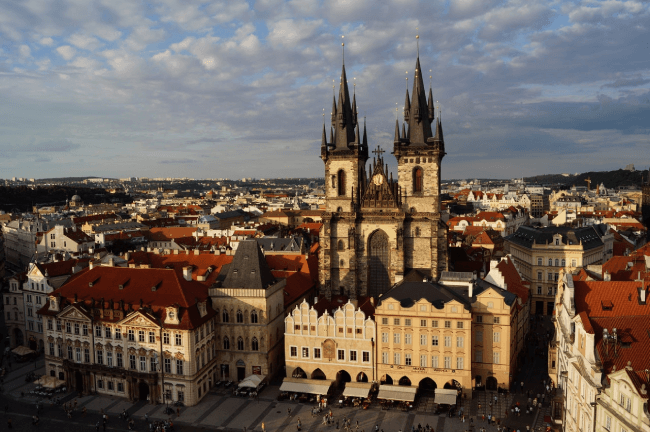 First, you'll have to get the Czech Republic Schengen Visa for Citizens of Bhutan to visit this country safely. Keep in mind that this visa is distributed only at a European embassy, which is why you should schedule a meeting with the nearest European embassy or consulate. This might be a time consuming task, but don't despair, we'll be able to make it easier for you very soon.
At iVisa.com we work on giving eVisas and other travel documents fast and easy to make traveling a more pleasant experience. That's why we'll be delivering an online application form to receive the Schengen Visa a lot faster and a lot more straightforward.
We recommend you read the following questions to get ready once our application form is launched. Besides, these questions include other useful points to get the Schengen visa asap.
Frequently Asked Questions
Do citizens of Bhutan need a Czech Republic Schengen Visa?
Yes, citizens from Bhutan must apply for a Czech Republic Schengen Visa to travel to the Czech Republic successfully. This travel requirement is obligatory not only for Bhutanese but also for other nations that aren't part of a Schengen visa-free program.
Learn more about the Czech Republic Schengen Visa for Citizens of Bhutan on this page.
What does it mean to get a 'Schengen Visa'?
Once you arrive in the Schengen zone, you're requested to show a document that certifies that entry. This only happens with travelers who're not from the Schengen Area, of course.
Some travelers only need an ETIAS, while others need a Schengen Visa.
By getting the Schengen visa, you accept a confirmed pass to visit this area for a short period.
Does the Schengen Visa work for all the Schengen zone?
The Schengen Visa is a mandatory visa to use in the entire Schengen Zone. It is not an exclusive document for the Czech Republic. However, the validity of this document can change a little depending on the type of visa.
In case you apply for the Transit Schengen Visa, then you might be able only to travel to one country and not the entire Schengen zone.
What things do I need to get a Czech Republic Schengen Visa for Citizens of Bhutan?
It can be difficult to get a Schengen Visa by now, although that might vary in the future due to the online forms that we're planning to launch.
As for the documents required, it wouldn't change a lot if we originated an online form, as these items and documents are usually quite important to get your visa approval:
You must complete a visa application form.
You have to get 2 passport-sized pictures that were taken in the last 3 months.
Your passport is crucial to apply, including a scan of the primary page.
A round trip reservation is also needed.
A valid proof of accommodation is necessary too.
You have to get proof of financial means.
Additionally, travel insurance with a minimum coverage of 30,000 euros for medical emergencies.
An email address to receive the updates of the process.
Payment choices to buy the document. These can be a debit/credit card or a Paypal.
How much does the Schengen Visa cost?
Once we launch our online application form, you'll have to pay an extra charge to receive the Schengen Visa much faster.
These are our processing plans:
Standard Processing Time: if you're not in a rush with your visa and you prefer to pay less with this process.
Rush Processing Time: if you prefer to wait not that long, even if you have to pay a little more.
Super Rush Processing Time: if you're in a rush and you want your visa quite fast, despite the price.
How to obtain the Czech Republic Schengen Visa for Citizens of Bhutan
You can get your Czech Republic Schengen Visa for Citizens of Bhutan by going to the embassy or consulate now. There, the officials will ask you to get a personal interview so that you can receive the visa.
This entire process must be done by yourself. We know it might be stressful, which is why we're making a faster online form so that this process doesn't consume much time.
With our forms, you'd only do this:
Write your basic details in step one and select the processing time of your preference.
Review the data you gave before and proceed to payment by clicking on the 'review and checkout' button.
Scan and upload the required documents to the online form. Once you're ready with that part, you send the form.
That would be everything! From there, you'd just have to wait for the approval letter so that you can go to the embassy only to complete the interview and get the visa.
Is it safe to use iVisa.com?
Yes, a lot, and more with our safe online platform that doesn't allow unauthorized entrance to iVisa.com's database. That's why many travelers have chosen us, and you can view that information on this link.
Where can I find more information regarding the Czech Republic Schengen Visa for Citizens of Bhutan?
Visit our blog page to see more useful suggestions about the Schengen Visa. You can also reach out to our super agents to get faster support while applying.
Let us make your travel plans easier so that you can enjoy your trip the best way possible!