Originally constructed in 1348 under the direction of Czech king and Roman emperor Charles IV, Karlštejn Castle is unique amongst the country's many castles and chateaus in that it was founded as a place for safekeeping the king's royal treasures, including holy relics and coronation jewels from the Roman Empire.
Although reconstructed in the late 19th century, the castle faithfully renovated by Czech architect Josef Mocker in a purist neo-Gothic style retains its fairy tale-like charm and is today one of the most visited castles in the country.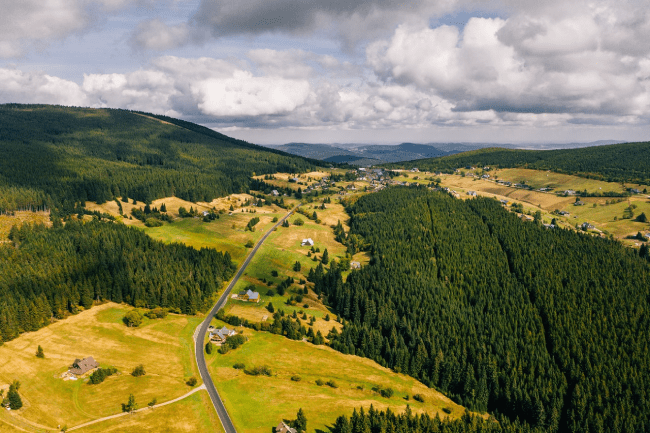 Tours of its grounds which include the stately, five-floor Imperial Palace and the Chapel of the Holy Cross, home to 129 panel paintings by Gothic artist Theodoric are available for visitors.
Read through this article to know more about Czech Republic Visa for citizens of Kuwait about this attraction and much more of this country's attractions through iVisa.com's processes and other options for other travel documents.
Frequently Asked Questions
iS CZECH REPUBLIC INCLUDED IN THE SCHENGEN VISA?
Yes! Czech Republic is part of the 26 countries that belong to the Schengen zone. Therefore, you need a Schengen Visa to enter Czech Republic.
Remember that some nationalities don't need a visa to visit the Schengen area. If you want to confirm whether this is your case, use our Visa Checker.
I'M A CITIZEN OF KUWAIT. SHOULD I APPLY FOR A SCHENGEN VISA?
Yes! Citizens of Kuwait should apply for a Schengen Visa if they are planning a trip to Czech Republic or any country in the Schengen zone.
We can confirm the Czech Republic (Schengen) Visa for Citizens of Kuwait continues to be a paper visa, but the process demands an electronic form. Now, iVisa.com can help you with that step!
HOW LONG CAN I STAY IN CZECH REPUBLIC WITH THE SCHENGEN VISA?
Travelers holding a valid Schengen Visa can stay for up to 90 days within a 6-month period in the Schengen zone. Citizens of Kuwait must use the Schengen Visa for short-term visits.
WHAT INFORMATION IS REQUIRED?
Fill out the online application with personal details, travel dates, and the purpose of your visit to Czech Republic.
The application has a requirement of 2 photos. Applicants can check the photo details on the application page.
Citizens of Kuwait should collect the following:
A passport with a 3-month validity after finishing the trip.
A valid email address.
Payment options, iVisa.com has a minimum fee for the online application that you can pay with a credit/debit card or use a Paypal account.
The process also requires an interview at the Czech Republic embassy after you have completed the electronic form.
Gather the next requirements for that interview:
Copies of your previous visas and past passports.
Medical insurance covering 30,000 euros.
Flight tickets and lodging reservation.
Proof of civil status.
Funds for your trip.
Enjoying a trip to Czech Republic is only a few steps away! Start the Czech Republic (Schengen) Visa for Citizens of Kuwait process with us!
WHAT ARE THE PROCESSING TIMES?
Standard service, in case you can wait a reasonable time for your electronic form.
Rush service, the iVisa.com team will work quicker on your travel document.
Super Rush service, if you are willing to pay the highest fee, your online application will be ready as soon as possible.
These processing times are only for the electronic form. After you complete the interview at the Hungarian consulate, the immigration officials can take between 15 to 60 days to approve your Schengen Visa.
WHAT IS THE PROCESS?
Citizens of Kuwait must go through the next three steps:
Answer the questions in the online application and select a processing time (Standard, Rush, or Super Rush).
Review your details and pay with a credit/debit card or a Paypal account.
Attach any documents required.
iVisa.com will send your electronic form to the email address specified in the application so you can have it before your interview at the Hungarian embassy.
CAN I TRUST IVISA.COM?
For sure! iVisa.com has been working with visa processes for years, which has given us the right expertise to handle your Czech Republic (Schengen) Visa for Citizens of Kuwait.
Our experts can guide you through every step of the way. Don't worry about anything. We got you! Our customers have left plenty of opinions about the excellent services they received from iVisa.com.
WHERE CAN I GET FURTHER DETAILS?
Get in touch with our customer service agents who are available 24/7. They will be happy to answer all your questions about Czech Republic (Schengen) Visa for Citizens of Kuwait, so you don't have to worry about anything!
Citizens of Kuwait can start planning that dreamy journey to Czech Republic. iVisa.com will be here to help you with all the steps for their Schengen Visa.