iVisa.com is here to inform you that it's only possible to apply for the Czech Republic Schengen Visa for citizens of Suriname through the government portals, as you must also attend an interview with an embassy representative.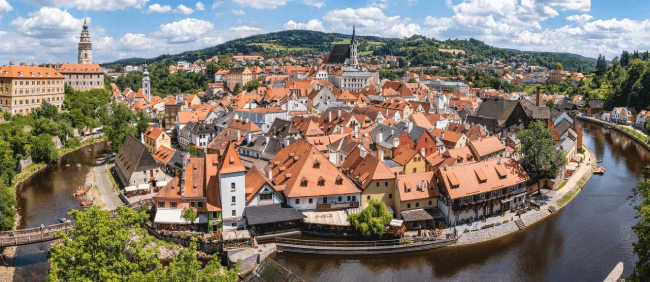 Unfortunately, our team of professional visa experts isn't able to process your application yet, although we do offer eVisas for eligible citizens from many other countries. For more information on the Czech Republic Schengen Visa for citizens of Suriname, see the following FAQ section.
Frequently Asked Questions
What is a Schengen Visa?
Certain travelers will need a Schengen Visa to travel to the Schengen area. This is a travel permit that works just like a regular paper visa, meaning that the only way to obtain it right now is through an embassy and after an interview.
What documents do I need to present to apply for an eVisa?
Although we cannot yet process your Czech Republic Schengen Visa for Citizens of Suriname, if you find yourself planning another trip that calls for an eVisa, make sure to hotfoot it over to iVisa.com.
To reduce the effort you need to exert, we only need you to gather the minimum amount of documents.
A passport with at least six months of validity from the date of your visit.
A valid email address to receive your travel document online.
Payment methods such as a credit/debit card.
How long does it take to get the Czech Republic Schengen visa authorization?
On average, the processing time for a Czech Republic Schengen visa for citizens of Suriname takes up to 15 days like a standard Schengen visa. After 15 days, the embassy gives a decision on the application.
However, the Schengen visa processing time may vary in some specific situations. In individual cases, the visa processing time can be extended to 30 days after the interview, or in some situations to 60 days.
What are the processing times and prices?
If you choose iVisa.com to get your eVisa, you can select from three processing times.
Get an idea by looking at the following descriptions of our plans:
Standard processing time: Get your document at an affordable cost.
Rush processing time: Get your document a little faster for a higher cost.
Super Rush processing time: Get your document for the highest cost in the shortest time possible.
How do I apply for my documents with iVisa.com?
Applying for a Czech Republic Schengen Visa for Citizens of Suriname is not yet available with our visa experts, however, at iVisa.com we are very pleased to offer our loyal customers a simple and easy application form to facilitate their eVisa application.
There are only three steps to get a document on our user-friendly website.
Complete the form with your personal information. You can check the prices of the iVisa.com processing options and choose the time period that best suits your trip.
Take the time to review your answers. Pay your processing fee with a credit/debit card.
Upload the necessary copies, such as a scan of the passport information page. And now that you're ready to go, just wait for the results to arrive by email!
Is iVisa.com safe?
Applying for your eVisa is safer when you use iVisa.com. You can be sure that our databases are protected by the highest and most rigorous firewalls and the most complex password combinations.
You can rely on our experienced team to fulfill your eVisa request from start to finish. Take a look at some of our customer testimonials on the customer review page on iVisa.com.
Where do I find more information about the Czech Republic Schengen Visa for citizens of Suriname?
For more information on the Czech Republic Schengen Visa for citizens of Suriname, eVisas to visit other countries or just to chat with a real person about any questions you may have, visit our website or send us an email with your inquiries.
iVisa.com Recommends
Are you taking advantage of the winter holidays to start planning your next trip? Do you like to taste the popular gastronomy of other countries? In that case, how about a trip to Prague in the Czech Republic?
This is one of the most wonderful places in the world to get lost among gothic buildings and discover a great fantastic new dining experience. If you travel to the Czech Republic to visit the enchanted and well-preserved castles, don't forget to book a tour with enough anticipation. Also, remember that if you're arriving from Suriname, you'll need to apply for a Czech Republic Schengen Visa for citizens of Suriname.
We invite you to explore this country full of treasures without having to worry about getting stressed or being refused permission to travel. At iVisa.com we can guide you through the documentation required, whether it is a Schengen Visa or the soon to be released ETIAS.