The Czech Republic is known for being the homeland of Sigmund Freud, who changed the world with his psych-analytic views. It's also the birthplace of Franz Kafka, who went on to write numerous world-famous books and stories in German. He combined realism and fantasy, much like the intricate streets of Prague.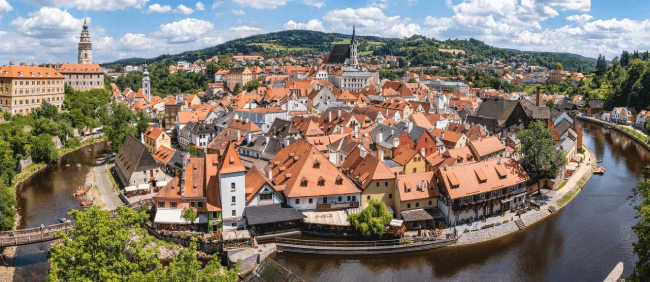 This magnificent country offers tourists wonderful places to roam and enjoy time outdoors with their family on vacation. Trying local dishes is another great way to get acquainted with this culture. To get there you must first request permission from the authorities and fill out a form..
Find out all about Czech Republic Schengen Visa for citizens of Swaziland on iVisa.com.
Frequently Asked Questions
What does the Czech Republic have to offer the citizens of Swaziland?
In addition to its fantastic architecture with Gothic, Renaissance and Baroque buildings, the Czech Republic has a very varied gastronomy, with native beers that you'll find hard to resist and traditional culinary treats like the trdelnik; a rolled pastry treat with a crispy exterior.
Swaziland citizens will have to apply for a Czech Republic Schengen Visa for citizens of Swaziland through the government portal and attend an interview.
How long does the application process take?
The time it takes to complete the Czech Republic Schengen Visa for citizens of Swaziland process depends on the volume of interviews at the embassy and general processing times by the authorities.
For digital eVisas when you want to travel to eligible countries, iVisa.com offers you a fast alternative, as the platform can handle higher volumes of traffic without users experiencing delays.
Get an eVisa in less than 20 minutes by applying on the iVisa.com website. There are only three easy steps to complete.
Fill out the form with your basic information and fill out the questionnaire honestly, remembering to include any relevant information such as criminal and medical records. Consider when you need your document and choose the processing speed accordingly.
Check the information you entered. It is essential that you don't make any mistakes, as a typo could cause your application to be rejected. Once you are sure everything is correct, pay for the application processing with a credit or debit card. It is also possible to pay with Paypal.
Attach copies of all documents necessary to complete your application, such as your passport information page, and click Submit to finalize your application.
Do I have to pay to enter the country?
The price Czech Republic Schengen Visa for citizens of Swaziland can be high owing to additional costs like embassy visits.
For eVisas and digital applications to other countries, apply with iVisa.com and take advantage of the three different processing alternatives, as follows:
Standard Processing: This is the best option for travelers with a decent amount of time before departure.
Rush Processing: This option is great for jetsetters who are in a hurry, but are not in too much of a rush yet.
Super Rush Processing: This is essential for travelers who need your clearance as soon as possible.
How many times during the year can I visit the Schengen area using the Czech Republic Schengen Visa for citizens of Swaziland?
The answer to this question depends on the type of visa that you are issued. The sticker number on your Czech Republic Schengen Visa for citizens of Swaziland will tell you this:
Typically 01 means that you can only enter once whilst 02 means that you can enter multiple times. It is important that you do not exceed the maximum time allowed, which is currently set at 90 days.
Do I have to apply for a new Czech Republic Schengen Visa for citizens of Swaziland every year?
Readers who are planning to take part in an annual European tour should know that they will likely have to apply for the document every year. That's because it's generally only granted for 90 day at a time.
If you're eligible to apply for an eVisa or the ETIAS, then this may be valid for a longer period of time. It's best to use the visa checker tool to clarify your position.
What should I do if I want to travel with my pet?
Adults and children arriving from Swaziland will need a Czech Republic Schengen Visa for citizens of Swaziland to visit this central European country, but if you plan to travel with your pet, it is best to first find out which airlines will bring your pet and the relevant documentation you need.
Use the 24/7 chat feature on the iVisa.com website to speak with a team member about any travel questions you have.
Is iVisa.com safe to use?
We know that your passport and identity documents are extremely sensitive information that must be protected at the highest level.
That is why thousands of clients continue to use our services each year for all their visa and border requirements.
Read our customer reviews to learn more about why iVisa.com is safe to use.
Where can I find more information about the Czech Republic Schengen Visa for citizens of Swaziland?
If you have more burning questions about the Czech Republic Schengen Visa for citizens of Swaziland that have not yet been covered in this post, head over to the iVisa.com website for helpful tools like the Visa Checker.
You can also find a chat function and access to the useful team, who are ready to answer your questions.