The Czech Republic, or Czechia, is home to the city of Prague. Aside from the beautiful and boisterous natural views there are a multitude of fun activities to visit curated for a good time. One in particular is a graffiti wall devoted to John Lennon. Since 1980, it's been repainted numerous times and is laced in graffiti lyrics from Lennon and The Beatles.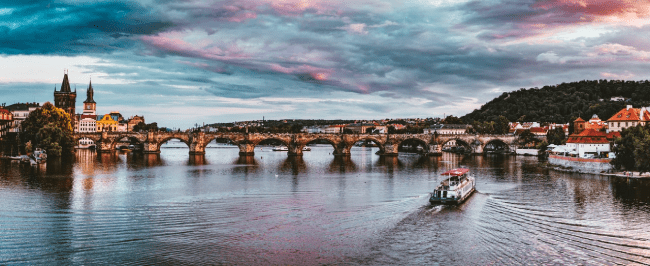 Making sure that your trip lasts less than 90 days and you will need to apply for a Czech Republic Schengen Visa for Citizens of Turkey as it is part of the Schengen Area of European countries that have abolished border controls between each other.
Frequently Asked Questions
How do I apply for a Schengen Visa to the Czech Republic?
You can apply with a quick application form and by providing a few items:
Two recently taken passport-style photos, your passport or other travel documents that are no older than 10 years and valid for at least three months after your departure date from the Schengen Area.
You will also need travel and medical insurance covering you up to costs of €30,000.
A cover letter stating your itinerary and the purpose of your visit, as well as a flight itinerary, proof of accommodation, proof of your civil status ( like a marriage certificate) and proof you have means of subsistence during your stay.
Do I have to pay to get the Czech Republic Schengen Visa?
You will have to pay for the Czech Republic Schengen Visa for Citizens of Turkey, and the final price will be confirmed on the official government site by embassy authorities.
If you're interested in applying for an eVisa using iVisa.com, you can choose one of these options:
Standard Processing Option: This is the best option for travelers who have time to spare.
Rush Processing Option: The option for travelers who don't have as much free time.
Super Rush Processing Option: The choice for travelers without time to spare who need to travel very soon.
How many types of Schengen Visas are there?
According to the type of visa you receive at the embassy or consulate, you might find some restrictions that apply to this document.
The Schengen Visa can get many variations, including one for tourism, business, and even medical reasons.
The most popular is the Uniform Schengen Visas (USV), which can also be classified into Single-entry visa, Double-entry visa, and Multiple-entry visa. This is the most famous because it's the one used for tourist trips.
With the USV, you can also specify if your trip will be for business or other reasons without any inconvenience.
You can also obtain the Limited territorial validity visas (LTV) if you don't have a valid travel document but you need to visit a country in the Schengen zone urgently. This visa is also useful to complete stopovers.
There are other varieties of Schengen visas, but to receive more details about them, we recommend you go to this link.
We hope this information is helpful when learning about Czech Republic Schengen Visa for Citizens of Turkey
Where do I go to apply for a Czech Republic Visa?
You will need to apply to the Czech embassy or consulate in your country of residence, or a visa application center acting on the nation's behalf.
The official visa partner of the Czech Republic is VFS Global.
Can I trust iVisa.com?
You sure can!! iVisa.com has the highest security measures for all its services.. Our previous customers have provided plenty of testimonies about iVisa.com services.
Where can I find more details?
Reach out to our support agents who are available 24/7.
They can help you with any question you may have aboutCzech Republic Schengen Visa for Citizens of Turkey and are available via chat or email!
Explore the application page and read more information about Czech Republic Schengen Visa for Citizens of Turkey