Visa-free entry into the Schengen countries is not exclusive to citizens of European Union (EU) nations. There are 62 countries that, although not in the EU, are enjoying visa-free privileges for their citizens. They don't need to have a visa, although they will need something else in lieu of the visa come 2022.
In terms of visa exemptions for these travelers, one of the only ways that they can enter Schengen countries without a visa is when they visit citing business or travel as their purpose. Also, the duration of their visit must not be more than 90 days. If they are entering the Schengen Area to study or to work, they will be denied entry.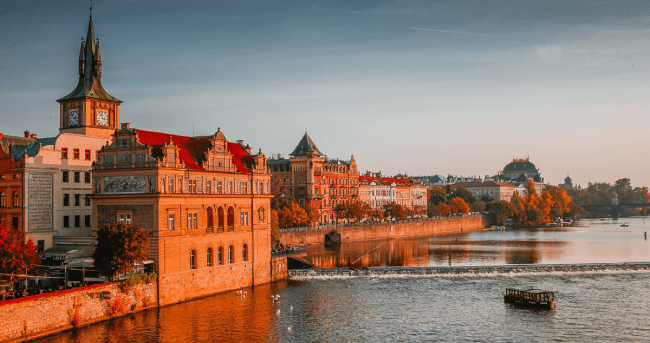 The EU has recently insisted on improvements in the way their member countries handle entrants to their borders. This request was the result of an increase in terrorist-related activities, migration issues, and other security concerns. This led the EU to declare that its long and short-term goal is to make visiting EU countries safe for all travelers.
To handle all these issues, as well as facilitate processing and decreasing the waiting time for approval of applications, the European Commission conceived the Czech ETIAS. Continue reading this article to get information about this exciting new system that will be deployed in 2022.
FREQUENTLY ASKED QUESTIONS - FAQs
WHAT YOU NEED TO KNOW ABOUT THE ETIAS?
The term ETIAS stands for European Travel Information and Authorization System a system that has been brought in place to govern the smooth transit of travelers visiting any of the Schengen countries. It is a program that has been designed to irradicate illegal immigration, increase security measures for the citizens residing and fellow travelers from any possible threats - keeping a check right at the airports and borders.
As per the protocols of this system, every applicant for the ETIAS is put under scrutiny. After the submission of details by any applicant looking for an ETIAS, a thorough background check is conducted to ensure that every traveler willing to enter the Schengen Area is not a threat to the citizens residing.
The process involves modern and developed techniques for acquiring data and analyzing them to determine the risk factor of any traveler visiting countries like the Czech Republic. The system is amidst the inundation of data on a daily basis to stay a step ahead, always!
Apart from business and tourism purposes, the nations that are exempt from the Schengen visa will also need to apply for an ETIAS even if they are traveling for medical purposes. In such a scenario, the traveler might also have to present a Health Declaration Form, so it is advisable to apply for one beforehand. Also, if you are having to transit through any of these countries like the Czech Republic, you still will have to apply for an ETIAS.
WHY IS THE ETIAS SO IMPORTANT FOR THE SCHENGEN AREA NATIONS?
The main aim of the introduction of the ETIAS document is to reduce the chances of any possible threat to the Schengen countries from terror attacks or illegal immigration. The president of the European Commission, Jean-Claude Junker has recently made it clear that he wants to know about every single traveler who is willing to come to Europe.
There has been a marked rise in the total number of terrorist activities in the past few decades. Terrorist attacks seen in Europe have also been launched on a bigger scale. The European Union has a great desire to make traveling and visiting a safe and enjoyable experience for tourists and travelers which is why they made the blueprint for the ETIAS to reduce these security risks to a large extent.
The information gathered about the applicant will help to identify if the applicant is a security threat or not. If they are, then the application will be tagged as high-risk and the traveler will be refused entry. The EU intends to nip the problem in the bud before it gets out of hand.
The system is also intended to reduce the time it takes to apply, as well as to lower the cases of illegal immigration by improving border control.
WHICH COUNTRIES WILL NEED AN ETIAS TO ENTER CZECH REPUBLIC?
As stated earlier, there are 62 countries whose citizens are allowed to visit the Schengen area without a visa. However, in the future, the ETIAS authorization will replace the visa as a travel document for these countries. Here are the countries that will need the ETIAS: Antigua and Barbuda, Albania, Australia, Argentina, Barbados, Bahamas, Brazil, Bosnia and Herzegovina, Brunei, Chile, Canada, Costa Rica, Colombia, El Salvador, Dominica, Grenada, Georgia, Honduras, Guatemala, Israel, Hong Kong S.A.R, Kiribati, Japan, Malaysia, Macao S.A.R., Mauritius, Marshall Islands, Micronesia, Mexico, Montenegro, Moldova, New Zealand, Nauru, Palau, Nicaragua, Paraguay, Panama, Saint Kitts and Nevis, Peru, Saint Vincent, Saint Lucia, Serbia, Samoa, Singapore, Seychelles, South Korea, Solomon Islands, Timor Leste, Taiwan, Trinidad and Tobago, Tonga, Ukraine, Tuvalu, United States of America, United Arab Emirates, Vanuatu, Uruguay, and Venezuela.
If you are not from any of these countries, then you will need to apply for a visa.
WHAT INFORMATION IS NEEDED WHILE APPLYING FOR AN ETIAS?
With ease of processing being one of the goals of the ETIAS, the application process will be clear and simple. Applicants only need to input their correct and complete name, other biometric information, facts about his citizenship, contact information, and other basic data. But they will also need to disclose medical conditions, criminal records, and other personal information to comply with security protocols.
HOW LONG DOES THE ETIAS AUTHORIZATION STAY VALID?
The authorization is aimed to be valid for 3 years or will last until the travel document used in the application expires. Whatever the validity period is, it will be determined by the applicant's risk factor.
WHAT DOCUMENTS ARE REQUIRED TO COMPLETE THE ETIAS APPLICATION?
You only need to submit your passport to initiate the request for authorization. But there will be times when an applicant is asked to send a clear digital photo of himself to support the application. It needs to be different than the one used in the passport. If the application is unsuccessful, you may try to appeal or apply again.
IS IVISA.com A SAFE OPTION?
Yes, it is safe to apply with iVisa.com's service because our website has been uniquely created to manage the secure storage of highly sensitive information. We secure your data with the best security measures so that you can feel confident that the personal details you provide are safe with us.
WHAT IF I NEED FURTHER HELP?
The information can be found on the iVisa.com website so be sure to go there. For other questions or concerns get in touch with our representatives by sending us an email at [email protected].
The time to visit is now! Start your journey here.