The Czech Republic is full of so much incredible beauty. The American journalist Dana Newman once wrote: "It is easy to fall in love among the winding cobblestone streets and snow-covered castles of Prague, but is it a good idea?" We want to tell you that it is, in fact, a fantastic idea to fall in love with the place, with yourself, with life, or with someone else while visiting this amazing destination.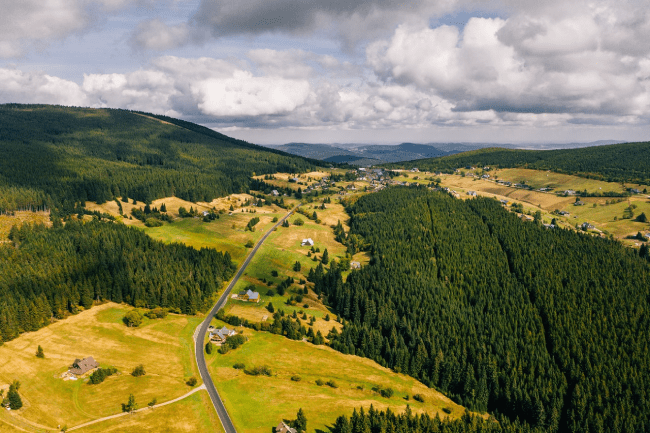 This historical country landlocked in Central Europe could very well be called The Castle Capital of The World. Its limited territory harbors over two hundred castles and chateaus well preserved throughout the centuries and located not only in Prague, the Czech Republic capital, but all spread across the country.
Are you looking forward to visiting the Czech Republic and admiring the architectural wonders of this historical country? You should continue reading to learn about the Czech ETIAS for Citizens of Honduras. A new traveling document that will be required to enter the country in the future.
Frequently Asked Questions (FAQs)
Do Honduran passport holders need an ETIAS to visit Czechia?
Citizens from countries who are not part of the European Union and are currently allowed to enter the Schengen Economic Zone without a visa will need to apply for an ETIAS. The iVisa.com's Visa Checker tool will help you confirm if Honduran passport holders should apply for an ETIAS.
What is an ETIAS?
ETIAS is a new document that allows visitors from certain countries to enter the Schengen Economic Zone. It is a type of document very similar to the US ESTA required for some travelers to enter the United States. Even though it is a permit to enter and remain on a specific territory as a visa does, it is not the same. The European Travel Information and Authorization System (ETIAS) allows the procedure and waiting times to be reduced for tourists. It is an electronic system that screens all applicants personal information in multiple databases before their travel.
Is it possible to visit multiple countries with the ETIAS?
With the ETIAS you will have a permit to enter the Czech Republic and any of the other 25 countries that are part of the Schengen Economic Zone. It is possible to visit more than one country with the same document. Keep in mind that on the application form, you will have to write the first country that you are planning on visiting in the Schengen Zone. That information should match your original route to avoid your entry being denied.
How long does the ETIAS allow me to stay in the Czech Republic?
The ETIAS will grant you a multiple-entry permit. It will allow you to stay in the Czech Republic or the Schengen Zone in general, for periods of ninety days within a one hundred and eighty-day duration. Please contact our customer service team to get more detailed information.
How easy is the ETIAS application process?
The ETIAS application process with iVisa.com is straightforward. We explain in three easy steps how to submit your application to get your ETIAS:
First, find the application form on our website and enter your personal information. This step takes only about 20 minutes.
Second, Complete the form, revise your info to make sure that everything you wrote is correct.
Third, submit the required documents along with your application form.
Will I need any specific documentation for my ETIAS application?
Other than the two primary requisites of being eligible for a Czech ETIAS and filling out the online application form. You are going to need these three:
A scanned copy of your passport attached to your application.
A valid email address to receive your ETIAS information and/or results.
A payment method to cover the fees. You can choose the most suitable option between a credit/debit card or PayPal.
If I am traveling with my children, will they need an ETIAS as well?
Yes, indeed all non-EU citizens will need to present an approved ETIAS to enter any country part of the Schengen Economic Zone. If you are traveling with family members like your children or spouse, each one of you must submit an individual application and have their own ETIAS. Know that you can always reach out to our customer service agents to get specific information on this.
What are the fees and processing times for the ETIAS?
At iVisa.com we understand that each traveler has different needs. Because of that, there are three excellent choices with varying times of processing and fees that adjust to everyone's preference:
Standard choice, this offers an average waiting time with a standard price.
Rush choice, this choice offers shorter waiting by paying extra.
Super rush choice, this choice offers a minimum waiting time with the highest fees.
Is it recommended to use iVisa.com for my ETIAS application?
It is recommended not only by ourselves to use iVisa.com services, but also by previous users. Please view our customer reviews which back our promise of providing you with the best option for your ETIAS application. Customers love our entirely online and trustworthy process, with minimum effort on their side and support throughout the entire operation.
Where can I find additional information?
If after reading the information about the Czech ETIAS for Citizens of Honduras on this article, you still wish to know more or want to clarify something, please contact our customer agents, who are available 24/7 and will kindly assist you.
Are you excited about your Czech adventure? Start here.