Have you ever experienced an authentic European spa? Visit the Colonnades and Spas of Karlovy Vary that was built in 1358. This place is famous for its German name of Karlsbad. One of the popular places among the elites of Europe, this place has evidenced various famous writers and composers. Along with spas, you can also see Neoclassical and Art Nouveau colonnades with drinking and bathing fountains. There are a large number of museums and art galleries that you can visit while visiting this place. It is important to remember that you must have a Czech ETIAS to enter Czech if you are traveling from Macedonia.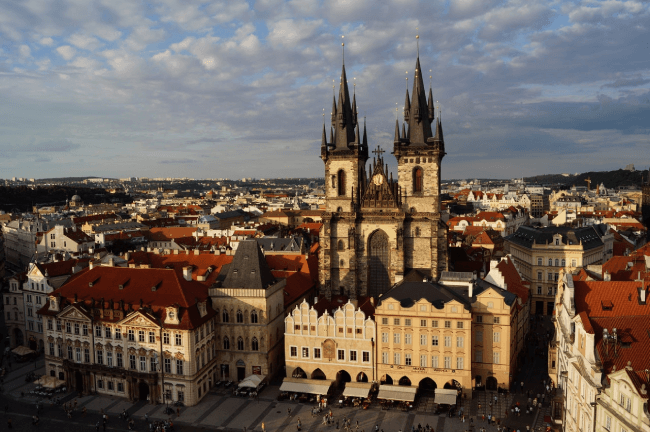 Czech ETIAS is an online document that can be obtained easily when applying with iVisa.com. We have a large number of professionals who have expertise in completing such applications. Thus, we assist you in getting your travel document while you spend your time packing your bags and planning your vacation. You just need to fill out an application form online that will take around twenty minutes.
To learn more about Czech ETIAS for the citizens of Macedonia check FAQs given below:
FREQUENTLY ASKED QUESTIONS
What do you mean by Czech ETIAS?
To enhance border security and control the entry of illegal immigrants, the European Union has introduced a new travel authorization document referred to as ETIAS. This travel document is mandatory for those travelers who are a citizen of any of the visa exempt countries and traveling to any of the Schengen countries in Europe. For instance, if you will be traveling from Macedonia to Czech you will need a Czech ETIAS.
Is ETIAS similar to a visa?
No, ETIAS is different from a visa. ETIAS is an online travel document that you can apply and obtain online. While the visa is a travel document that can be obtained by visiting an embassy. ETIAS can be utilized for tourism, business, transit, and medical purposes. While if you are willing to study or work in any Schengen country, you need to apply for a visa. The documentation of ETIAS is much simpler than a visa.
Which documents I will need to apply for a Czech ETIAS?
Czech ETIAS is a newly developed travel document that is in the process of implementation so it is difficult to say the exact details of the required documents. However, since this is a very simple process we are aware that you will need:
A passport with six months validity
An email address to receive your document online
Payment alternatives to pay fees
How can I apply with iVisa.com for Czech ETIAS?
The application for Czech ETIAS with iVisa.com is very easy. You have to follow three simple steps to submit the application form and obtain your ETIAS. These three steps are:
First, you need to fill out an application form by providing basic information about yourself that is asked in the form.
Second, you need to review the information.
Third, submit the application form after paying the fees.
What are the options for processing time and prices for Czech ETIAS?
As this travel process is yet to be implemented, it is not possible to provide exact processing time and price details. However, you can get an idea by understanding the three options for processing time:
Standard Processing Time: This is the option that is mostly utilized by customers as it is the cheapest one and provides you with the Czech ETIAS in a few days.
Rush Processing Time: This option is mostly utilized by those travelers who need their document a bit early and by paying more fees than the Standard one.
Super Rush Processing Time: When in a hurry, utilize this option as this option provides you with the document in a few minutes. This is the most expensive alternative to obtain your travel document.
Can I rely on iVisa.com for Czech ETIAS?
Yes, iVisa.com offers reliable, simple, and quick services for obtaining Czech ETIAS and other travel-related documents. You can choose our services to get your ETIAS quickly and easily.
How do I resolve my unresolved queries?
All your unresolved queries will be resolved by visiting our website and you will get more info by contacting our friendly customer care representatives.
The world is yours and we can help you explore. Start here.