The Czech Republic is home to one of the most visited cities in Europe, Prague. There's no doubt why every traveler stops by this city with their 14th-century bridge, the 3rd oldest clock, castles still standing from the Austrian Empire.
Those are all part of traveling to the past, but you can also discover the present history and culture of Czechia, through Prague and all the other cities like Cesky Krumlov, Kutna Hora, and more. Christmas and Easter markets might have existed for many years and become a tradition, but still, what they offer has the touch of novelty and present times.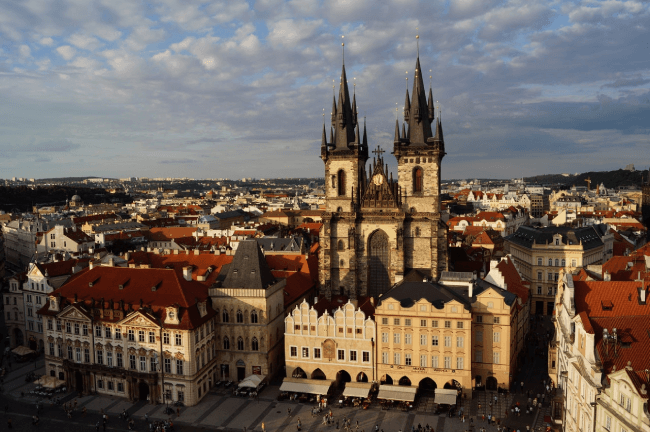 Things that will also travel through time and stay intact as ever are the butchy or kremrole pastries and their local brewing of Pilsner. Czechia definitely sounds like a destination filled with culture and gastronomy, and citizens of Grenada are some of the few that get to enjoy these attractions frequently. All because of being part of the Schengen visa-exempt program.
If only this facility didn't have an expiration date, it would all be a dream. There will be a restriction soon to all travelers from the visa-exempt program, but thankfully it is not as complicated as a visa application. All visitors that wish to enter Czechia and other Schengen countries will require a Czech ETIAS authorization to enter the region.
To get more information about the Czech ETIAS read the FAQs below. They also mention the ETIAS application process and how it can be done through iVisa.com.
Frequently Asked Questions
How useful is the ETIAS?
The ETIAS will be a useful and mandatory travel document for all incoming visitors to the Schengen region. Application for a Czech ETIAS will only be required for travelers who are nationals to any country that is a member of the Schengen visa-exempt program. The Czech ETIAS will work as a prescreening system of the visitors for a faster process on arrival and will help reduce illegal immigration and terrorism in the Schengen Area.
Do all citizens of Grenada need to request an ETIAS?
The Czech ETIAS is needed travel documentation for all travelers coming from a Schengen visa-free country and wants to visit the Schengen region. The application for ETIAS must be made by every citizen of the country, like Grenada, regardless of their age.
What might change during the application process is the payment fee for applicants under the age of 18, and over 70.
Can I visit all European Union countries with a Czech ETIAS?
The ETIAS authorization document was created by the Schengen region members and is to be applied to visit the member countries. Application for this document will only be required for those visitors traveling with a passport from any of the countries which are currently part of the Schengen visa-exempt program.
In other words, with a Czech ETIAS, you can visit any Schengen country in the European Union, and those outside of it.
Is the ETIAS validity the same for all citizens of Grenada?
Once you apply for the ETIAS authorization document, you will be granted a specific validity for it based on your provided information. Each citizen of Grenada will be given a determined amount of time, it can be for a short length of your planned trip or up to 3 years.
How many days can citizens of Grenada stay in Europe with a Czech ETIAS?
Having a Czech ETIAS allows all travelers to visit only the Schengen countries. When applying for the ETIAS, you must specify through which country you'll be entering the region and then have the flexibility of multiple entries among the states. During the validity of your ETIAS, you will be able to stay no more than 90 days in one or more Schengen countries in 180 days.
Do I need many documents to apply for the Czech ETIAS?
Unlike a visa application, when applying for the digital ETIAS you only need three pieces of information:
Passport and a digital copy of it: You will need to provide information on the online questionnaire information from your traveling document and are most likely to be requested a digital scan of it.
Email address: So you can receive all notifications about the ETIAS process and results.
Method of payment: It can be a PayPal account or a debit/credit card to make the fee payment.
Can I request a faster ETIAS application process?
The application for a Czech ETIAS for citizens of Grenada is relatively straightforward and digitally accessible to complete on the official website. But, if you decide to apply through iVisa.com platform, you can select a specific speed at which your application can be processed, and that way, you receive your ETIAS results faster. There are currently no particular fees on the procedures, but we can give you an idea of how each works.
The iVisa.com processing options are:
Standard processing option: is the cheapest option but will take a bit longer to receive your ETIAS results.
Rush processing option: is faster than standard and a bit more expensive, but you'll wait for less for your delivered results.
Super rush processing option: is the most recommended; although it's more expensive, you will get your results in a blink of an eye compared to the previous options.
How easy is the Czech ETIAS application process?
Online application processes shouldn't be tedious and feel like your time is being spent. By applying for your Czech ETIAS through the iVisa.com platform, you can follow a couple of easy steps and select how fast you want your application to be processed.
Start your iVisa.com application with this easy 3-step process:
Begin by answering the online application form with your contact information and other personal details required. You must also choose the procedure time you want to apply to your application process.
Second, confirm that the information provided in the previous step is correct, and pay for the service.
Finally, upload any additional document requested on the application form, triple check the information, and submit your form.
Once done, you only need to wait for the ETIAS results to arrive on your inbox.
Is my information safe through the iVisa.com system?
The iVisa.com services are to make users online ETIAS applications easier and safer by offering a well-protected platform that keeps the information secure and has a 24/7 contact support team. Your details are protected on the website and database from the moment you start your application even after submission. It is stored on our databases for your use only, to protect it, and archive it if necessary for a future application.
Read some reviews about our services and security measures.
How can I find more details on the Czech ETIAS?
If you have more questions about the Czech ETIAS for citizens of Grenada, we recommend that you contact us via chat with your doubts or send us an email at [email protected] and our Customer Service Team will contact you ASAP. There is also additional information about the topic on the iVisa.com website, if you wish to browse it.
Click here to find more information specifically on the Czech ETIAS.