The Czech Republic covers an area of only about seventy-nine thousand square kilometers in Central Europe. And that size is more than enough to be home to multiple quaint historic cities, top-notch architecture, romantic castles, and breath-taking natural wonders.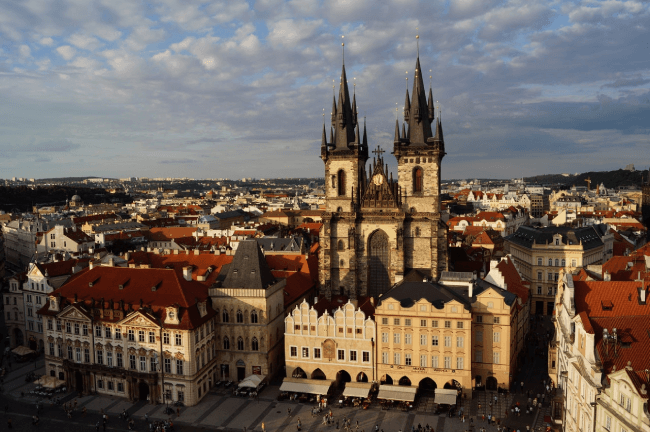 If you are currently dreaming about your adventure to the Czech Republic, please keep on reading because you will need to apply for an ETIAS, a new travel document required to visit this spectacular destination.
In this next section we answer the most frequent questions about the Czech ETIAS for Citizens of Kiribati, find detailed information about the ETIAS, and how to apply to get yours.
Frequently Asked Questions (FAQs)
Who needs an ETIAS?
The citizens from countries that are not part of the European Union, and who can currently enter the Schengen Zone without the need of a visa, will need an ETIAS to visit the Czech Republic or any other country in the Schengen Zone. You can use iVisa.com's Visa Checker Tool to confirm if Kiribati citizens are eligible for an ETIAS.
What is the difference between ETIAS and a regular Visa?
One of the main differences between the ETIAS and a regular Visa is the processing and waiting times- the ones from the ETIAS are reduced compared to the Visa. The European Travel Information and Authorization System (ETIAS) works as a completely electronic system that cross-checks applicants' information in multiple international databases in a matter of minutes making sure that the applicants are not a security threat. ETIAS shares the most similarities with the Canadian ETA and the US ESTA.
What is the maximum stay allowed with the ETIAS?
The ETIAS will have a multiple-entry nature and could be granted to you for three years or the duration of your trip, it depends on some factors. Once you are traveling with your ETIAS you are allowed to stay for a maximum of ninety days inside the Schengen Territory, this could be in one single country or multiple countries inside the territory. You could spend ninety days in a row or ninety days at different times inside a period of a hundred and eighty days. If you have more doubts about this, please contact or customer agents they will provide you with the necessary information.
How can I obtain my ETIAS?
Enjoy a pretty safe and straight forward process to obtain your ETIAS with iVisa.com. Just follow these three simple steps:
First, enter the required information on the application form, this will take only about twenty minutes.
Second, please read over your information on the form again to confirm that all your data is correctly written.
Third, your last step will be to provide a few documents and specific details on your application and wait for your ETIAS.
What would I need to apply for an ETIAS?
To apply for your ETIAS you only need to be eligible and to fill out the application form, as previously indicated on this article, and then provide the following:
Your current passport and a scanned copy of it.
Your email address to receive official information and your traveling document (ETIAS).

Your preferred payment method, you can use a credit card, debit card, or PayPal.

Are waiting times and fees for the ETIAS good?
Waiting times and fees on iVisa.com are more than just good. You can find three different alternatives- all of them excellent. Select on your application whichever works better for you according to your needs:
Standard alternative, this one offers affordable fees and considerable waiting time.
Rush alternative, this alternative offers less wait with a higher fee.
Super rush alternative, this third one offers a short waiting time by paying the highest rate of all three.
Should I choose iVisa.com for my ETIAS application?
Yes, we genuinely think you should choose iVisa.com, and also our previous customers think so, find out more in our customer's reviews about their great experiences with our service. iVisa.com saves you lots of time and effort while also providing you with an exceptional and secure solution for your ETIAS application.
I have some unresolved questions, where can I obtain more information?
If you wish to obtain more information you can contact our customer service agents at any time. They will happily guide you and assist you.
At iVisa.com we do the tedious part, so you can enjoy and relax, apply here.