Visiting the Czech Republic must be on your trip itinerary! Go to Kutná Horo, a town that is only 50 miles from Prague, Czech Republic's capital. On this site, you can visit St. Barbara Cathedral and the Jesuit College, where you can admire the incredible medieval architecture and art pieces. It's time to travel to the Czech Republic and dive into the new entry requirements for international visitors.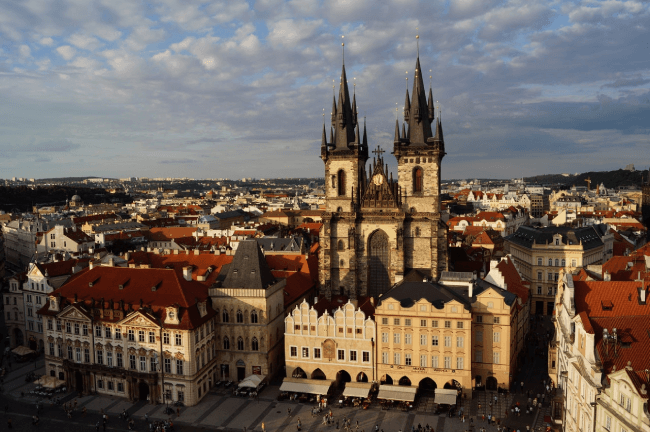 Citizens of Vanuatu can travel to the Czech Republic if they comply with the fulfillment of the Czech ETIAS. ETIAS is an online form created by the European Union and is mandatory for citizens of Vanuatu.
Everything is made easy with iVisa.com, and the ETIAS application will be part of iVisa.com services soon. iVisa.com offers a simple, fast, and reliable service.
Check the next FAQs to find out more details.
Frequently Asked Questions (FAQs)
What does ETIAS mean?
ETIAS is the European Travel Information and Authorization System. The Czech ETIAS is 100% online, and you only need some minutes to complete it.
The Czech ETIAS is a mandatory requirement for nationalities exempt from a Schengen visa. Over 60 countries around the world are visa-free to the Schengen zone. Vanuatu is among these countries so citizens of Vanuatu need to acquire a Czech ETIAS.
Are Czech ETIAS and visas the same?
No, Czech ETIAS and visas are two different procedures. In the case of visas, the process requires appointments at the embassy, tedious forms, and waiting periods that could last weeks or even months. On the contrary, Czech ETIAS only takes a few minutes to complete an electronic questionnaire, and you are ready to travel to the Czech Republic!
Is ETIAS valid for all the countries in Europe?
The Czech ETIAS is valid for the 26 states in the Schengen zone. Take into consideration that not all countries in Europe are Schengen, so carefully decide which countries you would like to visit. If you want to confirm if you only need an ETIAS, go to the iVisa.com Visa Checker.
Can I use the Czech ETIAS for multiple entries?
Yes, the Czech ETIAS allows you multiple entries to the Czech Republic and all the Schengen zone. You can use the document for 3 consecutive years. Also, you can only stay up to 90 days.
Do you have some questions? Contact a support agent.
What information do I need to provide for Czech ETIAS?
Provide information about personal details such as name, address, nationality, phone number, employment, etc. Besides, specific data about previous trips to risky countries, criminal records, and anything relevant to EU immigration.
Citizens of Vanuatu should have the following:
A passport scan.
A valid email address, which iVisa.com will use to send the ETIAS.
Payment methods, select to pay with your Paypal account or use a credit/debit card. iVisa.com charges a minimum fee for the Czech ETIAS service.
What are the procedure times?
iVisa.com has three options for the Czech ETIAS that citizens of Vanuatu can assess:
Standard service, the regular alternative for most iVisa.com customers.
Rush service, a rapid method when in a hurry.
Super rush service, a faster requirement to obtain the Czech ETIAS.
Which are the steps for the Czech ETIAS?
Vanuatu citizens need to go through the next 3 steps:
First, complete the electronic form and choose a processing time.
Second, double-check the details and determine how you will pay, either with a credit/debit card or with a Paypal account.
Third, upload the scan of your passport.
Get in touch with iVisa.com customer service agents in case you have any inquiries.
What will I get in my email?
iVisa.com will send you the ETIAS document to the email address in the application. Citizens of Vanuatu should provide a valid email address, so they don't have any issues when receiving ETIAS.
Do minors need Czech ETIAS?
Yes, minors need an ETIAS. All travelers entering the Czech Republic need an ETIAS without exemptions due to age. Vanuatu citizens must complete the Czech ETIAS for every minor in their travel group.
How safe is the ETIAS with iVisa.com?
Very safe! You can trust iVisa.com as many of our previous customers. Check our clients' reviews about the incredible experience they had with iVisa.com. Citizens of Vanuatu must be assured the service with iVisa.com is the best.
Choose iVisa.com and travel to Europe soon!
I have some questions, who should I contact?
iVisa.com can support you through the customer service team that is available 24/7. Also, write to [email protected] to get your questions solved.
Apply and obtain the Czech ETIAS!