You might wish to visit the Czech Republic to taste its fine beer and wine, to marvel at its well-preserved castles and monasteries, to discover its National Natural Parks, including the one from the Narnia movie, or to experience some romance in Prague. We invite you to keep on reading so you can learn about the new requirements to enter the country.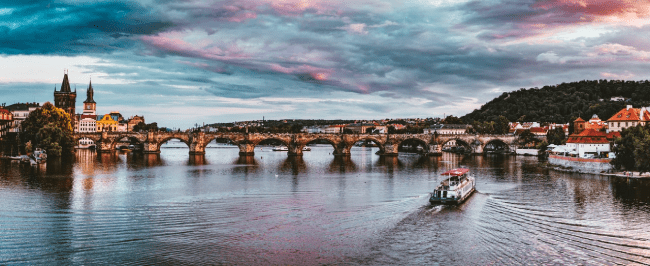 There is a new travel document called ETIAS, and visitors who wish to enter the Czech Republic will need to apply for one. It is okay though, iVisa.com has got you covered with a highly secure and straight forward process. In this next section, you will find all key information about the Czech ETIAS for Citizens of Mauritius and how to obtain yours.
Frequently Asked Questions
Are citizens from Mauritius eligible for an ETIAS?
Citizens from countries out of the EU who are currently part of the visa waiver program, and are not required to have a visa to enter the Schengen area, are eligible for an ETIAS. To verify whether citizens from Mauritius need to apply for an ETIAS you can use iVisa.com's Visa Checker Tool.
What type of document is ETIAS?
ETIAS is an online document processed and issued through an electronic system. It stands for European Travel Information and Authorization System., it is the European equivalent to a Canadian ETA or the US ESTA. This electronic system simultaneously cross-checks applicants' information in international databases before their travels. The ETIAS helps to secure the borders and keeps records of visitors.
How could I apply to get my ETIAS?
To apply for your ETIAS, you can start by filling out the application form on the iVisa.com page, this is an easy and secure process. Here is how to do it three simple steps:
First, take twenty minutes and type your personal information on the application form.
Second, reread all fields on the form and make sure that all the data (including your email) is correct and without any typo mistakes.
Third, provide any extra necessary documents and info with your application.
What will I need for my ETIAS application?
The first thing you will need for your ETIAS application is to be eligible, you will also need these followings:
A scanned copy of your current passport.
An email address to receive official information and documents.
Your preferred payment method; debit, credit card, or PayPal account.
For how many days can I stay in the Czech Republic with my ETIAS?
You can stay in the Czech Republic or the Schengenare, in general, for a maximum of ninety days. You can travel in and out as you please, just make sure to not to exceed the ninety days in total on a hundred and eighty days. If you wish to get further information about it you can contact our customer's agents.
Should I apply for an ETIAS each time I travel?
Your ETIAS will in most cases be valid for multiple visits. When you are filling out the application form, you will be required to type the country that you will be visiting first in the Schengen Area.
Which are the times and fees for the ETIAS?
Times and fees may vary since they adjust to your needs and preferences. iVisa.com offers three great options:
Standard option, standard fees, and considerable processing time.
Rush option, higher fees, and reduced processing time.
Super rush option, highest fees, and minimum processing time.
Is it advisable to use iVisa.com for my ETIAS application?
It is in fact highly advisable to use iVisa.com for your ETIAS application. We do the tedious part for you, using top-modern technology to process your application while providing you with assistance through the whole operation, plus you are guaranteed a minimum chance of rejection. We think that our previous customers say it better, take a look at the customer's reviews, and find more on their experiences with our service.
Where could I find further information about ETIAS?
You can find further information by getting in contact with iVisa.com's customer service team. These experts are available for you 24/7 and will gladly assist you.
Are you ready to enjoy the Czech Republic? Get your ETIAS today.