There are numerous types of visas that are available to travelers planning to travel to the Schengen Area and the exciting countries that fall within this zone. Visas are offered for the purposes of tourism, research, work, school, and more. Based on the type of visa, you may be granted an extended stay, multiple entry permissions, or other amenities. How much you are charged as the Visa Fees, will depend on the visa that you apply for, your age, and the reasons for your travel. Check with your local embassy for the full amount that you will need to pay for your Denmark Schengen Visa fees or to see if you are exempt from paying the amount.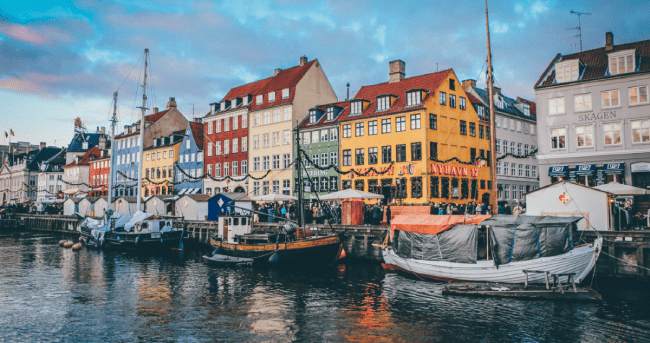 Alternatively, you can also make use of iVisa.com's Visa Checker Tool to get an idea of the amount you need to pay for your visa, by simply filling in your country of origin, Denmark as your destination, and a few other basic details.
Read along to know more about the Denmark (Schengen) Visa Fees and other details through the below-mentioned section.
Frequently Asked Questions
WHAT IS THE PURPOSE OF THE DENMARK (SCHENGEN) VISA?
Your Denmark Schengen Visa must be issued and authorized by the country's administration where you intend to spend the longest time in the Schengen Zone. If you intend to spend equal amounts of time in each of the Schengen states that you visit, then your visa should be issued by the country that you wish to enter first.
The Schengen visa is a compulsory document to enter Denmark or the Schengen Area. If you are a citizen hailing from a non-European country, who doesn't enjoy visa-free entry, then you must apply for a Schengen visa. Apply with iVisa.com to get the application processed within a brisk time-period, and enjoy affordable prices for the Denmark Schengen Visa Fees.
CAN I USE THE SCHENGEN VISA TO TRAVEL TO DENMARK?
Yes. The Schengen visa is generally valid for all the Schengen-member nations. You can benefit yourself with the entry to Denmark with the same visa before the expiry date of the visa and your passport. The Schengen Area is a cluster of countries in Europe that have the freedom of a movement-agreement amongst themselves.
Denmark is a member of the European Union and part of the Schengen Area as well. Fill-up the iVisa.com application and our team of experts will take care of the processing and necessary paperwork. They will deliver the evisa document online, as soon as possible.
WHAT IS THE COST TO APPLY FOR A VISA?
The standard visa fee of EUR 80 ($90) for Denmark, must be paid when you go on to submit the visa application. For children between 6 to 12 years of age, the amount for the Standard Denmark Visa is EUR 40 ($45). iVisa.com will also charge you a fee for the smooth administering and processing of your travel document. You get a clear idea of your expenses to be borne, by referring to the pricing here. The team of experts at iVisa.com will help you calculate and present you with a clear estimate of the total expense for your visa application processing.
WHAT ABOUT TIME TAKEN TO PROCESS THE DOCUMENT WHEN APPLYING WITH IVISA.COM?
The authorization process for the Denmark Schengen Visa does not require any lengthy approval procedure. It is less time-consuming or confusing when you apply through an online application form. Click here, and make your visa processing experience much easier. iVisa.com provides you with three options:
Standard Processing Option: one of the most economical means to attain your document easily.
Rush Processing Option: compared to the above option, this is a bit more expensive, but a faster option to get the document.
Super Rush Processing Option: this is the most expensive option because it is the fastest among all the three options. It will provide you with your travel document ASAP.
HOW CAN I APPLY FOR A DENMARK SCHENGEN VISA?
Knowing about the Denmark Schengen Visa Fees and applying for it using iVisa.com is much easier than other forms.
First, fill in your form here. Then choose your preferred processing time as per your convenience.
Second, verify and double-check all the information that you have provided. Make the payment through a debit/credit card or your Paypal account.
Third, upload a scanned copy of your passport and other relevant documents (as and if required). If you have any unresolved issues, then feel free to contact our customer support team. They will guide you to resolve any issue or query of yours.
WHO IS EXEMPT FROM PAYING FOR THE DENMARK SCHENGEN VISA FEES?
You are exempt from paying for your Schengen visa if any of the following pointers apply to you or your fellow travel partner:
If you fall under the age bracket of 6.
If you hold an official, diplomatic, or service passport and you are visiting Denmark for any official purpose.
If you are a family member of any EEA/EU national.
If you are a student who is traveling on a school trip with any of your teacher(s).
If you are a researcher and are traveling to the Schengen area for any scientific research.
Please note that you may also be exempted from the payment requirements if you are 25 or younger, and also if you are participating/attending an event that's hosted by a nonprofit. These are reviewed and governed on a per case basis, based on the event's relevance.
WHAT DO I NEED TO BRING WHEN I VISIT THE EMBASSY TO SUBMIT MY SCHENGEN VISA APPLICATION?
Before visiting the embassy, you have to set up an appointment for the interview part of the Visa Application Process. When you go to the embassy, you will have to carry the following along with you:
A printed confirmation copy of your scheduled appointment.
Your current, updated, and a valid passport.
2 recent photographs. The photos must be clicked with a white or light background and can have no obstructions or accessories (glasses, hats, etc.) covering any part of your face. Also, the photos should not be more than 6 months old and must be of the dimensions - 5x5 inches.
Your bank statements for the last 3 months to demonstrate that you have sufficient funds to cover the expenses of your trip (unless you are being sponsored by any institution/organization).
Your accommodation details (hotel reservation or invitation letter from any family member).
A minimum coverage of 30,000 Euros in terms of medical insurance.
The applicable fees for your Visa Application.
WHY SHOULD I CHOOSE IVISA.COM TO APPLY FOR THE DENMARK SCHENGEN VISA?
The team at iVisa.com is focused on serving their customers based on their needs and affordability. Complete the Denmark Schengen Visa Application with iVisa.com and witness for yourself, how the team of experts show their expertise in handling and safeguarding personal data. They know that to provide quality service, where your privacy and security is upheld as the main priority.