With 330,000 inhabitants, Aarhus is the second-biggest city in Denmark. Going back to the eighth century, it began life as an invigorated Viking settlement. Aarhus has been an exchange community for quite a long time and is known for its live music scene. The city every year has an eight-day worldwide jazz celebration. Aarhus has been the European Capital of Culture for 2017. It's a fascinating city structurally, with all styles spoken to from the Vikings to the current day.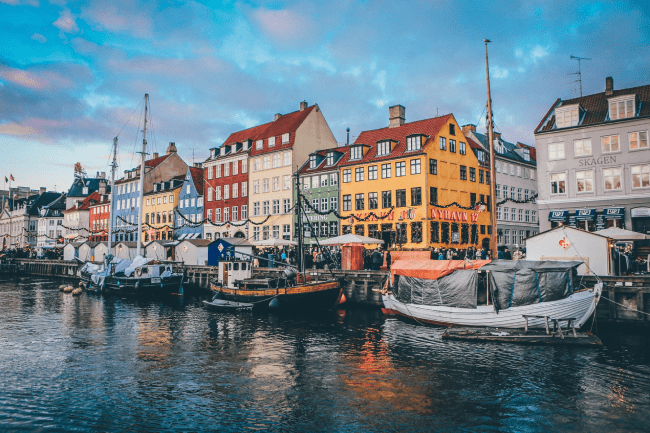 But if you'd like to experience any of that, you'll need a visa first. The Denmark Schengen Visa is required if you plan to go on vacation to Denmark or the Schengen region. At iVisa.com, we make it easy to get such visas and other travel documentation quickly.
Read along to know all the details related to the Denmark Schengen Visa for citizens of South Africa.
Frequently Asked Questions
WHAT IS THE DENMARK SCHENGEN VISA FOR SOUTH AFRICAN TRAVELERS?
The Schengen visa is a special kind of visa that allows every traveler to visit Denmark for a maximum period of up to 90 days. This is a traveler's dream where with just one visa you can travel to any of the 26 Schengen countries including Denmark. Click here and get your Schengen visa well within the time for your travel.
I AM SOUTH AFRICAN AND FOR BUSINESS I NEED MULTIPLE ENTRIES TO DENMARK. WILL THE DENMARK SCHENGEN VISA PERMIT IT?
The Denmark Schengen Visa is short and takes the form of a sticker affixed to your passport. The short-stay period is defined as 90 days in any 180 days. This means the total maximum stay period is 90 days in any period of 180 days. The visa sticker so attached will show the duration of the visit and the Denmark Schengen visa allows for multiple entries and also for single entry as stated on the visa sticker under the heading of "Number of heading" by 1.
CAN I EXTEND MY DENMARK SCHENGEN VISA VALIDITY?
You may not extend visas simply to enjoy your travel period. They can only be extended on a case-by-case basis such as due to humanitarian reasons, serious personal reasons (before the expiry of visas), unforeseen and unavoidable circumstances, and so on. Visit this link for more detailed information on the extension for the Denmark Schengen Visa for citizens of South Africa.
WHAT ARE THE AVAILABLE OPTIONS TO ENROLL IN MY DENMARK SCHENGEN VISA?
iVisa.com will provide you with easier processing options to get your travel document swiftly and in a smooth manner. These options can be opted for according to one's needs and affordability. These options are as follows:
Standard Processing Option: This is the standard way to get your document in the most affordable means.
Rush Processing Option: This can bring you a document at a little faster than the Standard Processing option. Here, the expense is also a bit more.
Super Rush Processing Option: This is the most expensive option among all three as it allows you to avail your document ASAP.
HOW CAN I APPLY FOR A DENMARK SCHENGEN VISA?
Every person who wishes to apply for a visa to visit Denmark is obliged to apply online, gather all mandatory documents, and upload for faster responses. It takes a few minutes through our customer-friendly form.
First, fill the online application form. Then, opt for a comfortable processing time as per your needs.
Second, verify and double click the information you have provided in the form. Now, complete the online payment through a valid debit/credit card or your PayPal Account.
Third, upload the scanned copy of a valid passport and other documents if necessary. Then, get your approved document via the email address provided.
WHAT ARE THE ESSENTIAL REQUIREMENTS THAT I SHALL PROVIDE TO HAVE A DENMARK SCHENGEN VISA?
You only need to provide the following necessities to complete the iVisa.com's application process:
Scanned copy of your passport: this is required to get your passport number, validity of it, and your contact information.
Valid email address: our team will deliver you the approved document via mail, which is why you need to provide a valid one.
Payment method: you can pay through a valid debit/credit card or through your Paypal account.
You also need to provide us the accommodation proof, travel plans, and educational/occupational details.
IS MY PERSONAL DATA SAFE WITH THE IVISA.COM PLATFORM?
Yes. You can completely trust our services as we have an expert team handling all your travel needs for understanding your travel requirements and delivering it at the appropriate time. iVisa.com ensures comfortable travel without time waste through easy process modes and enhanced security.
WHERE DO I GET MORE INFORMATION ON THE DENMARK SCHENGEN VISA?
iVisa.com provides you all the information and delivers you the Denmark Schengen Visa via a valid email address so far provided. You can also divert your queries to us and will respond to you soon with all the necessary solutions. See this link to connect with us for more detailed information on the Denmark Schengen visa for citizens of South Africa.