When visiting Copenhagen, many visitors make a beeline for this iconic recreation space. Dating from 1843, Tivoli is the inspiration behind the world-famous Disney theme parks, and here, you'll find a huge range of attractions including a roller coaster, roundabouts, puppet theaters, restaurants, cafés, gardens, food pavilions, and even a Moorish-styled concert hall.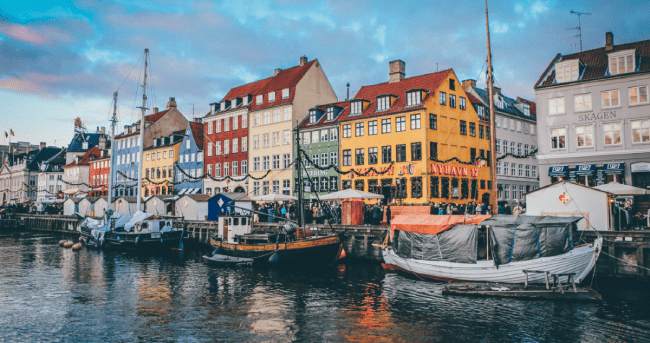 Known across the world, Tivoli has appeared in numerous movies and is a true symbol of the city. At night, firework displays illuminate the sky, and in winter, the gardens are adorned with lights for the Christmas season. During the summer, you can catch free rock concerts on Friday nights.
If you are unsure about the requirement of a Schengen Visa for your citizenship, check out the Visa Checker Tool from iVisa.com. Your trip to Denmark is just a few clicks away.
But before that, read on to know more about the Denmark Schengen Visa for citizens of Uzbekistan.
Frequently Asked Questions
WHAT DO YOU MEAN BY THE DENMARK SCHENGEN VISA FOR THE CITIZENS OF UZBEKISTAN?
When the citizens of Uzbekistan plan a visit to Denmark, it is important to apply for the Denmark Schengen Visa for citizens of Uzbekistan to enter the country hassle-free. Denmark Schengen Visa allows you to visit the country for a short trip or for transit purposes. Call or email our customer care executives to obtain your document fast.
WHAT IS THE MAXIMUM DURATION THAT I CAN SPEND IN THE COUNTRY UTILIZING THE DENMARK SCHENGEN VISA?
When you apply for a Denmark Schengen Visa, you will get validity for a short period. Using this document, you can visit the country and stay for a maximum duration of 90 days within a period of 180 days.
CAN I GET SOME INFORMATION ABOUT THE PROCESSING TIME AND COST FOR THE DENMARK SCHENGEN VISA APPLICATION?
Yes, you can get an idea about the cost and time of the processing for the application of Denmark Schengen Visa for citizens of Uzbekistan when you associate with iVisa.com.
You can select from the three options for processing times that we offer for the Denmark Schengen Visa application. The cost depends on the time of the processing of the document.
You can opt for one that fulfills all your requirements:
Standard Processing Alternative: Get your document at a low cost in a few days utilizing this option.
Rush Processing Alternative: Receive your document at a higher cost a little earlier using this option.
Super Rush Processing Alternative: Obtain your document for the most expensive cost in the shortest possible time using this option.
WHAT ARE THE STEPS I NEED TO FOLLOW TO COMPLETE THE APPLICATION PROCEDURE FOR DENMARK SCHENGEN VISA?
To complete the application for Denmark Schengen Visa for citizens of Uzbekistan, you can contact iVisa.com. The procedure we offer for the Denmark Schengen Visa application is simple and takes only twenty minutes to complete.
You just have to follow three steps:
First, provide your correct information by filling out an application form available on our website.
Second, avoid any discrepancies by reviewing the information given in the application form.
Third, send the form by paying the processing fee and uploading documents.
WHICH DOCUMENTS ARE REQUIRED FOR OBTAINING A DENMARK SCHENGEN VISA?
Association with iVisa.com offers you to get your document easily by submitting only a few documents. Here is the list of documents that you must have to obtain the Denmark Schengen Visa for citizens of Uzbekistan:
To provide your information correctly, you must have a valid passport and its scanned copy.
To obtain your document online, you must have a valid email address.
To pay the processing fee, you must have a credit/debit card or a PayPal account.
IS IVISA.COM A SAFE OPTION?
Yes, iVisa.com is a completely safe option for obtaining Denmark Schengen Visa as we guarantee that your data will be safe with us. We have been using advanced systems for security and only authorized professionals can access them.
WHAT SHOULD I DO TO CLEAR MY DOUBTS?
Doubts regarding Denmark Schengen Visa for citizens of Uzbekistan? You can contact our professional customer care representatives or visit our website to get more info.