Denmark is ready to welcome citizens from Zambia. The main document you need to enter this country is a Schengen visa. The conventional process to apply for a visa is long, slow, and very demanding, but, thanks to iVisa.com, you can get your Denmark Schengen visa for Citizens of Zambia without moving from your preferred couch at home.
We have developed an entirely online process to obtain your application and get your document right to your email.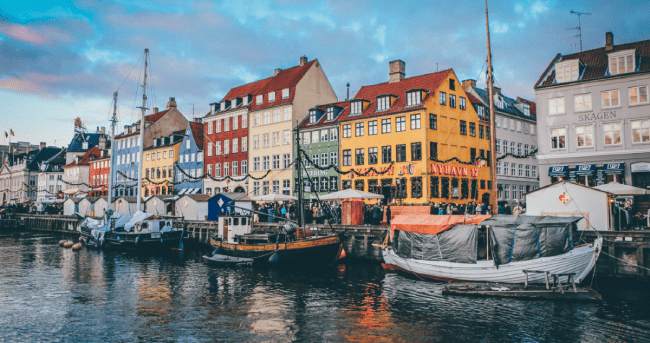 Get started on your application
The world health situation has forced governments around the globe to establish new measures to protect their people. In consequence, the way we travel is different from what it used to be. But, regardless of the restrictions and new conditions, iVisa.com has the right solution to make your upcoming travel possible. Our team is committed to getting your document approved!
On this blog, we share the latest news about the requirements to apply for the Denmark Schengen visa for Citizens of Zambia.
What process should I follow to get my Schengen visa with iVisa.com?
Complete the requested information in the online application form.
Add documents and information to your application.
Choose a speed to process your documents.
iVisa.com experts will review your information and give you some feedback.
Apply changes to your application and send it back (if applicable).
Receive your Denmark Schengen visa for Citizens of Zambia.
Print your visa and also keep a digital copy on your phone. (You may need to display it for the border control officers).
Applying in advance. Can I access that option?
Everybody can do it. The only limitation is the date of your travel. If you can start processing your application with at least two months of anticipation, you can apply in advance for the Denmark Schengen visa for Citizens of Zambia. The advantages of this option are:
More time to get the required documents.
The opportunity of editing your application after receiving feedback from [iVisa.com].
Being able to choose the ideal date to process your request and improve results.
Frequently Asked Questions
Do I need a Schengen visa for my wife and kids too?
Yes. Every member of your family must apply individually for the Denmark Schengen visa for Citizens of Zambia. The owner of the passport used for the application is the only person authorized to use this document.
Is Denmark allowing visitors to cross its borders during the Covid-19 pandemic?
Yes, by the end of 2020, the Danish government reopened its borders to allow entrance to some types of travelers:
Workers with a valid contract in Denmark.
Foreigners attending a business meeting.
Students enrolled in an educational institution.
Relatives of a Danish resident. (First degree relationship).
Every person, no exceptions, must present a negative COVID-19 result certification from the last 72 hours.
Can I stay in Denmark indefinitely with my Schengen visa?
No, your Denmark Schengen visa for Citizens of Zambia limits the time you can stay inside the Schengen zone/Denmark. The permitted stay after crossing the Danish border is 90 days within a period of 180 days. This standard is known as the 90/180 rule.
About validity. When does my visa expire?
A visa can be valid for a single-entry, double-entry, or multiple entries and could go from a few months to 5 years.
Apply online now for the Denmark Schengen visa for Citizens of Zambia and take advantage of the amazing features available through the services of iVisa.com.
What else should I get before applying?
Cover letter - A signed document, written by the person you are visiting/contacting. It must explain in detail what the reason is for visiting Denmark.
Valid Passport - A copy of your valid passport.
Previous visas - Include a copy of your old visas (if you have any)
Passport Photo - Two white background document size pictures. iVisa.com photo is a complimentary online service that adjusts your pictures to the right parameters to make them government compliant.
Flight itinerary - Send a copy of your flight reservation. Be sure it clearly shows the departure/arrival dates.
Bank statements - To demonstrate you have enough financial means for your entire stay in Denmark.
Medical assistance - Getting health insurance for 30,000 € became a mandatory requirement to enter Denmark.
Hotel Reservation - Proof of accommodation for your whole stay.
Payment method - Debit/Credit card, PayPal.
Start with your application for the Denmark Schengen visa for Citizens of Zambia with iVisa.com, and take advantage of the useful features and tools that our online process brings to you.
What processing option should I choose?
iVisa.com has a suitable option for everybody. Make your choice based on the type of travel you are about to start:
Standard Processing - Great for group traveling or individual travels where time is not a problem. For a low fee, you get an average processing speed.
Rush Processing - The right choice when you only have a few days to get your Denmark Schengen visa for Citizens of Zambia. Pay a higher fee and get a faster response.
Super Rush Processing: If the urgency of your trip allows no delays, this is a perfect choice. Pay the highest fee and process your request at the fastest speed. Receive an immediate response.
Can I process my document under safe conditions with iVisa.com?
iVisa.com provides a safe environment for users to complete their applications under the safest conditions. Your documents and information are in the best hands when you choose us as your online processing service.
Visit the user's review section and find out more about the great results we obtain daily for our customers.
I have a couple of extra questions. Where could I get more info?
You can always count on iVisa.com to solve your queries. Our customer service agents are available 24/7 to assist you and guide you through the application for the Denmark Schengen visa for Citizens of Zambia.