Denmark is a unitary state that has evolved as one of the most progressive and socially-liberal countries in the world. It has incredible architecture, well-preserved heritage, and breathtaking landscapes. Therefore, it's not a surprise to see it as one interesting destination for Mexicans. However, it's necessary to mention that from 2021, you'll have to apply for a Denmark ETIAS if you want to visit this country, regardless of your condition as a visa-free country.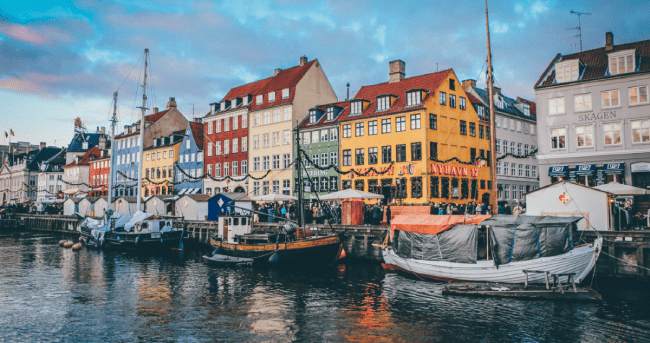 This may seem like an obstacle, but it's important to preserve the security of Denmark and other countries in Europe. Also, the document you receive with the ETIAS is obligatory only in the Schengen zone. By reading this article you can learn how to apply for the Denmark ETIAS for the citizens of Mexico and other important topics like the processing times for the document and what requirements you need before applying.
We remind you that with iVisa.com, you can easily apply within a few minutes. You can also learn more about iVisa.com's service by reading the following FAQs.
Frequently Asked Questions / FAQs
What is the ETIAS?
The European Union (EU) announced a few years ago that a new travel requirement named "ETIAS" would be necessary to strengthen the Schengen Zone borders. The process wasn't so necessary in those days, but due to the last attacks in Europe, the EU decided to make it official and obligatory by 2021. Therefore, you have to apply for an ETIAS before traveling to the Schengen zone.
ETIAS is the well-known acronym for European Travel Information and Authorization System, an electronic travel and information authorization that you can obtain through an online service like the one iVisa.com offers.
After you complete the online form, you can obtain the ETIAS via email and you'll be able to travel to the Schengen Zone. Just remember that you can use this document for 90 days or for 3 months.
I'm Mexican, do I need to apply for an ETIAS to visit Denmark?
Yes, if you're Mexican or you have a Mexican passport you need to apply for the ETIAS to travel to Denmark. Don't forget that all tourists from non-EU countries will need an ETIAS before entering certain countries like Denmark, and that includes countries that are visa-free like Mexico.
Please, note that the ETIAS will be mandatory only in the Schengen Area. In case you decide to tour other countries that aren't part of the Schengen Agreement, then the ETIAS won't be allowed.
You should also remember that the Denmark ETIAS oversees all travelers who require to visit this and other Schengen countries.
This is important for you to consider because when you're completing the ETIAS process, you must choose a country as the main destination, and it should always be the country you'll be visiting first. If you want to travel only to Denmark, then you'll just have to select Denmark as the main destination. But, if you want to visit many countries in the Schengen Area, then you have to select the first country to visit as the first country in your application.
What documents do I need to apply?
A great advantage of applying with iVisa.com's online form is that you'll just need the following documents:
Your valid passport with all of your personal information noticeable.
A valid email address so you can receive your ETIAS and other important notifications about it.
A Paypal or valid debit/credit card to pay for the ETIAS fees.
However, if you apply using the ETIAS official website, the list of documents will be different.
What are the prices and the processing alternatives with iVisa.com?
Remember that the ETIAS application process is new, so it can be a bit hard to give you all the exact information about the price because it can differ from traveler to traveler. What we can tell you is that the ETIAS cost is €7, but it doesn't include other important charges like iVisa.com's service.
As you read before, iVisa.com has a fast and reliable service, but you have to pay a small price to enjoy it. The good thing is that you can select one of the following procedure options:
Standard Procedure Options: it has the least expensive price, so it is the most requested.
Rush Procedure Options: the Denmark ETIAS is ready in less time with this option, so you have to pay a bit more than before.
Super Rush Procedure Options: it is the most expensive option but also the fastest.
How is the application form?
The best thing about iVisa.com's form is that it only has 3-steps to follow:
First, fill in the questionnaire on this link and select your processing option.
Second, don't forget to double-check the spelling of the information you offered and pay for the price of your ETIAS (we won't charge you anything until you know the exact price and authorize us to proceed with the process).
Third, once you upload the documents required, you can click on 'submit' to finish.
We remind you to contact iVisa.com's support service anytime and anywhere if you need assistance while completing the online form.
Does this application form guarantee the right of entry?
We always emphasize that the application form doesn't guarantee an automated right of entry because of the ETIAS online form may be denied on some rare occasions.
This electronic system will revise the application forms correctly, and that's why it can deny the entrance to some foreigners, especially those who appear on the ETIAS, Interpol, or Europol watchlist.
But the good thing is that this denial can also be a mistake or something you forgot to upload while completing the form. If that happens to you, you'll get the notification via email and you'll be able to appeal for the document.
Is it safe to apply with iVisa.com's method?
Yes, of course! You can feel safe when applying with iVisa.com's online form because we always take your security seriously. We created a strong security system that won't put your data in danger. Also, remember that our service is quick but, it doesn't mean we've not been authorized by official entities because our company is 100% trustworthy thanks to our hard work with these entities. You can read these reviews if you have doubts about it.
Where can I find more information about the ETIAS?
If you find issues while completing the ETIAS online form, then you contact iVisa.com's customer service. If you want to learn more useful tips or FAQs, you can explore iVisa.com's blog whenever you want.