Denmark's Immigration Service is currently not processing applications for extension of short-term visas due to the Citizen Service's closing. This means you will have to leave Denmark as soon as your visa expires.
However, if you're having trouble leaving Denmark because of situations beyond your control, more specifically, COVID-19, the immigration office will allow you to exceed your visa stay since you couldn't leave due to the closing of air travel. In other words, you can be granted a new short-term visa by the Danish authorities with the promise of leaving the country as soon as those travel restrictions are lifted. When this happens, you will have a letter issued by Denmark's border police, where they'll state that your departure deadline was postponed for 60 days counted from the date when the letter was issued. The Danish government also recommends for you to keep this letter, in case you wish to apply for a short-term visa later on.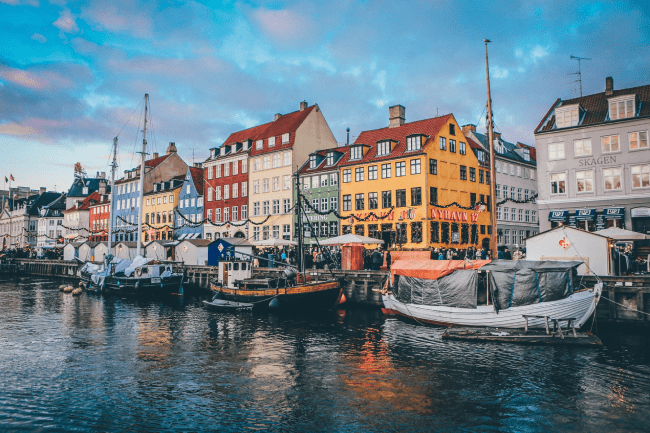 This is why we highly recommend you to Register your trip with the Embassy before you travel to Denmark. By doing so, you will be able to receive information from the consulate more easily and avoid any kind of inconvenience with the immigration authorities.
Learn how you can process this document from the comfort of your own home easily and reliably through iVisa.com's secure platform.
Frequently Asked Questions
WHY DO I NEED A VISA TO ENTER DENMARK?
Unless you are from a visa-exempt country, you will need a visa to verify your entry at the airport and avoid issues with the immigration officers. You can learn if you need a visa to enter Denmark with our Visa Checker Tool.
Please note that without this travel document, you will not be allowed to enter this country.
WHY DO I HAVE TO REGISTER MY TRIP WITH THE EMBASSY?
Travel Registration is a service provided by the Denmark government. This service will allow you to record information about your trip to the Department of State, so it can be used to help you in case of an emergency. When you live abroad, you can also get routine information from your nearest embassy or consulate more easily once you list that you're traveling.
Register your trip with the embassy here.
WHAT DOCUMENTS DO I NEED TO PROVIDE TO REGISTER MY TRIP WITH THE EMBASSY?
You will only need to provide the following documents for you to register your trip with the embassy through iVisa.com's remarkably safe platform:
Your Passport Scan: you will have to submit a valid passport scan so we can have all your personal and contact information.
Return Flight Ticket: please remember that this document is only valid for one single entry. This means that you are allowed to stay in the country for a short period of time. For this reason, you will have to show proof of a valid return flight ticket to the immigration officer.
Accommodation Proof: this can be a hotel reservation or a written letter from your Danish host.
Valid Email Address: our expert review team will send this document directly to your email, which is why you have to provide us with a valid email address.
Method of Payment: you will be allowed to use Paypal or any valid credit or debit card to pay for your fees.
WHAT ARE THE STANDARD PROCESSING TIMES AND FEES TO GET THIS DOCUMENT?
We totally get why these are main concerns. How much it costs and how long it will take for you to receive this document is extremely important so you can proficiently plan for your trip. This is why we've come up with a quick and reliable way for you to apply for your documents from the comfort of your own place in just a couple of minutes. Here are the available procedure times and fees for you to register your trip with the embassy through iVisa.com:
Standard Procedure Time: you'll have your document in 24 hours, and the price will be USD 20.00 (fees included).
Rush Procedure Time: you'll receive your ETA along with the health declaration in 4 hours, and the price for it is USD 50.00 (all service fees included).
Super Rush Procedure Time: this is the fastest option available. You will get the document in 1-hour, by paying USD 70.00.
Take note that you can reach out to us at any time if you need further assistance or if you've got questions in any step of the way.
If you have already chosen the processing time that best works for you, you can register your trip with the embassy here.
HOW PRECISELY DO I REGISTER MY TRIP WITH THE EMBASSY?
Once you've submitted all your documents to iVisa.com, you'll experience the easiest way to register your trip without ever having to leave home. Plus, iVisa.com's platform is extremely safe! We assure you that it won't take you more than just a few minutes to complete your application form by following these three simple steps:
First, Complete your application form here. Then, choose the procedure time that is the most beneficial for your travel requirements.

Second make sure to double-check the information you've given us and kindly review that is correct. Now, you will be able to complete the online payment via Paypal or with a valid credit or debit card.

Third, just upload your passport scan and any other documents if it's required. Here, the last thing to do will be to send the online form after you hit the Submit button.
Once you've correctly sent the application form, iVisa.com's expert review team will take care of your application to help you Register your trip with the Embassy and send you the document directly to your email. You must know that you may also get a QR code for you to present it to the immigration officers when you arrive at the airport.
HOW SAFE IS IVISA.com TO REGISTER MY TRIP WITH THE EMBASSY?
You can be 100% sure that processing your travel documents with iVisa.com is extremely safe. Even though we are not related to the Danish government whatsoever, we are a well-versed travel agency with the most amazing team of experts who will process your application the best way there is. If you want to find out further information about our whole set of services, you can check out what our clients have to say about us on this link.
WHERE CAN I FIND MORE INFORMATION IF I HAVE OTHER QUESTIONS?
You can reach out to us whenever you want! Contact our customer service agents and they'll answer all your questions. Actually, our expert team is always eager to clarify any of our customers' doubts 24/7. You can get in touch with them via phone +1 (786) 460-2707 or by writing an email to help@ivisa.com.