There are a few steps that you have to follow for a successful trip to a destination like Denmark. The most important step you should start with is gathering all the required documents that are needed to enter the country as soon as you land at the airport. Accordingly, you should remember that if you're Chilean, soon you will have to apply for the Denmark ETIAS for citizens of Chile. To do this, you will have to complete an online form that shouldn't take you more than 20 minutes.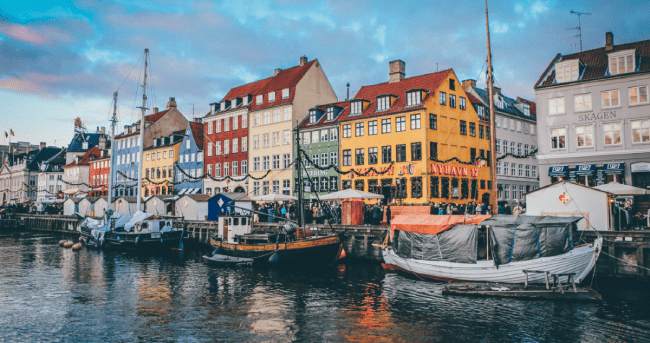 You can complete this online process with an official website from any of the Schengen countries. Alternatively, you can simply apply with iVisa.com and save loads of effort and time. This will, in turn, help you with some extra hours to pack your luggage in a more relaxed manner.
To learn how to apply for this document with iVisa.com, we've prepared a series of FAQs that will facilitate the work and help you prepare better for this process. To learn about the step-by-step guide on the Denmark ETIAS, keep reading.
Frequently Asked Questions
WHAT IS MEANT BY ETIAS AUTHORIZATION?
ETIAS, signifying European Travel Information and Authorization System, is a waiver program for visa regulations. This has been developed by the Schengen member authorities to have better authority at borders over illegal activities. With this system in place, you will receive an online document that will let you travel to any of the 26 Schengen countries without any problems.
This online authorization will be mandatory to enter any of the member nations of the Schengen zone, including Denmark, for any foreign citizen that currently enjoys a visa-exemption policy.
HOW MANY COUNTRIES CAN I TRAVEL TO WITH THE DENMARK ETIAS?
With the Denmark ETIAS, you will be eligible to travel to any of the 26 Schengen countries. You will first have to enter Denmark to validate your ETIAS, as that is the country that you have applied your ETIAS for. You can then move on to any other country, provided that falls within 90 days of travel, starting from the day you enter Denmark.
I'M CHILEAN, DO I NEED AN ETIAS TO ENTER DENMARK?
Yes, you do! Every Chilean will need an ETIAS to enter Denmark without any problems, Chile is one of the 60 nationscurrently allowed to apply for an ETIAS.
WHAT DOCUMENTS DO I NEED WHILE APPLYING FOR THE DENMARK ETIAS?
In contrast to other sets of documents that constitute a never-ending list, iVisa.com lets you apply for your ETIAS with just a few basic necessary things to fill in the online application:
A valid passport with a visible copy of the page reflecting the basic details of the traveler.
An email address to communicate and receive the ETIAS.
Easy payment options like a credit or debit card or PayPal to pay for the service fee.
You should be mindful that these are the things that you will be needing while applying for an ETIAS with iVisa.com, the list might differ if you are applying on the ETIAS official website.
WHAT ARE THE DIFFERENT PROCESSING TIMES FOR THE ETIAS?
As the ETIAS is a relatively new document that has been made official just recently, it is not possible to have the exact pricing for the document authorization as of now. However, we will be updating this space, as soon as there is a concrete update available from the concerned authorities. Regarding the processing times, there are three options available with iVisa.com. They are as follows:
Standard Processing Time: The cheapest option among all three - though it has a long waiting time, more than the other two options mentioned below.
Rush Processing Time: A bit pricier than the Standard option, but comes with a significantly shorter waiting time for the ETIAS to be processed.
Super Rush Processing Time: The fastest alternative among all three - this gets your ETIAS delivered to your mailbox in a matter of minutes.
HOW CAN I GET MY ETIAS DOCUMENT?
The process of applying for the Denmark ETIAS is not hard, but it might be a bit time-consuming and tedious. But with iVisa.com, you can skip all of that. The 3-step process is easy and simple and you can get the job done while you finish sipping over your cup of coffee. The step-by-step guide is to:
First, answer the questionnaire with your personal information and select the processing time that suits your needs.
Second, verify all the information that you provided and pay the service fee.
Third, upload the necessary documents as requested, and submit the online form.
Now that all has been done at your end, simply wait for your ETIAS to be approved. The team at iVisa.com will be sending it to you in real quick time
HOW MUCH TIME IS NEEDED TO APPLY FOR AN ETIAS?
The best thing about iVisa.com's service is that the online process is super-easy and convenient. So applying for an ETIAS should not take you more than 20 minutes.
WHAT BENEFITS COME ALONG WITH AN ETIAS?
Many people have the notion that the ETIAS is simply a document that doesn't come with any special benefits. Well, you should be going through the following pointers if you are having similar thoughts.
If you apply for your ETIAS with iVisa.com, you can save a considerable amount of time and effort. By having this document authorization in hand, you'll simply need your passport while you arrive at the airport.
There are some significant global security databases that are linked to this document, so one doesn't have to worry about security issues with the ETIAS in hand. This pre-screened document works as an intelligent tracker to avoid any potential danger to the country.
This document was thought up to mitigate all the possibilities of illegal migration, so you won't face any difficulties or threats when entering the airport.
The best thing about ETIAS is that you can visit any of the 26 Schengen countries with just one ETIAS authorization.
However, we recommend you to continually keep checking our website, to get notified about any further updates released about the ETIAS.
DO I HAVE TO APPLY FOR AN ETIAS IF I JUST HAVE A LAYOVER IN DENMARK?
In case you are just passing through Denmark or simply having a stopover, the ETIAS will still be needed. Keep this in mind before heading over to any Schengen country, as this could lead you to unwanted problems at the airport, and could even risk you missing your connecting flight.
IS IVISA.com SAFE TO USE?
iVisa.com is a safe and secured platform safeguarding your personal data from unwanted phishing activities on the internet. You can genuinely rely on the iVisa.com service for any travel-related documentation or authorization.
I HAVE FURTHER QUESTIONS, WHERE SHOULD I BE LOOKING?
Feel free to contact our customer Support team - simply chat with us or visit the iVisa.com website, and your unanswered question or query will soon be resolved in no time at all.
Get set for Denmark, and explore the country in all its glory.