The processing time for a visa application can vary based on the procedure of application and how much time it takes for you to interview at the embassy or consulate. At iVisa.com, there are three processing speeds for the online application review: Standard, Rush, and Super Rush. We have simplified the process to make it easy for you and hope that you'll continue reading to learn more.
With all the adventure and beauty that the Schengen area provides we understand your want to travel to the area. Allow us at iVisa.com to help you understand how to get there! The requirement for entry may vary depending on your country of origin, but most of this information applies to all the travelers coming to this area. Check out our Visa Checker Tool to see what are your specific country's requirements or documents for the Denmark Schengen Visa.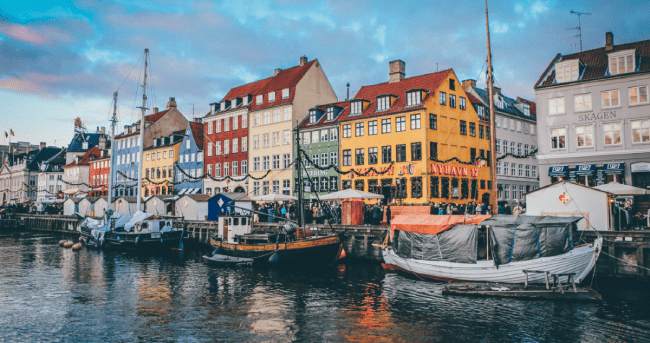 Frequently Asked Questions
HOW LONG DOES PROCESSING TAKE FOR THE DENMARK (SCHENGEN) VISA?
The processing for the Denmark (Schengen) Visa has been made easy. , You can complete the processing portion of your Denmark (Schengen) Visa application from your computer or phone with iVisa.com. The processing speed of the application will vary based on which option you select from the three options available on the portal when you checkout after filling out the application. The options you will find available are:
Standard Processing will take an average amount of time.
Rush processing will process your application a bit quicker.
Super Rush processing will get your application wrapped up as quickly as we can!
Visit iVisa.com to find out what are documents required for Denmark Schengen Visa?
HOW LONG CAN I STAY IN THE SCHENGEN AREA WITH A DENMARK (SCHENGEN) VISA?
You will be able to travel to Denmark and the other Schengen area countries for a maximum of 90 days Per Entry. So, to avoid the rejection of your Visa application, be mindful of all the necessary Denmark (Schengen) Visa documents.
Speak to us to find out what are the documents required for Denmark Schengen Visa?
IS THERE A CERTAIN NUMBER OF TIME THAT I CAN ENTER THE SCHENGEN AREA WITH A VISA?
Yes. The Denmark (Schengen) Visa will grant visitors a Single Entry facility in the Schengen area within a period of 180-days, so plan your trip well. If you want to visit countries like the UK or Ireland, you may need a separate visa since they are not part of the Schengen agreement.
We can help you learn what are the documents required for Denmark Schengen Visa?
WHEN DOES THE SCHENGEN VISA FOR DENMARK EXPIRE?
The Validity for the Denmark (Schengen) Visa is good for 180 days after arrival. For enhanced chances for your visa application to go through and not get rejected, you must be wary of all the Denmark (Schengen) Visa documents that are needed.
WHAT ARE THE DOCUMENTS REQUIRED FOR DENMARK SCHENGEN VISA?
The list of the Denmark (Schengen) Visa documents and other requirements that are needed for the application form and the interview are enlisted below:
Scan of Passport- The last page of your passport, depicting the details of your last travel history.
Passport-size Photo - A clear & visible, colored photo with a white backdrop.
Departure Ticket - The intended date you are planning to travel to Denmark.
Return Ticket - When you intend to fly back to your country.
Former Education/Work History (if applicable) - If you're going for school or official work, you'll need to show this.
Past Details of your Passport - A minimum of 6-months validity, from the date of arrival and 3 blank stamping pages. Scan it and upload it along with your application.
Accommodation - Whether you have a reservation for a resort or a hostel? Or do you have a letter from a friend or family member saying you are staying along with them in Denmark. Turn this in.
Enough Finances - You'll be required to prove you have sufficient funds for the vacation while you are in Europe. You will also need at least 30,000 EUR in terms of medical insurance, in case you injure yourself, or meet with an accident.
HOW DO I APPLY?
There are just three, easy steps. Let's find out:
Enter your information on the application on the website.
Check it's all spelt correctly, then pick you processing time.
Pay the fee and submit the form. Now just wait for your document to arrive,
HOW SAFE IS IT TO USE THE APPLICATION FORM FROM IVISA.COM?
You can use the Visa application form quite safely and without any worries to apply for your Denmark (Schengen) Visa. This is because the system at iVisa.com has a powerful encryption process that doesn't put your personal details at risk or threats. The portal uses high levels of cybersecurity to safeguard the privacy of your sensitive data, filled out on the application forms. You can also check thousands of client's positive reviews if you have doubts about the service of iVisa.com!
WHERE CAN I OBTAIN MORE INFORMATION ABOUT IT?
If you have further doubts or questions about the Denmark (Schengen) Visa documents or requirements, then you can contact our agents via chat to receive one-on-one attention and help. You can also browse through the iVisa.com website for further updates and information.