Traveling is one of the most popular hobbies in the world, especially because it allows you to discover new cultures. That's why visiting European nations as unique as Denmark is a pleasure for anyone, but only if you arrive at the airport with all the valid documents required. From 2021 on, you shouldn't forget about the Denmark ETIAS because it'll be a mandatory requirement.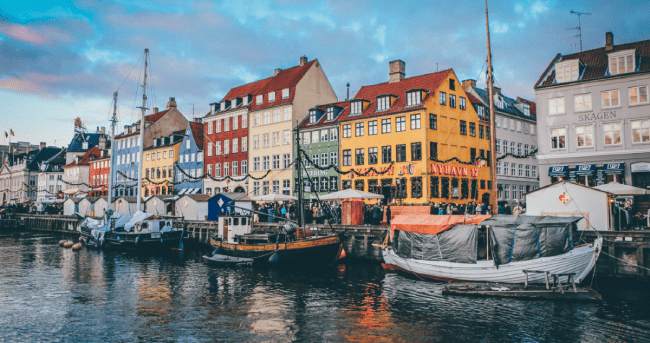 You shouldn't worry about finding a place to apply since iVisa.com has designed an online application form that will provide you the ETIAS quickly. If you want to know where to obtain the Denmark ETIAS for citizens of New Zealand and how to apply for it, then keep reading the information in this article.
Once you have this document on your hands, you're a step closer to entering Denmark, so you should be correctly notified about it.
Frequently Asked Questions
What is the ETIAS and why should I apply for it?
The ETIAS is the popular acronym that stands for European Travel Information and Authorization System, a system that will be in use by 2022 to keep better track of all the foreign travelers that visit the Schengen zone since many of them don't need a Schengen visa. This system was also designed to avoid illegal immigration and control any security threats.
The ETIAS system works quite similarly to the ESTA visa waiver program because it's available on an online platform, and it gives you an electronic document that you can use to visit the Schengen countries. The ETIAS allows you to enter and move freely within any of the Schengen member countries.
The ETIAS authorization can be used for business or entertainment, but don't forget that to work, study, or live in-country for more than 90 consecutive days, you must get another type of document.
How many countries have to apply for the ETIAS?
By now, only 62 countries are eligible for this document, so not all foreign citizens wanting to travel to countries like Denmark will be able to have it. The nations that can get this document are visa-exempt. An example of it is New Zealand, so if you're a New Zealander, then you can apply for the Denmark ETIAS.
What documents are required to apply?
Applying with iVisa.com's service makes the ETIAS process more manageable, starting with the fact that you just require these conditions:
A passport with at least 6 months of validity and a scanned copy of its information page.
Your valid email address to receive your Denmark ETIAS
Your valid debit/credit card or Paypal account to be able to pay for the fees.
Just remember that these requirements are necessary only if you apply with iVisa.com. But, if you use the ETIAS official website, then the list of documents may change.
What are the prices and the processing times for the ETIAS?
The Denmark ETIAS will be mandatory by 2022, so it might be too soon to give you all the details about the price. However, you can keep in mind that iVisa.com has 3 processing options with different prices according to how fast you need this document. These processing options are:
Standard Processing Options: With this option, you don't have to pay too much because it's the cheapest of the three, but that's why it's not as fast as the others.
Rush Processing Options: This option is faster, therefore, it's also more expensive.
Super Rush Processing Options: This is the fastest option of the three, and that's why it's also the most expensive. It's frequently requested when there's an emergency or rush.
How can I apply for the Denmark ETIAS?
Applying with the official service isn't difficult, but it's more convenient to apply with iVisa.com's form because you avoid long and tiring questionnaires, and you don't have to wait for an official website to load (remember that official websites tend to be slow due to the number of users they can have). With iVisa.com, you have to do this:
First, complete a short questionnaire with basic information and then select the processing alternative.
Second, verify that all of the information is correct to proceed with fee payment using the Paypal account or a credit/debit card.
Third, attach the documentation required to the online form and send it.
If you're ready to start this process with iVisa.com, then click on this link.
How much time do I need to apply for the ETIAS?
If you want to apply with effortless software, then iVisa.com's online form is your option, especially because you'll be able to complete all the 3 steps in around 20 minutes or less. But, we still recommend you finish this process step by step, without any stress. If you need your ETIAS as fast as possible, then don't forget to select the Super Rush processing option.
What is the difference between the EU and the Schengen Area?
Keep in mind that the ETIAS is only mandatory for the countries that belong to the Schengen Area, not for all the countries in Europe, which is why it's important to learn the difference between the EU and the Schengen Zone.
The European Union (EU) is a union that has 28 member nations and it was created to bring peace to the continent and also unify it. The 28 members of the EU can make decisions about policymaking and other similar aspects, but these decisions are bound to legal authorities of the EU. Therefore, EU citizens have the right to work, study, live, and retire in any EU country.
The EU is not the same as the Schengen Zone. Schengen member states signed the Schengen Agreement to operate with no internal border controls.
The Schengen Agreement has only 26 member states at the moment, and many of these members belong to the European Union (EU). But, two EU countries, the UK and Ireland, don't belong to the Schengen Area.
Another important thing you should know is that some Schengen countries aren't part of the EU. These countries are Iceland, Norway, Switzerland, and Liechtenstein.
Can I enter into any EU country with an ETIAS?
The ETIAS is useful only in the Schengen Area, so you cannot use it to enter any EU country. Keep in mind that you might need another type of document to enter other nations that aren't part of the Schengen Area.
Is it reliable to use iVisa.com?
You can feel safe when using iVisa.com's online form because iVisa.com has a strong and modern security system that won't put your personal details in danger. You can read these reviews to confirm.
Where can I get more information?
Do you want answers to other questions? Check iVisa.com's customer service page to chat with a personal assistant or explore iVisa.com's webpage if you want to keep reading other FAQs.