Dominica is an excellent destination if you want to spend time in the Caribbean. Its beautiful beaches and its people make this country an option to visit. Take into account that it is not the only thing that you will find there because it has exotic and unexplored natural landscapes that few travelers have gone so far. Besides, you will have the opportunity to visit the whole country since it is a small island, isn't that cool?
There are many reasons why you should visit Dominica, but before, you should know the new restrictions taken to mitigate the COVID-19. As you may know, the recent outbreak has provoked a health crisis worldwide. To prevent any possible increase of the contagious, you will be required to present a Dominica Coronavirus Questionnaire. You will have to get tested 72 hours before arrival.
Don't forget that you will also have to be in quarantine for at least one week depending on the place you come from. This is why you will also have to present a Health Questionnaire testifying where you have gone before your trip. It may be difficult because you might don't know the complex language that it uses, and it will also be time-consuming if you don't have enough time for the process. In that case, you should use iVisa.com, which will help you with the Health Questionnaire.
If you want to learn more about this new requirement, you should read.
Note: Since April 4th, 2022, the Dominica Health Questionnaire is no longer necessary to enter the country.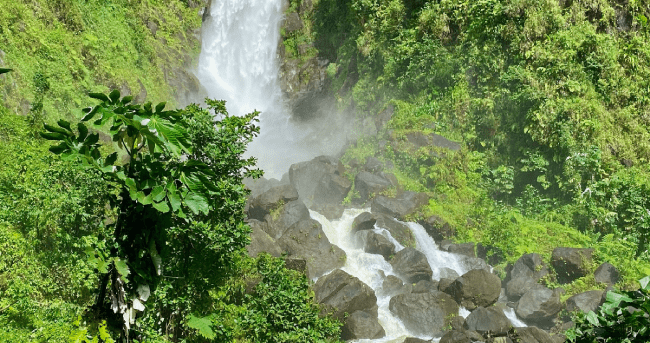 Frequently Asked Questions
What is a Health Questionnaire?
It is a new document that you will have to present on your arrival to Dominica. It will help the government to identify better who got into the country, and in case the person was in a possible risk to get contagious of COVID-19. This document will also help them check your health status, so you will be asked if you had any symptoms.
The best part is that you can do it online, yet it does not necessarily mean that it will be easy to fill. It has some complex fields that may need help from some professionals. That is why iVisa.com has prepared a simplified way where you just fill in your basic information, and we do the rest for you. You will save effort since you won't have paperwork to do, and you will also save time.
Do I need a COVID-19 vaccine or vaccination certificate to enter Dominica?
No, it is not necessary. As of today, COVID vaccination passports or certificates are not mandatory to enter Dominica. Since information may change quickly, we advise you to follow up on the latest Dominica travel updates and/or contact your local embassy.
Do I need to take a COVID-19 PCR test before traveling to Dominica?
COVID testing requirement: There are no testing requirements.
Do I have to quarantine once I arrive in Dominica?
Quarantine requirements: There are no quarantine requirements.
How many times can I enter the country with this document?
You will only have Single Entry when you present this document. That means that if you plan to go more than one time during this outbreak, you will need to apply for a Dominica Coronavirus Questionnaire more than once.
What are the processing times and fees if I decide to use iVisa.com?
iVisa.com has created three alternatives that will depend on your budget and time. These are:
Standard Processing Option: You wait only

24 hours

, and you pay

USD $27.99

.
Rush Processing Option: You receive your Health Questionnaire in

8 hours

, and it costs

USD $50.99

.
Super Rush Processing Option: You wait

4 hours

, and you pay

USD $86.99

.
What steps do I have to follow if I choose iVisa.com?
You don't have to worry about doing complicated steps or anything else since you will only be required to fill our application form that won't take more than ten minutes to complete it. You will only have to fill in your data and your travel info. After you pay for the service, our team will do it for you while waiting at home. You will receive your Coronavirus Questionnaire at your email address.
How long is the Dominica Coronavirus Questionnaire valid for?
After you receive this document in your email address, it will have a validity of 30 days after arrival.
Is it secure to use iVisa.com if I want to obtain the Dominica Coronavirus Questionnaire?
For sure. iVisa.com is a travel agency that counts with the best professional team that knows how to do this kind of process? You won't have to worry about protecting your personal information since we have a security platform to safeguard it. You can also check what other clients have said about our services in our reviews.
Can I get in touch with you if I have further questions?
Absolutely! Our agents are willing to help you with the process or answer any questions or doubts you may have.
Let iVisa.com be part of your dreams!