Have you thought of going to a Caribbean paradise next soon where you will relax during your vacation time? If that is your case, you should go to Dominica, a small island that surprises thousands of tourists. You will explore a fascinating country that offers its visitors the opportunity to discover its waterfalls and jungles that has not been seen yet. It can be considered an eco-friendly country because it has preserved anyone's environment, making it an excellent tourism place.
However, COVID-19 pandemic caused many countries to close their borders. Since Dominica opened them, the government created a new way to prevent a recent outbreak on the island by implementing new requirements to enter the country. You will be asked to show a negative COVID-19 PCR Test that demonstrates that you don't carry with the disease. This test must be taken a maximum of 72 hours before visiting Dominica. You will also be asked to present a Health Questionnaire in which you will have to report where you have been before your trip and some other details in general about your health and personal info.
As you can see, both documents will be required to visit one of the most exotic and fascinating countries in the world. This is why iVisa.com has planned a way to make this process easier for you. We can help you with your Health Questionnaire as we know that it might be frustrating and tiring to complete those complex and lengthy forms whose language can be ambiguous at times. iVisa.com has the best-prepared team that knows what to do with these kinds of docs.
If you want to learn more about both requirements to visit Dominica and how you can save time and effort with iVisa.com, then you should read our FAQ section.
Note: Since April 4th, 2022, the Dominica Health Questionnaire is no longer necessary to enter the country.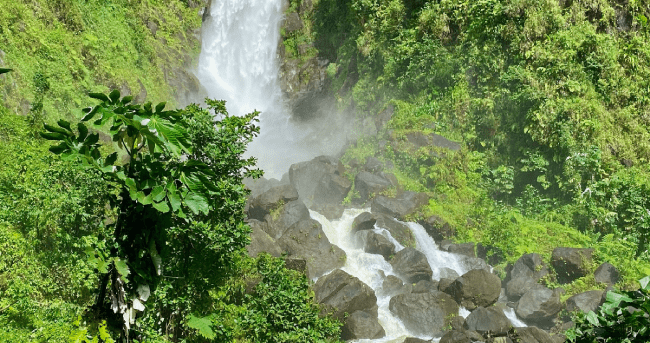 Frequently Asked Questions
What are the COVID-19 PCR Test and the Health Questionnaire for Citizens of Barbados?
These documents are the new requirements that have been created in order to prevent another outbreak in Dominica. All tourists, including those from Barbados, will have to obtain them if they wish to visit this wonderful country.
The COVID-19 PCR Test will detect if you have the coronavirus or not in your body. If your results are positive, then you won't be able to enter the country.
The Health Questionnaire is a form that reports where you were before your trip, your medical status, and contact info.
Both documents will be asked by immigration. Remember that presenting both docs does not mean that you will be exempted from staying in quarantine.
Do I need a COVID-19 vaccine or vaccination certificate to enter Dominica?
No, it is not necessary. As of today, COVID vaccination passports or certificates are not mandatory to enter Dominica. Since information may change quickly, we advise you to follow up on the latest Dominica travel updates and/or contact your local embassy.
Do I need to take a COVID-19 PCR test before traveling to Dominica?
COVID testing requirement: There are no testing requirements.
Do I have to quarantine once I arrive in Dominica?
Quarantine requirements: There are no quarantine requirements.
What are the processing times and fees for the Health Questionnaire?
iVisa.com has prepared three different alternatives for you to select. These choices have been created thinking of how affordable they are for you. The options are the following:
Standard Processing Option: It has a reasonable price (

USD $34.49

) for an average time (

24 hours

).
Rush Processing Option: It is a quick option (

8 hours

) for

USD $65.99

.
Super Rush Processing Option: It is the most expensive alternative (

USD $98.99

) and the fastest (

4 hours

).
How many times can I enter Dominica with the Health Questionnaire and the COVID-19 PCR Test?
Both of these documents will allow you to enter Dominica once. It means that it is for a Single Entry. In case you want to visit the country more than once, you will have to obtain new documents again.
What are the steps that I have to follow if I use iVisa.com?
Remember that you still can do the process by yourself, but it would be more paperwork. If you choose iVisa.com, you must know that we have shortened all steps to make them easy to follow. These are the following:
First, you will have to complete our application form in which you will be asked some questions about yourself and your medical status.
Second, select the processing option you prefer the most, proceed with the payment, and send it.
Is it safe to use iVisa.com?
You can be confident that iVisa.com is a trustworthy platform that counts with the best security to protect your info from any possible attack coming from any third-parties. You can also check our reviews that our satisfied customers have left.
Can I get in touch with you if I have further questions?
For sure, you can contact us in case you need extra help for your process. You can also send us an email to [email protected]
Let iVisa.com help you to discover Dominica.