It is known for being one of the unknown gems of the Caribbean, Dominica is an island different from the rest. The island has great mountains, incredible waterfalls, and breathtaking beaches. These places have captured the attention of many, making it one of the favorite options for those who are willing to discover the mysterious island of Dominica.
You may have heard that the COVID-19 pandemic has produced havoc throughout the world. That is why the Dominican government has declared that all tourists coming from abroad will have to present the PCR Test showing that the person does not carry with the coronavirus Health Questionnaire to visit the country. That includes any Canadian citizen who is willing to enter Dominica. The good news is that you will be able to obtain your Health Questionnaire online.
You will have two options: From one side, you will be able to do it by filling a long and complicated application form in which you may need some help to complete. On the other side, you can use iVisa.com to save those extra-steps while you stay at home and our professional team takes care of the rest.
If you want to learn more about the requirements that you will have to present to enter Dominica, and why you should use iVisa.com, then you should read the following sections.
Note: Since April 4th, 2022, the Dominica Health Questionnaire is no longer necessary to enter the country.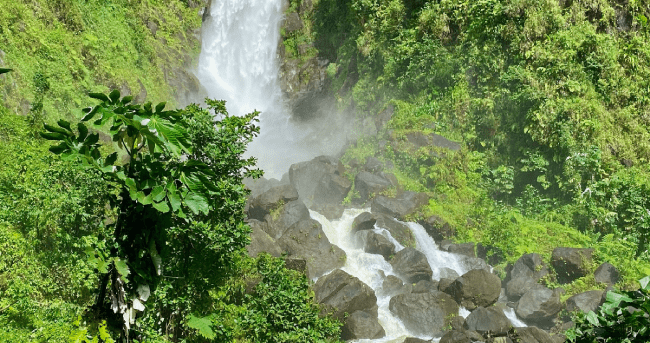 Frequently Asked Questions
Why do I need the Dominica Health Questionnaire and the COVID-19 PCR Test?
The Dominica Health Questionnaire is a document created by the government to control the outbreak of COVID-19 coming from outsiders. It will help them check who has entered the country and take better measurements for those who have gotten contagious of that illness.
On the other side, the COVID-19 PCR Test will help you to demonstrate that you don't carry with the disease to let you enter Dominica.
Remember that these documents won't prevent you from the one-week quarantine mandatory for almost all citizens coming from abroad.
This is why you should use iVisa.com to help you with your Dominica Health Questionnaire since you will save time and effort. We have shortened most of the process to make it simple while we do the rest.
Do I need a COVID-19 vaccine or vaccination certificate to enter Dominica?
No, it is not necessary. As of today, COVID vaccination passports or certificates are not mandatory to enter Dominica. Since information may change quickly, we advise you to follow up on the latest Dominica travel updates and/or contact your local embassy.
Do I need to take a COVID-19 PCR test before traveling to Dominica?
COVID testing requirement: There are no testing requirements.
Do I have to quarantine once I arrive in Dominica?
Quarantine requirements: There are no quarantine requirements.
How many times can I use the same Health Questionnaire to enter Dominica?
The Health Questionnaire is only for One Single Entry. The same goes for the COVID-19 PCR Test. If you plan to do more than one trip to Dominica, you must present another.
What are the processing times and fees for the Health Questionnaire with iVisa.com?
iVisa.com has three alternatives based on your budget and time waiting since most people won't like only one option. These are the following:
Standard Processing Option: You receive your Dominica Health Questionnaire in

24 hours

, and you pay

USD $29.49

.
Rush Processing Option: You pay

USD $52.99

, but you receive it in

8 hours

.
Super Rush Processing Option: It's the quickest option since you receive it in

4 hours

, yet you pay

USD $89.99

.
As you can see, most of those processing options will hinge on how affordable they are for you.
What are the steps that I will have to follow if I use iVisa.com?
With iVisa.com you won't have to be worried about following those complicated steps that may be time-consuming. Instead, you will have to complete the short [application form] that we have created for you. Then you choose the processing option that better fits you. After, you upload some info about yourself, and pay for it. You will only have to wait for your document on your sofa's comfort while our excellent team do everything for you to bring you the best service.
Are you ready to start, then click here, and let iVisa.com help you with your docs.
Is it secure to use iVisa.com for this process?
For sure! iVisa.com is a travel agency that has one of the best security platforms since we have designed it to protect all your info from any possible leak to third-parties. You can also check what other satisfied clients have said about our services.
How can I contact you?
In case that you need to get in touch with iVisa.com, you can do it through chat, or our agents can call you directly to help you with your process.
Apply with iVisa.com for traveling to Dominica