Dominica is one of the smallest countries in the Caribbean, and it is also one of the most beautiful that has been considered a Nature Isle. It has gorgeous and incredible beaches and enormous mountains and breathtaking waterfalls that make you wonder how astounding a small island can be. Its particular culture and people also show that it is the best option for those willing to spend a honeymoon with their couple.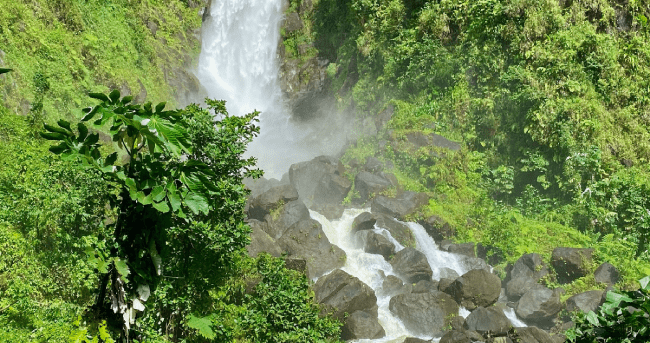 However, due to the COVID-19 outbreak, the Dominican government has announced that all foreigners will have to present a negative COVID-19 PCR Test that must be taken a maximum of 72 hours before your trip. You will also have to show a Health Questionnaire to know more about their medical status and some information to contact them in case of a problem. These documents won't exempt you from the one week quarantine that is mandatory for all visitors.
As you can see, you will need time to do both procedures. That is why iVisa.com is an excellent option for you to choose since we will help you with your Health Questionnaire while you wait some hours. You will avoid those complicated and stressful steps that may be time-consuming. iVisa.com is an alternative that will provide you the best service possible.
If you want to learn more about both requirements and how iVisa.com is the best choice you can make, you should read more.
Frequently Asked Questions
Why do I need a Dominica Health Questionnaire and the COVID-19 PCR Test?
If you want to visit Dominica, you will have to present these docs since it is the only way to demonstrate that you are not infected with the coronavirus.
The COVID-19 PCR Test must be taken in a specialized lab whose result has to be negative if you plan to spend time in Dominica. It has to be taken only a maximum of 72 hours before your trip. Besides, you will have to present the Dominica Health Questionnaire in which you will testify your medical status and your information only if it is necessary to contact you.
As you can see, you will have more paperwork to do only for a trip. That is why iVisa.com has designed a way in which you will save time and effort while you do other things in the meantime.
Which risk category is my country?
Low-risk: Grenada, Montserrat, Antigua & Barbuda, Barbados, The Cayman Islands, Norway, Iceland, New Zealand, Bermuda, Greenland, Singapore
Medium risk: Finland, Sweden, Nigeria, Switzerland
High-risk: Curacao, Canada, Italy, Jamaica, Trinidad & Tobago, Guyana, Belize, Guadeloupe, Martinique, United States, Brazil, India, Russia, South Africa, Peru, Mexico, Haiti, Colombia, Chile, Spain, Iran, United Kingdom, France, Japan, Bolivia, Aruba, St. Vincent & Grenadines,Germany, Argentina, Dominican Republic, Ecuador, Panama, Surinam, St. Lucia, Sint Maarten, Saint Martin, Turks & Caicos Islands, Anguilla, St. Kitts & Nevis, BVI
Do I need a COVID-19 vaccine or vaccination certificate to enter Dominica?
No, it is not necessary. As of today, COVID vaccination passports or certificates are not mandatory to enter Dominica. Now if you are a Covid vaccine certificate holder, you won't need to follow a quarantine.
Approved vaccines are Pfizer, AstraZeneca, Moderna, Janssen, Sinopharm.
Since information may change quickly, we advise you to follow up on the latest Dominica travel updates and/or contact your local embassy.
Do Children have to take the COVID-19 PCR Test?
Not all children will be required to present this document, but only those older than five years will have to show it.
Do I need to quarantine when I get to the Dominica?
Unvaccinated travelers from high-risk countries need to quarantine for 5 days and take a COVID-19 test on day 5 of quarantine. If the result is negative, they will be released from quarantine. Fully vaccinated travelers coming from high-risk countries don't need to quarantine.
How many times will I be able to enter Dominica with the Health Questionnaire and the COVID-19 PCR Test?
As you may know, the COVID-19 is a virus that cannot be controlled or avoided, and it must be checked almost all the time. That is why these documents will be only for a Single Entry. If you decide to visit Dominica more than once, you will have to repeat the process.
What are the processing times and fees that iVisa.com offers?
Currently, iVisa.com offers three different processing times that will depend on your current budget. These are:
Standard Processing Option: It only costs

USD 20.00

, and you wait an average time of

24 hours

.
Rush Processing Option: It is faster since you receive it in

8 hours

, but you pay a bit more

USD 35.00

.
Super Rush Processing Option: You wait

4 hours

, but you pay around

USD 60.00

.
Any of the processing options will be based on your needs. Choose wisely, and remember that iVisa.com will be there to provide you the best service.
What steps do I have to follow with iVisa.com for the Health Questionnaire?
iVisa.com has prepared a new way in which you won't have to be worried about filling a lengthy questionnaire that has a complicated language. Instead, you will have to complete a short application form. You will be asked more about yourself, your trip, and your health status. Then, you will have to choose the processing option. Upload your docs, and proceed with the payment. After sending it, you will only have to wait for your Health Questionnaire.
Is it secure to use iVisa.com for this process?
For sure! iVisa.com is an experienced travel agency that reckons with the most competent professional team that will take care of your info. Besides, you can also check what other satisfied customers have said about our service.
Can I get in touch with you if I have further questions?
You can contact us whenever you want, and one of our agents will be there to help you. You can also send us an email to help@ivisa.com.
Let iVisa.com help you to achieve your dreams to visit Dominica.