Visiting one of the most beautiful and fascinating countries in the Caribbean is an excellent plan for those who are willing to discover the wonderful state of Dominica do not underestimate it, because you will be surprised by the incredible natural places that it has. Many countries would live to have this wonderful hidden gem in their hands, yet it is open to anyone who wants to spend time enjoying with their family or maybe just exploring new cultures. The best part is that Dominicans speak french!
As you have read before, if you plan to visit Dominica, you should do it right now! However, you have to consider the Dominican government's new travel restrictions to mitigate the COVID-19 inside their borders. All tourists coming from Haiti or other countries must present a negative result of the COVID-19 PCR Test together with the Health Questionnaire. You will testify about your health condition and your information if they need to contact you. The COVID-19 PCR Test must be taken a maximum of 72 hours in advance of your trip.
As you read before, you might need some extra help to fill those long and tedious questionnaires whose language may be hard to follow. That is the reason iVisa.com prepared a new way for you to obtain your Health Questionnaire without leaving the comfort of your home while saving time. You won't have to worry about an annoying process, but a straightforward procedure with iVisa.com.
If you want to learn more about the Health Questionnaire and the COVID-19 PCR Test, you should read below.
Note: Since April 4th, 2022, the Dominica Health Questionnaire is no longer necessary to enter the country.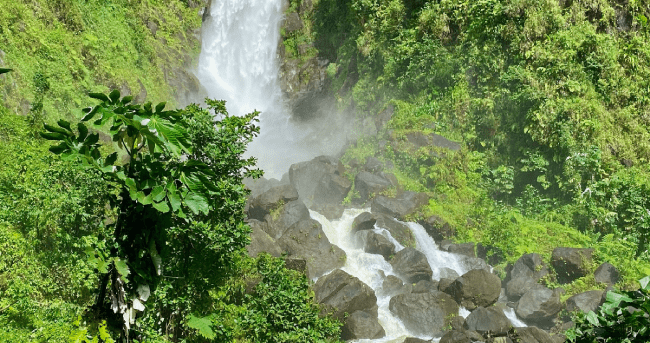 Frequently Asked Questions
Why do I need the Dominica Health Questionnaire and the COVID-19 PCR Test to enter the country?
You will need both documents to enter the country because those are new measurements taken by the Dominican government to control the COVID-19 cases. The Health Questionnaire is a document that will inform the government more about who you are and why you are traveling to Dominica.
The COVID-19 PCR Test helps the government confirm that you don't carry the disease to visit the country. By presenting both documents, you will help the Dominican government to mitigate the COVID-19 impact in the country.
Do I need a COVID-19 vaccine or vaccination certificate to enter Dominica?
No, it is not necessary. As of today, COVID vaccination passports or certificates are not mandatory to enter Dominica. Since information may change quickly, we advise you to follow up on the latest Dominica travel updates and/or contact your local embassy.
Do I need to take a COVID-19 PCR test before traveling to Dominica?
COVID testing requirement: There are no testing requirements.
Do I have to quarantine once I arrive in Dominica?
Quarantine requirements: There are no quarantine requirements.
Do children have to present the COVID-19 PCR Test?
Yes, all children will have to present their COVID-19 PCR Test to enter Dominica, but those younger than 2 years old.
What information will I have to attach to obtain the Health Questionnaire with iVisa.com?
iVisa.com knows how tedious it is to present a lot of documents for one single form. This is why we don't ask you to upload more than essential docs as follows:
Your current passport.
Your email address in which you will receive your Health Questionnaire
Your payment method because our services have a price.
Can I visit Dominica more than once by using the same Health Questionnaire?
No, if you want to explore this incredible country more than once, you will have to obtain a new one for that trip. That means that the Health Questionnaire is for a Single Entry.
What are the processing times and fees that iVisa.com offers for the Dominica Health Questionnaire?
There are three different alternatives that you can choose:
Standard Processing Option: It costs only

USD $34.49

, and you receive your document in

24 hours

.
Rush Processing Option: It costs

USD $65.99

, but is a faster alternative (

8 hours

).
Super Rush Processing Option: You receive your Health Questionnaire in just

4 hours

, but you pay

USD $98.99

.
Have you made a decision already? Then click here and start with iVisa.com now.
What are the steps that I have to follow if I choose iVisa.com?
You will only have to follow three simple steps that won't take more than 10 minutes to finish if you choose iVisa.com. These are:
First, complete your application form about yourself. Remember to be clear in the details you mention.
Second, check your info and select your processing time.
Third upload the required docs, proceed with the payment and send it!
Is it safe to use iVisa.com?
For sure! You can check our reviews in case you want to confirm our services. Remember that you can trust us since we have experience doing this process, our satisfied clients recommend us, and we have the best security platform that will protect your info.
How can I contact you if I have further questions?
You can get in touch with an agent for more assistance. You can also read our page to find out more.
Let iVisa.com be part of your dreams!