Dominica is one of the most beautiful countries that you can visit in the Caribbean. It is a small island that has been considered a hidden gem that many have not explored. It not only counts on splendid beaches, but also with huge mountains, aesthetic lakes, and so on. That is one reason why we should not be surprised that it is called the "Nature Isle of the Caribbean."
As you can see, there are tons of motives to discover Dominica. For that reason, you should know that due to the COVID-19 outbreak worldwide, the Dominican government declared that all foreigners must present the COVID-19 PCR Test to demonstrate that they are not sick. They will also have to show the Health Questionnaire to know more about your health status and some info about yourself if they need you. You will obtain your Health Questionnaire online after having your negative results, and complete a long and tedious form that might be time-consuming, or you can use iVisa.com that have shortened the process to make it faster, simple, and calm.
If you want to learn more about this new documentation and how you can save extra-time by using iVisa.com for your procedure, then you should read below.
Note: Since April 4th, 2022, the Dominica Health Questionnaire is no longer necessary to enter the country.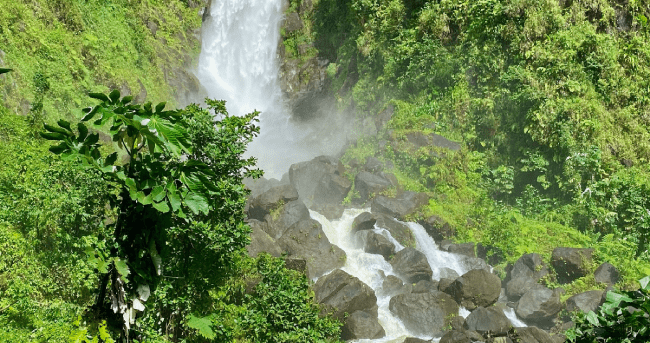 Frequently Asked Questions
Why do I have to present the COVID-19 PCR Test and the Dominica Health Questionnaire?
You will have to show both documents since the Dominican government needs to know that you do not carry with COVID-19 and get in touch with you if some of the passengers of your flight got contagious of the illness. This document will be asked to Canadian citizens and any foreigner going to Dominica.
If you need help with your Health Questionnaire since we know that it might be hard to complete, then we recommend you to use iVisa.com to help you to obtain it while you stay at home. We have simplified all steps, so you won't have to be worried about anything else.
Do I need a COVID-19 vaccine or vaccination certificate to enter Dominica?
No, it is not necessary. As of today, COVID vaccination passports or certificates are not mandatory to enter Dominica. Since information may change quickly, we advise you to follow up on the latest Dominica travel updates and/or contact your local embassy.
Do I need to take a COVID-19 PCR test before traveling to Dominica?
COVID testing requirement: There are no testing requirements.
Do I have to quarantine once I arrive in Dominica?
Quarantine requirements: There are no quarantine requirements.
How many times can I use the Dominica Health Questionnaire to enter the country?
Due to the pandemic has to be observed in detail, the Health Questionnaire and the COVID-19 PCR Test are only for One Single Entry. If you want to visit Dominica more than once, you will have to present the same documents again.
What are the processing times and fees if I want to use iVisa.com for this process?
If you have decided to obtain your Health Questionnaire with iVisa.com, you should be aware that we have prepared three different options for you to choose from based on your economic needs. These are:
Standard Processing Option: It costs

USD $48.99

, but you receive it on an average time of

24 hours

.
Rush Processing Option: It costs

USD $85.99

, yet you receive your document in

8 hours

.
Super Rush Processing Option: It's the fastest option (

4 hours

), and it costs

USD $150.99

.
What steps do I have to follow if I choose iVisa.com for the Health Questionnaire?
iVisa.com has simplified the process for you to make it easier-to-follow, so you will only have to complete the application form that we have prepared for you. It will only ask you questions about yourself and your trip. It won't take more than ten minutes to finish. You attach the required documentation and proceed with the payment. After that, you will only have to sit down while you wait for the Health Questionnaire, you will receive it in your email address.
How long is the Dominica Health Questionnaire valid for?
It will have a validity of one month since the day you receive it in your email for a Single Entry.
Is it safe to use iVisa.com for this process?
For sure. iVisa.com is a travel agency with experience processing these docs, and we count with the best professional team that will help you obtain your Health Questionnaire without hesitation. You can also read our reviews to have peace of mind.
Can I get in touch with you if I have further questions?
Yes, you can contact us whenever you want since our agents are there to help you answer any inquiries you may have.
Start your process with iVisa.com to go to Dominica.