Dominica is one of the fascinating countries from the Caribbean with many natural attractions that will blow your mind. Let's talk about their breathtaking scenarios in which you find vast mountains and incredible waterfalls in just this small island, isn't that cool? If you prefer something more traditional, you've got the chance to go to the beach to get suntanned and try some traditional food from there.
If you ever want to go on a trip that you won't regret, then you should know the new travel restrictions that Dominica has implemented to mitigate the COVID-19 outbreak for citizens of Dominica. You will be asked to present a COVID-19 PCR Test whose result must be negative if you wish to enter the country. This test must be taken a maximum of 72 hours before your trip. You will also have to show a Dominica Health Questionnaire in which you declare that you don't have any symptoms, some information about where you were before your trip, and contact info.
In case you don't present any of these docs when asked, you will be denied access by migration. As you observe, it won't be easy to do all the paperwork on your own. This is why iVisa.com has created a straightforward alternative in which you will obtain your Health Declaration without any restriction. You will save time and effort, avoiding a stressful procedure.
If you want to learn more about both documents that will be requested next soon, and how iVisa.com will help you obtain your Health Questionnaire, read this article.
Note: Since April 4th, 2022, the Dominica Health Questionnaire is no longer necessary to enter the country.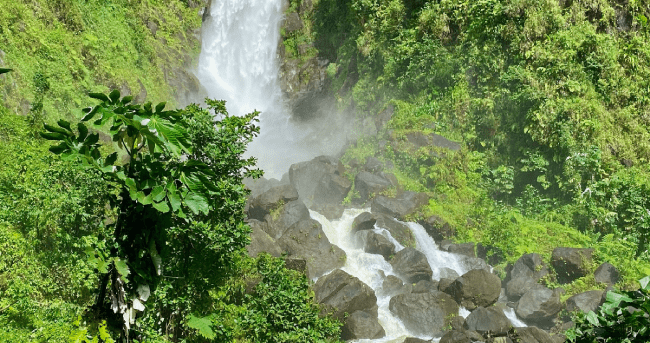 Frequently Asked Questions
What is the Dominica Health Questionnaire and the COVID-19 PCR Test?
The Dominica Health Questionnaire is a document that has been created by the Dominican government to know carefully about those tourists coming from abroad and their health status. This document will report where you have been, your data, and some other questions.
On the other hand, there is the COVID-19 PCR Test that reports if you carry the disease or not. Your result must be negative to enter the country. Both documents will be required by migration. Not presenting any of these docs, you will be restricted access to Dominica.
Do I need a COVID-19 vaccine or vaccination certificate to enter Dominica?
No, it is not necessary. As of today, COVID vaccination passports or certificates are not mandatory to enter Dominica. Since information may change quickly, we advise you to follow up on the latest Dominica travel updates and/or contact your local embassy.
Do I need to take a COVID-19 PCR test before traveling to Dominica?
COVID testing requirement: There are no testing requirements.
Do I have to quarantine once I arrive in Dominica?
Quarantine requirements: There are no quarantine requirements.
Do children have to take the COVID-19 PCR Test to enter Dominica?
Only those children who are older than 2 years must present the test to visit Dominica.
What are the processing times and fees of the Dominica Health Questionnaire that iVisa.com offers?
Thinking of your comfort and your budget, iVisa.com has created three different alternatives that you can choose. These options are the following:
Standard Processing Option: It's an affordable option that costs

USD $33.49

, but you receive it in an average time of

24 hours

.
Rush Processing Option: It's a quicker alternative (

8 hours

), but it costs

USD $57.99

.
Super Rush Processing Option: You receive your document almost immediately (

4 hours

) for

USD $97.99

.
What steps do I have to follow if I decide to use iVisa.com?
iVisa.com has shortened all the processes for you to save time and effort. You still can do it on your own, but take into account that you will need some extra help when you answer some of the questions presented in the form. That is why with iVisa.com you will have to do the next steps:
First, complete the application form answering some basic questions about yourself, your health status, and so on. Then, choose your favorite processing option.
Second, go directly to payment and submit it.
iVisa.com has designed an easy process as you saw before. If you have further questions, you can contact us at any time.
Is it safe to use iVisa.com?
For sure! iVisa.com is a travel agency that has one of the safest platforms which you can trust. Your info won't be leaked to any third-parties. If you have some questions about our services, you can check our reviews to have peace of mind.
How can I get in touch with iVisa.com?
You can contact us online through iVisa.com's customer service agents that will help you with any inquiries or doubts that you may have.
Obtain your Health Questionnaire with iVisa.com!