One of the main attractions of Ecuador are its beaches extended along over two-thousand kilometers on the Ecuadorian Coast. Every year numerous tourists arrive in Ecuador to enjoy the white sand, clear water, chill atmosphere, delicious food, and budget-friendly activities such as hiking, yoga retreats, surf lessons, walks along the beach, or small trips around the coastal towns.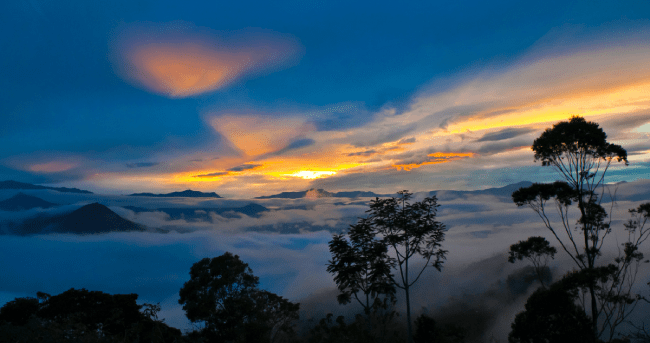 At the moment, all travelers who want to visit Ecuador to enjoy its amazing beaches, or for any other reasons, will need to provide a PCR COVID 19 test along with their Traveler Health Declaration to be able to enter the country. We invite you to read the next section so you can learn important details about it.
Frequently Asked Questions
What are the requirements to visit Ecuador during COVID-19 times?
With no exceptions, all travelers who wish to visit Ecuador will need to meet specific requirements and follow the safety protocol established by the country. To visit Ecuador you will need to present a biometric passport, a Traveler Health Declaration, and a negative PCR COVID-19 test.
Why do I need a Traveler Health Declaration?
Due to the recent pandemic caused by COVID-19 each country has established its own requirements for travelers who wish to enter their territory. These measures such as the requirement of a Traveler Health Declaration, which by the way does not replace a visa in any way, are meant to guard the lives of visitors and nationals and prevent the spread of the virus. If you want to travel to Ecuador you will need one or else your entry could be denied. In the Health Declaration travelers must truthfully state vital data such as their state of health, flight details, place of accommodation for the next twenty one days, and emergency contact info.
What is a PCR COVID-19 Test?
The PCR COVID-19 test is a requirement along with the Health Declaration to visit Ecuador. The acronym PCR stands for polymerase chain reaction, this test is considered one of the best COVID-19 tests, it analyzes a sample usually collected via a nose or throat swab, and looks for traces of the virus' genetic material to determine whether or not the person is infected.
Do I need to take a PCR COVID-19 test to travel to Ecuador?
To be able to enter Ecuador, every traveler must provide a Traveler Health Declaration and a PCR COVID-19 test which ensures that the person is disease-free, please note that the test must have been performed no more than 72 hours before boarding. If you do not present this document you will be required to take a test upon arrival at your own expense, and to wait in temporary accommodation until a negative result is received. .
Do I have to quarantine when I get to Ecuador?
Previous measures stated that all travelers had to immediately so into a fourteen days self-isolation period in a hotel or other temporary accommodation authorized for that specific purpose. However, at this moment all passengers who present a Traveler Health Declaration and a negative PCR COVID-19 test result will not be required to quarantine any more.
How can I apply to obtain my Traveler Health Declaration?
Please take into account that the Ecuador Traveler Health Declaration is valid for one single entry, which means that you will have to apply for a new one every time you travel to Ecuador.
To obtain your Health Declaration to visit Ecuador you can apply through a straightforward and secure process with iVisa.com. Here is how to do it in three simple steps:
First, find the application form and fill it out with your personal and travel information, this will take no more than ten minutes.

Second, it is important that you make sure that all the fields have been correctly filled.

Third, during your application you will also need to provide these items listed below:

A scanned copy of your passport.
An email address to receive your Ecuador Traveler Health Declaration.
A payment method. You choose whichever you prefer between credit card, debit card, or PayPal.
How are the processing times and prices for the Traveler Health Declaration?
Processing time and prices might vary depending on your preferences. iVisa.com has three great options for you, select the one that you prefer:
Standard option, the customary processing time (

24 hours

) and affordable prices (

USD 20.00

).
Rush option, less processing time (

4 hours

), and a higher price (

USD 35.00

).
Super rush option, get your Traveler Health Declaration asap (

30 minutes

) by paying the most expensive fee (

USD 60.00

) of all three options.
Is iVisa.com the right option to apply for my Traveler Health Declaration?
iVisa.com saves you time and effort while providing a great entirely online and secured service with excellent agents assisting you through every step. Please read our customer reviews on our page to learn more about our top services.
I would like more information, where can I find it?
You can receive more information about the Traveler Health Declaration for Ecuador or any other travel documentation for Ecuador, by contacting our customer service agents. They are available 24/7 and will happily provide all the information that you might need.
Get your Traveler Health Declaration today, apply here.