Ecuador is the perfect spot for the practice of eco-tourism- travelers who visit this destination can enjoy beaches, volcanoes, the Amazon rainforest and the Galapagos Islands, amongst others. There are amazing activities such as horseback riding, snorkeling, whale and bird- watching, trekking, rafting, surfing and a few others.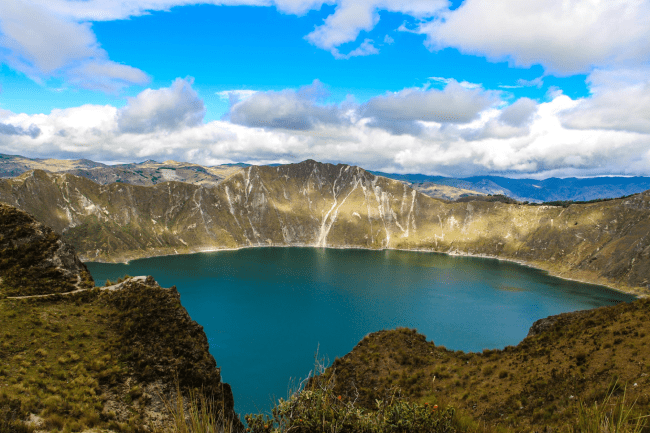 The good news is that after a couple of months of banned international travels, it is again possible for citizens of Peru to visit Ecuador and marvel at its beauty and wonders. Although it is important to know that to visit Ecuador at the moment, you will need a negative PCR COVID 19 test and a Traveler Health Declaration. Scroll down to read key information about the most recent established measures and documents to visit Ecuador.
Frequently Asked Questions (FAQs)
What do citizens of Peru need to visit Ecuador during COVID-19 times?
Ecuador has established certain measures and protocols aimed to control and protect its citizens and those who visit its territory during the current COVID19 times. Citizens from Peru and other nationalities, without exceptions, who are traveling to Ecuador must provide at their arrival their biometric passport, a Traveler Health Declaration, and their own negative PCR COVID-19 test.
What is the Ecuador Traveler Health Declaration for Peruvian citizens?
The Traveler Health Declaration is a new requirement requested by Ecuador to allow travelers into the country. This is a form that contains important and specific information about each visitor and it indicates the current and real health condition, flight information, and details of accommodation while in Ecuador, plus info of an emergency contact. It is important to know that this document does not replace a visa in any way, and also that is valid for only one entry and you must obtain a new one every time you travel to Ecuador.
What is a PCR COVID-19 test?
The Polymerase Chain Reaction (PCR) COVID-19 test is considered the most accurate of all three main types of tests. It is used to provide a diagnostic on whether there is presence of the virus in the person, based on the analysis of a patient's sample usually collected via a nose or throat swab. If you wish to visit Ecuador it is necessary to have a negative PCR COVID-19 Test and a Traveler Health Declaration when you arrive in Ecuador.
Will I need to have a PCR COVID-19 test to visit Ecuador?
If you are currently planning a trip to Ecuador, you must know that all citizens traveling to Ecuador will need to have a Traveler Health Declaration and a negative PCR COVID-19 test that has been performed no more than 72 hours before boarding. For those who do not provide a test upon arrival, you will be required to take a test at their own expense, and then proceed to wait in provisional accommodation until a negative result is received.
Is there a mandatory quarantine period for visitors traveling to Ecuador?
When Ecuador first re-opened the country for international visitors, there was a mandatory immediate fourteen days self-isolation period that had to be spent in a hotel or another authorized temporary accommodation. But at the moment there is no required quarantine period, however, visitors must have a negative PCR COVID-19 test and a Traveler Health Declaration so they are allowed to enter Ecuador.
What is the process to obtain the Traveler Health Declaration?
To obtain your Traveler Health Declaration you can follow a three steps simple and safe process with iVisa.com:
First step, find the application form on our web page and fill out the fields with your personal information.
Second step, revise the form to make sure that all the information is correct.

Third step, provide the required additional info and documents:

A scanned copy of your current passport.
Your email address where you will receive your Ecuador Traveler Health Declaration.
A payment method, which can be a credit card, debit card, or PayPal.
What are the processing times and fees for the Traveler Health Declaration?
Processing times and fees may vary to meet the different needs of each traveler. iVisa.com offers you three alternatives and all of them are equally good, pick the one that suits you better:
Standard alternative, standard processing times (

24 hours

) and fees (

USD 20.00

).
Rush alternative, reduced processing time (

4 hours

) and higher fees (

USD 35.00

).
Super rush alternative, pay the highest fees (

USD 60.00

) of all three options and enjoy minimum waiting time (

30 minutes

).
Is iVisa.com a good option for my Traveler Health Declaration?
iVisa.com is a great option to apply for your Traveler Health Declaration. We've got you covered so you don't' have to stress out with any procedures, all you need to do is to follow three simple steps previously mentioned in this article and enjoy an entirely online and secured process. If you wish you can read more on our customer reviews.
I have some unresolved questions, where can I find more info?
To find more information contact our customer agents, they are available 24/7 to assist you and answer your questions.
Click here to start your application for your Traveler Health Declaration.