There is no disease more life-changing than the recent COVID-19 outbreak. The pandemic disrupted almost every major aspect of modern human life, and you will be hard-pressed to find an industry that is more affected than international travel. Every country in the world made drastic changes to their entry policies and most travelers know very little about those changes, which makes it very probable for them to miss their trips to their destinations. As Egypt was one of the more popular destinations pre-COVID, its tourism industry has suffered greatly due to the effects of the virus. It's unfortunate that one of the reasons for the decrease in visitors is the lack of knowledge of how to fulfill Egypt covid 19 entry requirements.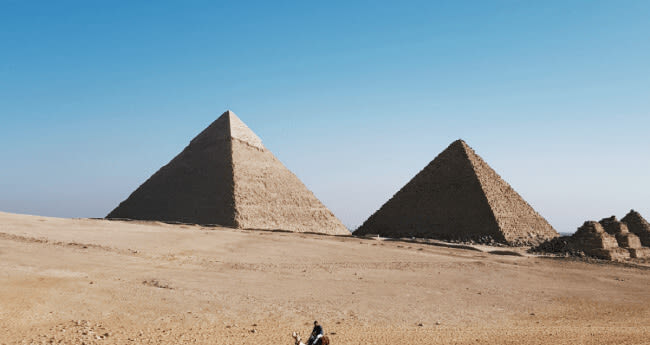 Fear not! iVisa.com can help you successfully navigate the entry procedures into Egypt. So head over to the application page now so we can give you the assistance that you really need.
Apply In Advance
Getting your documents in advance means that you don't have to rush when your trip is coming up. Don't waste time and money at the airport. Start applying for the health declaration form now!
Frequently Asked Questions
What do I need to enter Egypt as a tourist?
One of the most important requirements for visitors into Egypt is a COVID PCR test certificate. This document should be issued by an accredited facility from the country of departure and must show that the testee is free from COVID-19 infection. You should also have a health declaration duly approved by Egyptian authorities.
Other requirements include a valid passport and visa. Fill out your application form and have the documents on hand and ready before your trip. We will help you with details about Egypt covid 19 entry requirements.
Do I need a COVID vaccine or vaccination certificate to enter Egypt?
No, you don't. As of today, COVID vaccination passports or certificates are not a mandatory to enter Egypt. Now if you are a Covid vaccine certificate holder, you won't need to present a negative PCR test nor to follow a quarantine.
Accepted vaccines are AstraZeneca, Janssen, Moderna, Pfizer-BioNTech, Sinopharm, Sinovac and Sputnik V. You are considered vaccinated if all doses of a vaccine against SARS-Cov-2 have been administered for at least two weeks before traveling.
Do I need to take a PCR COVID-19 Test before traveling to Egypt?
COVID testing requirements: There are no testing requirements.
Is there a quarantine requirement on arrival in Egypt?
Quarantine requirements: There are no quarantine requirements in Egypt.
How will I know if my COVID PCR test certificate is valid?
The test should be done in the country where you will be traveling from. The certificate should indicate details about the sample and the time and date that the swab was taken. The test should be taken 72 hours from the time of departure of the outgoing flight to Egypt and the results should be stated in Arabic or English.
The certificate should have no alterations or modifications or it will be invalidated. It should also indicate that the test type is RT-PCR. Please note that the certificate cannot be used to re-enter Egypt even if the timeframe is still within the 72-hour limit.
Please note that passengers traveling from Japan, China, Thailand, North America, South America, Canada, London Heathrow, Paris, and Frankfurt will be allowed to provide the test certificate a maximum of 96 hours before the flight time due to the long travel and transit periods at these airports.
Children below 6 years old and transit passengers are exempted from the negative COVID‑19 PCR test certificate requirement.
Once the passenger leaves Egypt, the COVID‑19 PCR certificate will be considered expired and won't be valid for a return flight to Egypt (in other words, the certificate cannot be reused).
In addition, all travelers arriving from India, Brazil, and Latin America must undergo a COVID-19 test upon arrival.
Confused about Egypt covid 19 entry requirements? Head over to the documents application page so we can assist you.
Do I have to quarantine once I arrive in Egypt?
There is no quarantine requirement in Egypt at this time provided you can provide either a negative COVID-19 test result or proof of full vaccination. Check the testing FAQ to find out more about testing requirements in Egypt.
What are the processing costs and fees?
The least expensive process is the Standard Process but the turnaround time is also the slowest.

USD 20.00

-

24 hours

.
You can get the form in hand earlier if you use the Rush Process but it costs a bit more than the standard one.

USD 35.00

-

8 hours

.
The best option for you is the Super Rush Process. It costs the most but the turnaround time is the quickest.

USD 60.00

-

4 hours

.
Never worry about the Egypt COVID 19 entry requirements. Apply for the health declaration form now and we will take care of it for you.
Are there any exemptions to the COVID-19 test policies?
Egypt covid 19 entry requirements state that children below the age of six years are not required to get a COVID-19 test certificate. Also, if you are traveling from London Heathrow Airport, China, Japan, North and South America, Frankfurt, Paris, and Canada, your test certificate will be accepted as long as the test is taken within 96 hours of the flight departure.
Travelers in transit in any Egyptian airport will be required to show a negative PCR test certificate if they are staying overnight in Egyptian territory. If they are not leaving the airport, they can proceed without the certificate unless it is mandated by their destination state.
Get your visa now and never miss your flight to Egypt.
How can you assure me that iVisa.com is a safe platform to use?
Our platform uses top-notch security systems and protocols to protect customer information from unauthorized access, so you can rest easy that none of your sensitive details will be accessed by any unauthorized persons. Be aware of all Egypt covid 19 entry requirements. Head to our website now and start your application process.
I have more questions. How can I get them answered?
You can use the widget on iVisa.com to contact our customer service team. You also have the option to send your queries about Egypt Covid-19 entry requirements via email to [email protected]
iVisa.com Recommends!
Egypt has one of the oldest civilizations on Earth, and one of the most popular. When you think about temples, tombs, and mummies, you often picture the Great Pyramids of Giza. The Sphinx is also a permanent fixture in movies and other pop culture media. And who can forget the Nile? This monstrous body of water is the longest river in the world and is well known in many myths and stories, the most popular of which is when the river turned to blood. This mythical occurrence has been referenced in films many times. The area along its banks are also some of the most fertile lands in the world and it has supported Egyptians since ancient times. The country just oozes a mysterious and romantic vibe that even a stark, arid landscape can't dampen. It is iVisa.com's top destinations for adventure getaways. Fulfill all Egypt covid 19 entry requirements so you can go there and learn why.