Obtaining an eVisa sometimes can be a confusing and difficult process, that demands a lot of time. However, now there are more than 46 countries that can get an electronic visa to enter Egypt. With an eVisa, you will not spend time going to the Embassy because you can apply virtually from anywhere you are. You will just need a device with an internet connection and 10 minutes of time. In this blog, you will be able to learn more about the eVisa for Egypt.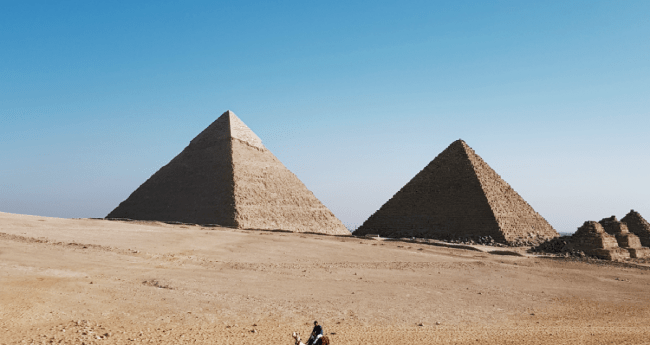 Frequently Asked Questions (FAQs)
How do I know if I can apply for the Egypt eVisa
We invite you to check if you qualify or not for an Egypt eVisa, just click here, select your home country and Egypt as a country of arrival; finally, you will get all the information.
In case you qualify for an eVisa, let me tell you that you can also get your visa for Egypt on arrival and pay the fee at the border. However, it is advisable to get your visa before your arrival in order to avoid all the complicated processes at the airport. You can apply online with us.
What is an Egypt eVisa?
The Egypt Embassy is the only entity that provides these types of visas to travel to Egypt and it is associated with your passport.
How long can I spend in the Egyptian country?
All voyagers that have an Egypt e-visa can travel there for 30 days in Total.Travelers with this e-visa can NOT work with it.
What documents do I have to present to apply for an eVisa?
Look at the shortlist of documents you will have to collect before applying online:
Valid passport – make sure that your passport has a validation for three months after your visa concludes.
A passport scan – it needs to show all your personal information. Click this link and follow the instructions to avoid a bad scan of your passport.
Email address – all the information that we have about your visa application, we will send you by email. For that, it is important that you provide us a current email.
The address of your destination – We will ask you the name of the location you will be staying and the street address.
Means of payment – we have different kinds of payments that you can use like credit and debit cards or Paypal. Be careful and review all the information that you provide us before you submit it.
How long is the eVisa for Egypt valid for?
After the Egypt e-visa is approved, it has a validation for 90 days after issued.
What are the prices for obtaining an Egyptian eVisa?
You have three processing time options for your eVisa. The price will be determined by which one you choose. Here are the alternatives:
Standard processing – we process your visa request in

10 Business Days

, and you will have to pay

USD 71.49

. It includes service tax.
Rush processing – if you choose this processing time, your visa will be in

8 Business Days

, and the total amount is

USD 116.99

. It includes service rates.
Super rush processing – this is a quickly way to obtain your visa in

6 Business Days

. The total cost of this one is

USD 168.99

including fee for service.
If you want to get your visa now, click here.
How long will it take me to apply for this eVisa?
Most of the time, it takes approximately 10 minutes to complete all the visa application. After that, we process your visa and then, we will inform you about the status of your visa application.
How can I apply for the eVisa from Egypt?
It is not too complicated to apply for an Egypt eVisa. You just follow the next instructions:
First, fill in your general data. Then, select the processing time that you prefer.
Secondly, check all the information that you put and make the payment.
Finally, fill in the questions about yourself. Also, submit the requested documents. In some cases, you will be asked you for extra documents.
If you are ready to apply, click here. When you finish completing your application, send your form to us and wait for the answer to your visa. In case you need help with your visa request, feel free to contact our agents.
How many times can I enter Egypt with an eVisa?
This eVisa provides you a Single Entry.
If you plan to enter Egypt more than one time, we recommend you to check the Egypt tourist evisa with multiple entries validity.
Do I need to get an Egypt visa for my kids too?
Sure. If they are minors, they must have a Tourist eVisa along with the application of one of their parents.
Can I apply for my friends and family?
You can apply for the following steps. Before applying, make sure you have all the necessary documents (check the requirements above in this blog). Firstly, If you will apply for only one applicant, introduce here all his or her personal information. On the other hand, if you want to add more applicants, you can click on 'Insert new applicant' in the visa form and complete the rest of the information.
Do I need an eVisa if I am in transit through Egypt?
You require an eVisa from Egypt ONLY if you want to leave the Egypt airport. If you are only in transit through it, you will not need an electronic visa.
How do I know if my visa is approved?
We will advise you by email when the Egyptian government grants your visa.
How does the Egypt eVisa look like?
As you can see, this is an example of an Egypt eVisa.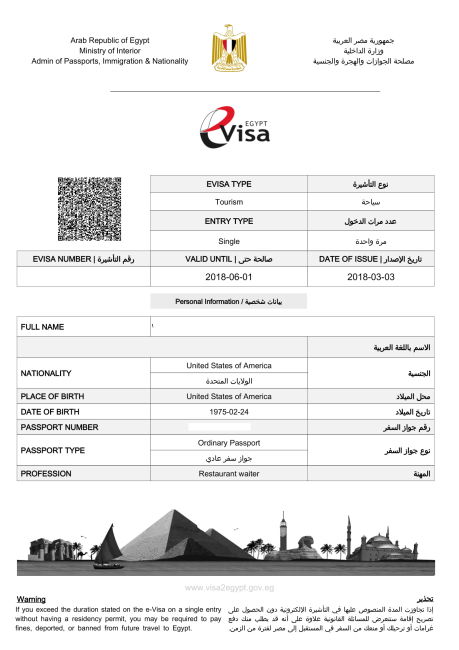 What can I do if I make a mistake in my application?
The only thing that you need to do is consult our representatives as soon as you can in order that they can help you.
Consider that if we already submitted your visa application, it is not possible to modify any information and unfortunately, you will have to request again a new application but in that case, you will NOT pay an extra service fee.
Is it safe to use iVisa to get my Egypt eVisa?
To avoid many problems with our customers, we offer the best security service so you can feel safe. You can check many comments from our clients here.
I have more unresolved questions, where can I find more info?
If that is the case, you can click here and contact one of our customer support. We invite you to visit our page and FAQs here.