As of December 2017, Egypt has allowed the citizens of 46 countries to get an electronic visa, and the Netherlands is on that list. It means that an Egypt visa for Dutch citizens is now available online. Instead of going to the embassy and applying for a visa, all you need to do is use the services provided by iVisa. The process is entirely online, quickly, and require little effort on your part.
Frequently Asked Questions (FAQs)
I have a Dutch passport, do I need a visa to visit Egypt?
Yes, citizens from the Netherlands need a visa to enter Egypt. You can apply online here and check requirements here.
What is an Egypt eVisa?
The eVisa is an authorization document that allows visitors to enter Egypt.
How long is the Egypt eVisa valid for?
This eVisa has a validity of 90 days after issued.
The number of entries Dutch are allowed with an Egypt eVisa is Single Entry for a maximum stay of 30 days Total.
What are the documents required to apply?
Before filling in the application form, you should know that iVisa will ask you to provide a few things. However, the requirements are minimal, and the chances are you already have everything. Here is what you need:
A valid passport – if you do not have a passport, you can get one easily. If you have one, make sure that it is valid and will remain as such at least for another six months from your date of arrival in Egypt. Otherwise, your visa application will be denied.

A scan of the information page of your passport – you will be required to upload it in step three of the application form.

Means of payment – since you are required to make the payment before you submit your application you need to have a credit or debit card ready. If you have a Paypal account, you should know that iVisa accepts that as well.

A valid e-mail address – iVisa will send you the document via e-mail, which means that there is no room for error when you fill in the application. If you fail to type in the correct address, you will not have access to your visa, which is most unfortunate because you have to go through the application process again. Double-check the spelling before you submit your application, and you should be fine.
What are the processing times and prices?
The amount you will be charged depends on the processing time and visa type. As for the former, iVisa provides three options to satisfy the needs and pockets of everyone:
Standard processing time – when you select this option, your Egypt eVisa will arrive via email within 6 Business Days. This is the cheapest processing time you have at hand. It costs only USD 55.00.

Rush processing time – this option will shorten the application processing time by one day. Your application will be processed within 4 Business Days, and you will be charged USD 70.00.

Super Rush processing time – if you have an emergency and need to be on a plane to Egypt as fast as possible, this is the option for you. Your application will be processed within 2 Business Days. As you may have guessed, the price goes higher as well. You will be charged USD 120.00.
Click here to start your application.
How does the Egypt eVisa work?
The Egypt eVisa is issued electronically by the Ministry of Foreign Affairs of the Egypt Government.
We use the Egypt eVisa system to process an eVisa by entering the applicant's information.
How long does it take to apply for an Egypt eVisa?
Less than 10 minutes is the time you will need to apply online.
How can I apply for an Egypt eVisa?
iVisa designed an easy to comprehend application form. It is broken down into three simple steps, and if you have any trouble completing it, you can call the support service that is available 24/7.
The first step will ask you to insert your personal information such as name, address, passport info, and a few others. You are also required to select the visa type and processing time.

The second step consists of revision and payment.

The last one will ask you to answer a set of personal questions and upload a few additional documents.
Click here to start.
What happens after I have applied?
Once the application is done, you will receive the eVisa by email in PDF format in the timeframe chosen. No need to deal with the embassy. We do it for you so you don't lose valuable time.
What can I do if I make a mistake in my application?
Your Egypt eVisa is linked to your passport number, if we already submitted your application, then you can NOT make any changes and you will have to apply again but we will NOT charge you another service fee. So, if this is the case, please contact our customer service representatives as soon as possible via online chat to assist you.
How does an Egypt e-Visa look like?
Here is an example: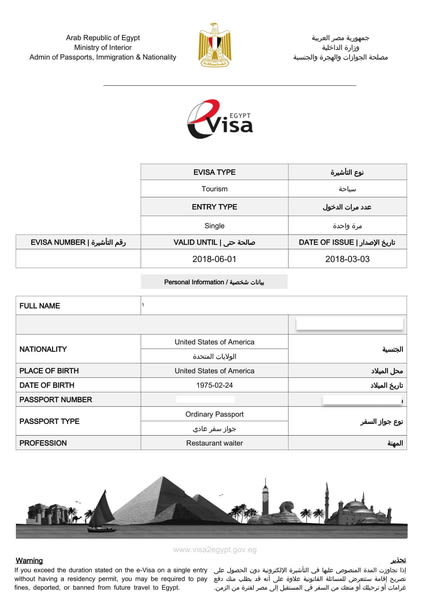 Is it safe to use iVisa to get my Egypt eVisa?
Many people think that online information leaks and that their personal info is at risk of getting into the wrong hands. However, that is not the case with our services. We provide maximum safety for your personal data, confidentiality, and we invest a lot in the security of our database. Your personal information could not be safer. You can check what hundreds of happy customers say about us here.
I have more unresolved questions, where can I find more info?
For a faster resolution click here and start chatting with one of our customer service representatives. You also can find more info and FAQs here.