As a Greek citizen, getting a visa for Egypt is now more accessible than ever. Egypt allows the citizens of 46 countries to apply for a visa online, this means you do not need to go to your local embassy in order to get your visa anymore. When you apply with iVisa the process is entirely online, it is fast, it does not cost much, you can do it from your own home and iVisa provides you assistance 24/7. All you need is a few documents and an internet connection.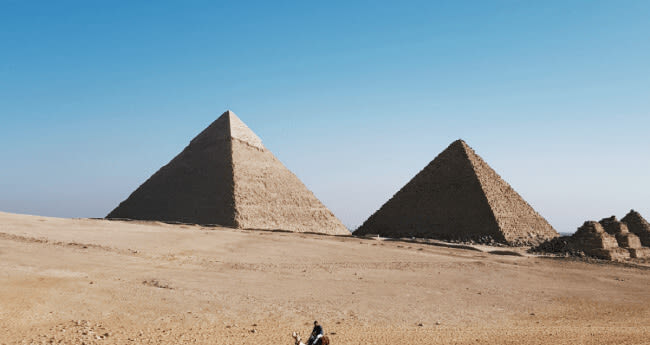 Frequently Asked Questions (FAQs)
I am a national of Greece, do I require a visa for Egypt?
Yes, Greek visitors are required to get an Egypt eVisa. For more information about the requirements, click here.
What is the eVisa?
The eVisa, or electronic visa, is an authorization legalized by the Government of Egypt that allows you to enter the country for tourism purposes within a certain period of time. Since it is electronic, then the whole process and obtaining it is online.
How long can I stay in Egypt?
With a Single Entry, you have the option to stay within the country for 30 days in Total.
What documents do I need to bring?
Find the details here:
Valid Passport scan
Personal questionnaire
Payments options (credit/debit card and Paypal)
How long does the eVisa last?
The total days of validity are 90 days after issued.
What are the processing times and prices?
We have these alternative visa processes with their respective prices:
Standard processing (10 Business Days) - USD 58.00.

Rush processing (8 Business Days) - USD 73.75.

Super rush processing (6 Business Days) - USD 136.00.
All service fees are included. Make your wish come true and get your visa now.
How is the eVisa application process?
In November 2017, the Egyptian government implemented a new eVisa system that streamlines the application process and speeds up lines at border control. The application process is quick and simple - you just need to provide some basic information.
Once your application is approved, we recommend that you carry a printed copy of the document.
Does it take too long to process the eVisa?
No, it does not take long. Just 10 minutes of your time is enough.
How do I apply for the eVisa?
To complete the application form, you must first follow these steps:
Introduce your general information and choose the timeframe and visa type.

Double-check your information and make the payment.

Upload the documents and complete a personal questionnaire.
Start here and get your visa on time. If you need assistance from us contact our support service 24/7.
Once I finish the form, what comes next?
We will email you all the status we receive from your visa. Once the government approves the visa, we will email you the document.
Can I apply for my friends and/or family?
It is possible to apply for your relatives. You have two ways to apply:
If it's just one applicant, you can fill out the application form with their information and upload their documents. If it's more than one applicant, just add their information in ''add new applicant'' and do the same procedure as above.
If I am only transiting through the Egyptian airport, will I be required to apply for a visa?
If your stop lasts less than 48 hours and you have a copy of your next confirmed flight, then you will not require a visa.
If I made a mistake in my form, what can I do?
Just contact us online or by calling ASAP so we can help you with all the things you need.
Is it safe to use iVisa?
Yes, totally! We are a professional service provider issuing official eVisas since 2013. We have extensive experience in this business and our team is always ready and prepared to help our clients. In addition, we offer confidentiality, security, and we also guarantee the services we provide. You should not feel concerned about the information you give us, as everything will be safeguarded and not exposed on the Internet.
I have more unresolved questions, where can I find more info?
For a faster resolution click here and contact one of our customer service representatives. Alternatively, you can find more info and FAQs here.