You've been planning out your holiday trip since last year however, it was halted due to the pandemic. Now that a lot of countries have started opening their borders to international travelers, we understand your excitement to finally take that vacation. But first, you need to know that a lot has changed since the pandemic and since everyone wants to go back to their normal life as soon as possible, travel restrictions have to be made. As a traveler, it is your responsibility to be aware of all the important information and updates about travelling during the coronavirus.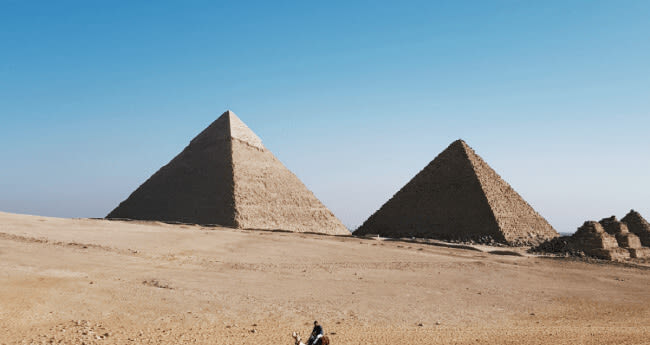 For one, you must know that when entering Egypt, covid test certificates are requested from all arriving passengers. Bear in mind that this is not a replacement for the required visa application you need to complete prior to your travel but an additional requirement that is requested by security borders upon arriving in Egypt during the pandemic.
Get all your travel documents at iVisa.com and take advantage of our extended service. We will provide you a complete guide on what you should do before, during, and after your travel.
Apply In Advance
Why wait if you can have the required documents now? Start an application now even if your trip is months down the road. We make sure that your forms are valid for your trip.
Frequently Asked Questions
What are the required documents when entering Egypt during the pandemic?
Nowadays, when entering Egypt a covid test certificate showing a negative result is required from all arriving passengers. The certificate must be printed out and must be taken no more than 72 hours upon your departure. Arriving tourists will also need to present valid medical health insurance and a completely filled out public health card in order to gain access to the country.
The regular entry requirement is an approved visa where you will have to fill out your application form with your personal and passport information.
Do I need a COVID vaccine or vaccination certificate to enter Egypt?
No, you don't. As of today, COVID vaccination passports or certificates are not a mandatory to enter Egypt. Now if you are a Covid vaccine certificate holder, you won't need to present a negative PCR test nor to follow a quarantine.
Accepted vaccines are AstraZeneca, Janssen, Moderna, Pfizer-BioNTech, Sinopharm, Sinovac and Sputnik V. You are considered vaccinated if all doses of a vaccine against SARS-Cov-2 have been administered for at least two weeks before traveling.
Please note: the PCR test and the vaccination certificate must contain a QR code.
Will I be required to take the PCR test if I'm only going to Egypt for a change flight?
When entering Egypt, covid test certificates are only required for arriving passengers who intend to stay in the country for vacation or business purposes. If you are only in Egypt for a transit flight, and don't have a hotel accommodation or will not leave the airport authorities will allow you to enter the international zone of an Egyptian airport without asking for a covid test certificate.
Let us process your request now so you don't have to rush.
Is there a quarantine requirement on arrival in Egypt?
Quarantine requirements: There are no quarantine requirements provided the traveler has proof of vaccination with a QR code or a negative test result with a QR code.
Cost and Processing Times?
Your first option is Standard Process, which has the slowest process time and is the most affordable.

USD 20.00

-

24 hours

.
You can also go for the Rush Process which costs more but you get the document faster.

USD 35.00

-

8 hours

.
The best option is the Super Rush Process. It is the most expensive but you will have the form on hand the quickest.

USD 60.00

-

4 hours

.
Don't waste your time at the airport. Get your forms now.
Are children required to present a PCR test?
To enter the country, all travelers aged 7 years and older, including Egyptians, must show proof of health insurance and have a printed negative COVID‑19 PCR test certificate from an accredited lab in English or Arabic taken within 72 hours before your departure.
Please notice that passengers traveling from Japan, China, Thailand, North America, South America, Canada, London Heathrow, Paris, and Frankfurt will be allowed to provide the test certificate a maximum of 96 hours before the flight time due to the long travel and transit periods at these airports.
Children below 6 years old and transit passengers are exempted from the negative COVID‑19 PCR test certificate requirement.
Once the passenger leaves Egypt, the COVID‑19 PCR certificate will be considered expired and won't be valid for a return flight to Egypt (in other words, the certificate cannot be reused).
In addition, all travelers arriving from India, Brazil, and Latin America must undergo a COVID-19 test upon arrival.
Regardless of age, all tourists who wish to enter Egypt must complete the visa application process. Head straight to iVisa.com to get yours on time and successfully.
What happens if I don't have a PCR covid test certificate?
You don't have to worry about not being in possession of a covid test certificate prior to your arrival as long as your flight is at the following airports:
Taba
Sharm el Sheikh
Hurghada
Marsa Alam
A PCR COVID-19 test is available upon your arrival at the aforementioned airports but must be paid at your own expense. Your test will be administered by the Ministry of Health of Egypt. You will then be quarantined in a hotel until you receive the result of your COVID test. You may start your trip once you receive a negative result. If you test positive, you will be isolated in a hotel where you will be strictly monitored under the supervision of the Ministry of Health.
To make sure of your convenience when entering Egypt, covid test certificate should be readily available before your trip. Apply at iVisa.com to make sure you avoid all the troubles by completing the required documents beforehand.
Why should I trust your website with my personal information?
iVisa.com runs security tests often to make sure that our protocols are up to date and combat all forms of digital attacks. In addition, our team of visa specialists is trained to only collect, use and store information needed for your visa applications. check some customers reviews.
Who can I contact if I have more questions?
You can use the widget on iVisa.com to contact our customer service team. You also have the option to send your queries about How Citizens of the United Kingdom Can Travel to Egypt During Coronavirus via email to help@ivisa.com.
Fill out your visa application form with guaranteed data privacy at iVisa.com.
iVisa.com Recommends!
One of the many unique travel experiences you can have when visiting Egypt is taking a desert trip to the beautiful Oasis of the country. There are actually five oases to choose from but the most traveled is the Siwa Oasis. This is because of the beautiful scenery of palm trees, olive groves, and clear springs. It is a one of a kind experience, romantic and magical especially when you explore it at night. Simply imagine, experiencing a romantic, moonlit night in the desert.
Travelers also often sample the local cuisine. It is unusual in that almost all the dishes are backed by thousands of years of Egyptian history, changing and evolving through the years, but always remaining delicious and scrumptious.
If we had you excited to explore Egypt, now is the best time to start your visa applications.