Egypt - Open for Tourism, here's what you'll need
Egypt - Open for Tourism
Trustpilot recommended. We lead the industry in innovation and reputation
Learn More: eVisa
Get your eVisa for Egypt online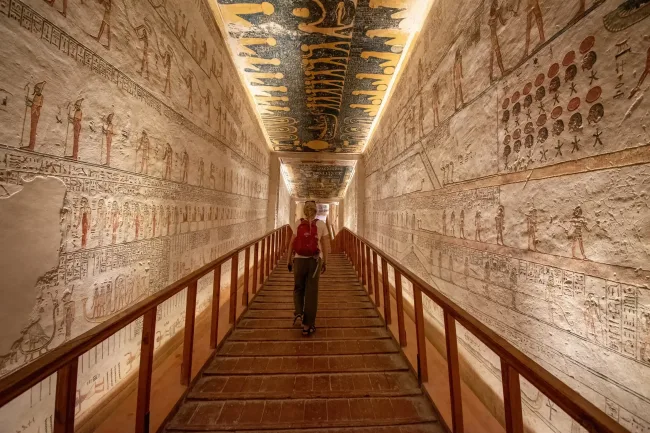 If you are planning to visit Egypt, obtaining a visa is a necessary step in the process. Fortunately, applying for an Egyptian visa has never been easier, thanks to the online eVisa system.
With just a few clicks, you can apply for and receive your eVisa for Egypt online,with us, saving you time and hassle.
In this guide, we will explore the process of getting your eVisa for Egypt online, including the requirements, application process, and other important information you need to know. Whether you are planning a vacation or a business trip to Egypt, we make the visa application process simple and stress-free.
Let's get started!
What is an Egypt eVisa?
The Egypt eVisa is an electronic travel authorization that allows visitors to enter Egypt for tourism, business, or medical purposes. It is an alternative to the traditional visa, which requires applicants to visit an Egyptian embassy or consulate.
The Egyptian eVisa was implemented by the government with the objective of streamlining the process of getting your visa. This initiative aimed to enhance the efficiency and convenience of the process, providing travelers with a more seamless experience when acquiring the necessary documentation for their journeys.
You can use our services to apply for the eVisa and we'll provide you with comprehensive advice throughout the process. After approval, we'll immediately send you the eVisa confirmation to your email address.
Please note that with an Egypt eVisa, there are certain activities that you may not be permitted to do, including:
Working in Egypt: An Egypt eVisa does not allow you to work in Egypt, whether as an employee or as a self-employed individual.
Studying in Egypt: If you plan to study in Egypt, you may need to obtain a separate student visa. An Egypt eVisa may not be sufficient for this purpose.
What is the Egypt eVisa policy?
The Egypt visa policy outlines the requirements for all foreign nationals planning to visit the country. In general, most foreign visitors to Egypt must obtain a visa and have a valid passport.
To apply for an Egypt online visa, the most important requirement is to:
Have a valid passport that does not expire soon.

The passport must remain valid for at least 6 months after the traveler's arrival in Egypt, and it must have at least one blank page for the entry and exit stamps.
When filling out the online visa application form, applicants will be prompted to upload a clear scan of their passport's information page to confirm their personal details.
For individuals traveling with diplomatic or official passports, a different visa may be required. In such cases, we advise contacting the nearest Egyptian embassy for guidance.
Who is eligible for the Egyptian eVisa?
Egypt e-Visas are available to citizens of 74 countries, including all member states of the European Union as well as the United Kingdom and the United States.
Use our free Visa Checker Tool to see if your nationality is part of the list and what documents you'll need.
Tourists visiting the popular Sinai Red Sea resorts of Sharm El Sheikh, Dahab, Nuweiba, or Taba from many countries on the list that do not require a visa. Instead, they are issued a free entry permission stamp that permits them to stay for up to 14 days in the area.
However, if they intend to explore other parts of Egypt beyond the Sinai resorts, they will need to obtain a visa before arrival.
Citizens of certain countries, including Hong Kong and Israel, among others, are exempt from obtaining a visa to enter Egypt. However, it is important to note that some of these countries, such as Lebanon, may require additional documents or clearances for travel. You can begin your application here to find out exactly what documents you need.
For travelers with minors, if the child has their own passport, they will need their own Egypt e-Visa regardless of their age. If the child is included in a parent's passport, they will not need their own Egypt e-Visa if they are traveling with that parent, and both will leave Egypt at the same time.
How long is the Egypt eVisa valid?
The Egypt e-Visa is offered in two different options: a single-entry visa or a multiple-entry visa for Egypt.
Single Entry Visa: This type of visa allows the holder to enter Egypt only once for up to 30 days in Total over a period of 90 days after issued. Once the holder leaves Egypt, the visa expires and cannot be used again.

Multiple Entry Visa: This type of visa allows the holder to enter and exit Egypt multiple times during its 90 days after issued period. This is particularly useful for individuals who need to travel in and out of Egypt for business or personal reasons multiple times. The validity period of a multiple-entry visa varies depending on the type of visa, but it can range from three months to one year.
Requirements and documents to get your Egypt eVisa
Before you apply for your eVisa, it's important to know which documents are required. Don't worry; we're here to guide you through the whole process.
To apply for the Egypt online visa, the only necessary document is a passport from an eligible country.

The passport must be valid for a minimum of 6 months beyond the traveler's arrival date in Egypt.

Applicants must provide their passport information on the visa application form and upload a copy of the passport's photo page.

Citizens of France, Portugal, Belgium, Germany, and Italy may use a national ID instead of a passport to apply for the visa.

To complete the online visa application process, you will need a debit or credit card for payment.
When arriving in Egypt, travelers must present the following documents to government officials:
A valid passport with at least six months of validity beyond the arrival date

A printed copy of your e-Visa

A travel itinerary

A supporting letter, such as a letter from a company for a business visit or an invitation letter from a family member for a family visit

Hotel bookings or information about places they plan to visit if traveling as a tourist
It is important to note that having a visa does not automatically guarantee entry into the country. You'll still need to provide a reason for your trip upon arrival, and failure to do so may result in a denial of entry by Egyptian government officials.
How can I apply for an Egypt eVisa online?
If you want to get an Egyptian eVisa, you have two options: You can apply for it through the government website or use our guided visa services.
We offer a more streamlined and convenient visa application process for travelers. To apply for an Egypt eVisa with us, travelers only need to complete three simple steps and in 15 minutes or less:
Step 1: Fill out the online application form with personal details and select the processing time that best suits their needs.
Step 2: Double-check the information provided to ensure accuracy, and then proceed to pay the fee using a credit or debit card.
Step 3: Upload the necessary documents, such as a copy of the passport information page, and wait for the eVisa to be processed, and you will get your approved visa delivered via email.
Visa fees and processing times of the Egypt eVisa
Visa costs and processing times for Egypt will depend on the type of visa you choose and how quickly you want to receive it. Here are the details:
Single-entry visa:
Standard Processing: USD USD $86.99 for 6 Business Days

Rush Processing: USD $137.99 for 4 Business Days

Super Rush Processing: USD $199.99 for 3 Business Days
A government visa fee of USD $25.00 is included in our prices.
Multiple-entry visa:
Standard Processing: USD $93.99 for 6 Business Days

Rush Processing: USD $118.99 for 4 Business Days

Super Rush Processing: USD $146.99 for 3 Business Days
A government visa fee of USD $60.00 is included in our prices.
By paying for our services, you can avoid the stress and hassle of lengthy visa applications. Our three-step process is designed to make everything fast and easy, and our system is secure to protect your personal information.
In addition to this, you also get the following benefits from our services:
Your application form will be completed accurately Our experts will ensure that each of your answers is 100% compatible with the requirements of the Egyption government.

You will save time: We allow you to complete your visa application at your own pace since your progress is saved along the way. You can make the necessary changes whenever you are ready.

You will have a simplified form:, Unlike the government's website, we provide straightforward, easy-to-understand questions. We don't recommend using external links to other websites.
Fun fact: Our application forms are 50% shorter than the average government form.
Do I need an Egypt e Visa if I'm transiting through Egypt?
No! If you are transiting through Egypt and you will stay inside the airport transit area, you do not need an Egypt e-Visa. However, if you plan to leave the airport transit area or if your layover is longer than 6 hours, you will need an Egypt e-Visa.
COVID-19 requirements or restrictions in Egypt
Egypt lifted all COVID-19 restrictions and no longer requires travelers entering the country to provide proof of vaccination or a negative PCR test. However, it's important to note that travel policies can change quickly. Therefore, it's advisable to check the Egyptian CDC site regularly for up-to-date information before you begin your trip.
How to renew or extend the Egypt eVisa
You must apply for the extension of your Egypt visa in person at the relevant immigration office in Cairo if you want to stay longer than allowed.
Please note that an online extension of the Egyptian visa isn't possible.
While you can apply for it in any major Egyptian city, most people do so at the Passport and Immigration Office. To avoid long queues, you should arrive early (at least one hour before opening time) at the office, which is open from 8:00 am to 3:30 pm. You must also extend your Egyptian visa before it expires so that you don't violate immigration laws, which can result in fines or a lifetime entry restriction.
Can I get a Visa on Arrival in Egypt?
Travelers to Egypt have the option of obtaining a visa on arrival. However, it is recommended that travelers obtain a visa before their trip to avoid the uncertainty of being able to obtain one upon arrival.
Applying for an Egypt e-Visa in advance ensures that travelers have all the necessary documents and can avoid long lines at the airport. By having an e-Visa before arrival, travelers can also bypass the need to complete visa paperwork at the airport, making their arrival smoother and less stressful.
What else should I know about Egypt before I visit?
Egypt is a land of ancient civilization, culture, and history. With a rich history that spans over 5,000 years, it's no wonder that Egypt is a top tourist destination. From the iconic pyramids to the Nile River, Egypt is full of treasures to discover.
Explore the Pyramids of Giza: The Pyramids of Giza are the most iconic attraction in Egypt and are considered one of the seven wonders of the ancient world. These massive structures have stood the test of time and are a testament to the ingenuity and engineering skills of the ancient Egyptians.

Cruise down the Nile River: The Nile River is the lifeblood of Egypt and has been the main source of transportation and trade for centuries. Today, you can take a leisurely cruise down the river and see the country from a new perspective.

Visit the Egyptian Museum: The Egyptian Museum in Cairo is home to one of the world's largest collections of ancient Egyptian artifacts. From mummies to golden treasures, the museum is a must-visit for anyone interested in ancient history.

Snorkel or dive in the Red Sea: Egypt's Red Sea coast is a popular destination for snorkeling and diving enthusiasts. The crystal-clear waters are home to an abundance of marine life, including colorful fish, dolphins, and even sharks.
To learn more about Egypt in preparation for your trip, check out our Egypt Travel Guide for some travel tips.
Where can I contact iVisa?
If you have concerns about this application process, please contact our customer service team or write to us at [email protected]. Our experts will be happy to assist you anytime.
Required Documents to Apply
Passport Scan

Last Page of Passport (if applicable)
Important Instructions
The Egypt eVisa is an electronic travel document to enter Egypt for tourism or business purposes.

Egypt e-Visas are issued for a Single Entry or Multiple Entry to people whose nationalities require visas to enter the country. iVisa offers both of them.

Your Egypt e-Visa is valid for 90 days after issued. The maximum stay in Egypt is 30 days in Total.

If you exceed the duration stay on the e-Visa without holding a residency permit, you may be required to pay fines, be deported, or otherwise be forbidden from future travel to Egypt.

The Egypt e-Visa is not required for visitors from the US, the EU, or the UK who are traveling to (and remaining in) Sharm El Sheikh, Dahab, Nuweiba, and Taba. So long as their trip stays under 15 days they can travel visa-free.

Applicants must hold an ordinary passport valid for at least six months beyond their date of arrival in Egypt.

It is recommended that you have at least one blank page in your passport for an entry/exit stamp.

After the application has been submitted and approved, the traveler needs to print and carry at least one copy of the visa.

If you're traveling with children, you can include them in your visa application form. You do not need to get an additional Egypt tourist visa for them.

You will need to present your printed e-Visa to the immigration officer at the port of entry.

iVisa is a legitimate company and is accredited and recognized by the International Air Transport Association (IATA). For more information see the FAQs below.