Estonia is a charming mix of old and new. The historical art and architecture have found a way to coexist with the modern developments of Estonia. Planning a travel trip to this beautiful country? Look no further than iVisa.com's online application as we help you get to this rustic quaint country hassle-free and fast.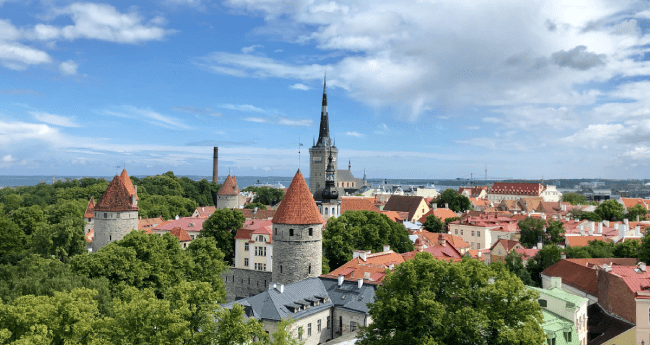 We've simplified the entire process for you! All you have to do is get the ETIAS authorization by checking out iVisa.com's ETIAS Application Form and keep reading the FAQs to learn how to fill it out.
Frequently Asked Questions (FAQs)
WHAT IS THE ETIAS AND DO I NEED IT TO ENTER THE EU OR JUST ESTONIA?
In light of the latest advancements in technology and safety policies, the Schengen Economic Area has introduced a visa waiver scheme which will necessitate non-Europeans to apply in advance to get a travel authorization.
The ETIAS just looks like a regular visa, only it is much easier and less time-consuming to receive. The European Travel and Information Authorisation System or ETIAS will be in effect from 2022 onwards. Citizens of Micronesia will need an ETIAS to visit Estonia. Continue reading, in order to understand how we have simplified this process for you via iVisa.com's ETIAS application form.
HOW DO I APPLY FOR THE ESTONIA ETIAS?
To double-check whether or not you are eligible to apply for the Estonia ETIAS, check out our Visa Checking Tool or visit the iVisa.com homepage.
Once you confirm that you are eligible and are in need of the ETIAS, read this simple guide that explains the 3 quick and simple steps to get going.
First, input your details into the application and pick the processing time you need (more on this below).
Second, confirm the details and use your credit/debit card or Paypal account to pay the required fees.
Third, upload your passport scan and photograph and hit submit.
WHAT ARE THE REQUIREMENTS FOR THE ESTONIA ETIAS?
The data required for the ETIAS is straightforward and is used to strengthen procedures while reducing the interim waiting period. The questions will be regarding your contact details, travel itinerary, and background information. Make sure you answer everything honestly, to avoid any red flags.
In addition to this, the only other necessities for the form are:
A valid passport - Take a clear scan of the same
A digital photograph - Try using iVisa.com Photos for the best effect
E-mail address - Provide one you use regularly for communication
Get ready to begin your online ETIAS application or keep scrolling to understand it better!
WHAT CAN I EXPECT TO HAVE TO PAY?
Here we have detailed some info to help you understand our 3 types of prices and processing times:
Type I: The "Standard" type of process gets you all the basic services for a basic waiting period and fee.
Type II: The "Rush" processing type gives you the opportunity to get the ETIAS quicker yet for a slightly higher price.
Type III: The "Super-Rush" process is priced the highest and is for those of you whose journey is going to begin very soon and you're in need of a fast-tracked process
If all your information is correct, your ETIAS should get approved within your chosen processing option time frame and will remain valid for a maximum of 3 years or until the end of the validity of your passport, whichever comes first.
Apply here and get to know Estonia ASAP!
HOW SAFE IS IT TO USE IVISA.com AND GET THE FORMS ONLINE?
The entire ETIAS system works online. Following that trend and adhering to strict legal and privacy procedures, iVisa.com has created the most advanced reliable systems that prioritize protecting your personal information, while making the process of filling out online applications extremely user-friendly.
See it for yourself, check out our client reviews!
HOW DO I GET MORE INFORMATION AS I NEED IT?
We are glad to help with any other queries you have. Contact us and we shall provide clarity about whatever you would like to understand better.
You could also check out iVisa.com's webpage for more info.
Apply now for your ETIAS form via iVisa.com. Estonia awaits!