If you're in search of a budget-friendly destination that's perfect for backpackers or just for a fun journey around Europe with not much money, Estonia is the way to go. And by being part of the Schengen visa-exempt program, citizens of Macedonia get to enjoy Estonia's magic.
Half of Estonia is forest, untouched and accessible lands of natural beauty for any visitor to enjoy. The country is also much less frequented by tourists, giving you the freedom to enjoy every corner of its islands, architecture, and traditions without feeling in a packed place.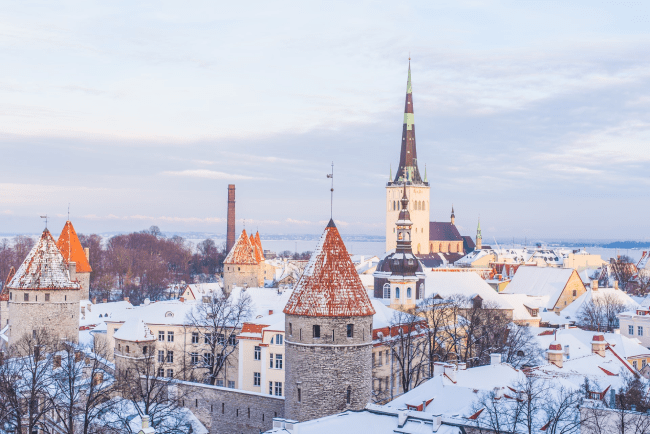 If walking along the colorful streets is not your kind of travel, you can go for the Viljandi suspension bridge or some water sports at the beach. The variety of activities matches tourists of all ages, budgets, and preferences of travel.
And although the citizens of Macedonia can currently travel easily to Estonia, their next step will be to follow the new Schengen guidelines. The Schengen members have created a travel authorization document called ETIAS, which will work as a pre-screening process for all incoming visitors. Only travelers from visa-exempt countries will be required to apply for an ETIAS upon arrival.
If you are planning on traveling to Estonia, you need every piece of information on how to get the Estonia ETIAS for citizens of Macedonia. The following FAQs will help you understand the ETIAS requirements better, and how iVisa.com can make the process quicker.
Frequently Asked Questions
Who needs an Estonia ETIAS, and what is it for?
Very soon, travelers that are currently entering the Schengen region without any visa will have to apply for an ETIAS before entering the member countries. It's needed for all of these travelers, regardless of their ages. It will serve as a pre-screening document for the Schengen authorities to verify that incoming visitors are not a threat to the Area.
Where can citizens of Macedonia travel to with an ETIAS?
Because the Estonia ETIAS document was created by the Schengen members, it is to be implemented for a visit to any of these Schengen countries only. Travelers that hold an ETIAS can enter all the Schengen states, indefinitely with the multiple entries option during the validity period of their document.
For how long can I travel with an ETIAS?
The basic specifications of an Estonian ETIAS authorization are that you can stay in any of the Schengen countries for no more than 90 days during a 180-day period. Additionally, to this time factor, the ETIAS is given validity to the traveler for a specific amount of time. This reasonable period can be only the length of the planned journey, or 3 years.
Which documents are needed to apply for an ETIAS?
The Estonia ETIAS application form does not require numerous documents; you only need the following to present your travel questionnaire:
Your current email address so iVisa.com can make sure you receive your ETIAS results when available.
Your biometric passport to include its information as part of the application questionnaire.
Method of payment can be your credit/debit card or PayPal account to make the online payment of the ETIAS fee.
Can citizens of Macedonia get the ETIAS results delivered faster?
The entire ETIAS application process is very specific and straightforward, but iVisa.com offers the option and flexibility of requesting a faster processing speed. This is very convenient if you must speed up all processes to obtain your documentation fast.
These are the fast options that iVisa.com offers:
Standard process option: is possibly the most convenient and affordable option but will require a longer waiting time.
Rush process option: can deliver your documents in less time than standard but still not exceptionally fast; it's slightly more expensive.
Super rush process option: means a higher price for service, but it will deliver your ETIAS results in no time.
How does the Estonia ETIAS application work for citizens of Macedonia?
The easiest way to get your ETIAS application form filled out and submitted is through the iVisa.com website. It's a straightforward process with which you can pick a faster option to receive your final documents.
You can get your application with iVisa.com service done following these steps:
First complete the online form with your details and pick the processing option that fits your needs and budget.
Continue by reviewing your information and ensuring that there are no grammatical errors. You must also make the online payment for the service.
The third step is for you to revise you have uploaded any documents requested, and submit the form.
After this, you have finished. You can only wait to receive the ETIAS results in the selected time.
Is the ETIAS application safe through iVisa.com?
Your entire ETIAS application is safely made through iVisa.com because of the security system that protects the site and the database. Each piece of data that the users put into the system while applying is safeguarded from any digital threats.
You can verify our premium service through our clients' reviews about the iVisa.com service.
Where can I read more details about the Estonia ETIAS?
To discover more information about the Estonia ETIAS process for citizens of Macedonia, you can browse through the iVisa.com website. You can also request a more personalized solution to get any answer available for your ETIAS questions by sending us a message at help@ivisa.com.