Estonia is an amazing country with plenty to offer. If you are planning to visit Estonia, then check out the new entry guidelines for international visitors.
Estonia is requesting a new electronic form for all non-EU visitors known as ETIAS. Countries that are exempt from needing a visa for the Schengen area, such as Trinidad and Tobago will have to comply with this new requirement and acquire the ETIAS before visiting Estonia.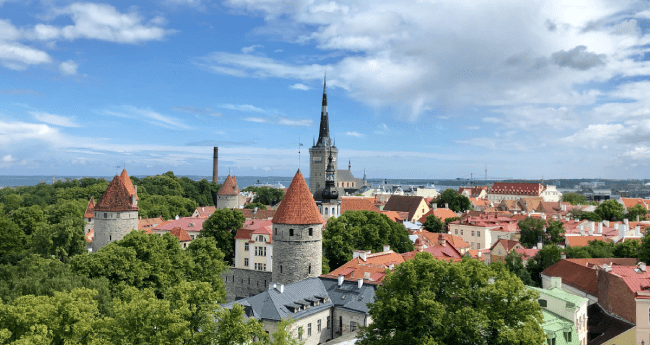 iVisa.com can support your ETIAS application on the iVisa.com platform. Try a simple, fast, and trustworthy service with iVisa.
Find out more about Estonia ETIAS with the next FAQs.
Frequently Asked Questions
WHAT DOES ETIAS MEAN?
ETIAS means European Travel Information and Authorization System. This is the new electronic system established by the European Union, which Estonia is part of. The ETIAS's purpose is security. EU immigration officials expect to collect information from travelers so they can detect passengers that could be considered dangerous to Europe. This will hopefully decrease crime rates and illegal immigration.
ETIAS is a 100% online application, start here.
ARE ETIAS DOCUMENTS AND VISAS THE SAME?
No, ETIAS and visas are not the same. Visas usually have a complicated route to obtain the document, interviews at the consulate, tons of paperwork, and long waiting periods. This is not comparable to ETIAS which only requires a WIFI connection to complete an electronic form and obtain the authorization document in record time.
An ETIAS will only be requested from citizens of visa-free countries, including Trinidad and Tobago. If you have another nationality that is among the countries that need a Schengen visa, then an ETIAS is not required.
Begin the Estonia ETIAS here.
IS ESTONIA ETIAS VALID FOR ALL OF EUROPE?
ETIAS is a valid document for the 26 countries in the Schengen zone. Not all countries in Europe are part of the Schengen agreement, so check carefully your itinerary to request the right travel documentation. Use the iVisa.com Visa Checker to confirm if you only need an ETIAS during your trip.
Citizens of Trinidad and Tobago need an ETIAS to visit Estonia and the 26 countries in the Schengen zone.
Do you have some questions about this? Get the support team to help you here.
HOW LONG IS THE ETIAS VALID FOR?
The ETIAS authorization document is valid for up to 3 consecutive years. During the stay in the Schengen countries, an Estonia ETIAS for citizens of Trinidad and Tobago is valid for 90 days within a 6-month period. Remember you can travel in and out as many times you want but must comply with these parameters.
Estonia is waiting for you, start applying here!
WHAT INFORMATION DO I NEED TO PROVIDE FOR ETIAS?
Complete the online form with personal information like name, nationality, birthplace, address, phone number, among others. As well, expect to answer questions about health conditions, past trips to risky countries, criminal background, and previous deportations, if applicable.
Check on the next items for your Estonia ETIAS for citizens of Trinidad and Tobago too:
The scan of your passport.
A valid email address, to receive the ETIAS safely.
Payment options, iVisa.com provides two payment options, whether you pay with a Paypal account or use a credit/debit card.
WHICH ARE THE PROCESSING TIMES?
iVisa.com brings you three alternatives:
Standard service, the most common service among regular customers.
Rush service, a faster requirement for a fair price.
Super rush service, your document as soon as possible for the highest fee.
WHICH ARE THE STEPS FOR THE ETIAS?
You only need to complete the next 3 steps to get your Estonia ETIAS for citizens of Trinidad and Tobago:
First, respond to the questions in the electronic form and select a processing time (Standard, Rush, or Super Rush).
Second, check the information and choose to pay between a credit/debit card or Paypal.
Third, attach the scan of your passport.
If you have any questions, reach out to our support agents by clicking here.
WHAT WILL I GET IN MY EMAIL?
After applying, iVisa.com will send the Estonia ETIAS for citizens of Trinidad and Tobago document to your email address. We recommend printing it or saving it in an electronic device so it's easy to show to the immigration officers upon arrival.
HOW SAFE IS ETIAS WITH IVISA.com?
iVisa.com is incredibly safe not only with ETIAS but with any travel document in the iVisa.com platform. Previous clients are happy to share their comments about iVisa.com's services and the great experiences they had.
I HAVE SOME QUESTIONS, WHO CAN I CONTACT?
Communicate with the customer service team here that is available 24/7. They can answer questions about the Estonia ETIAS for citizens of Trinidad and Tobago or any other documents you might need.
You can also write to help@ivisa.com, we are here to help you.
Apply now and travel to Estonia soon!