Do you want to travel to Estonia very soon? If the answer is yes, then you'll be pleased to know that this nation will soon launch an easy-to-get travel document that will allow you to enter without problems. This requirement is known as the Estonia ETIAS, and it authorizes you to travel within the country by simply showing it on arrival at the International airport. In case you need to learn more about the Estonia ETIAS for the citizens of Seychelles, then we invite you to read this article.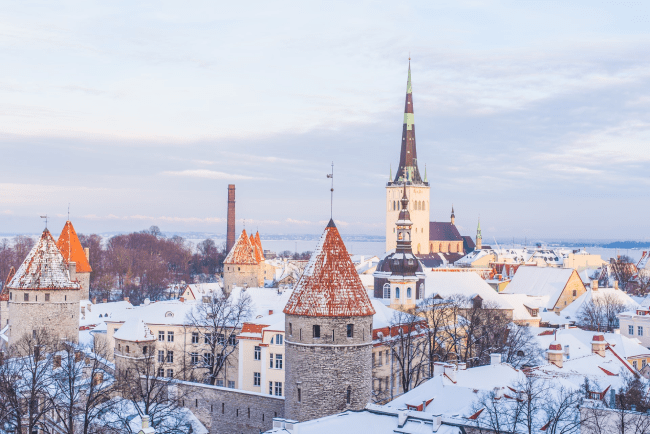 You should also consider the documents required and the processing alternatives. You'll be able to read this information in the FAQs below, especially because they'll be part of iVisa.com's online form, an effortless option created to simplify the ETIAS application process.
If you want to get your ETIAS quickly and safely, then iVisa.com is your best option. By filling in its form, you'll soon be ready to take the next plane to Estonia and enjoy its beauty.
Frequently Asked Questions
WHAT IS AN ESTONIA ETIAS?
ETIAS stands for European Travel Information and Authorization System, an electronic platform that offers you a document that works as a travel authorization to visit countries in the Schengen zone. This travel authorization was launched to allow the Estonia authorities to keep track of the visitors who don't need a visa. It works quite similarly to the American ESTA because you can obtain it through an online form.
This document permits you to enter Estonia for business, leisure, medical and transit purposes, but only if you don't exceed the 90-day period within 180 days.
HOW DO I KNOW IF I CAN APPLY FOR THE ESTONIA ETIAS?
If you want to know if you can apply for an Estonia ETIAS for citizens of Seychelles, you simply use iVisa.com's Visa Checker Tool here.
This tool isn't difficult to use, you'll see it once you enter iVisa.com's website. To use it, just select "Seychelles" as your country of origin and "Estonia" as the destination country. After that, you'll be able to check if you can apply for the ETIAS or if you need other documents to travel to this place.
WHAT DOCUMENTS DO I NEED TO APPLY?
The process might be electronic, but you still need to present some documents to get the Estonia ETIAS for citizens of Seychelles. Now, we cannot yet give you the exact list of everything required, but you can get an idea by reading the following list:
Valid Passport, with a visible scanned-copy of the information page.
Your email address to obtain the Estonia ETIAS
Payment options to pay for this service. You're free to choose a Paypal account or a debit/credit card.
WHAT DOES THE ETIAS APPLICATION NEED?
Applying for the Estonia ETIAS for citizens of Seychelles is painless. Just the information about your biometric information, for instance, your first name, last name, and date of birth. Join information about your citizenship, contact nuances, and other key information. Also, remember to uncover specific information, for instance, criminal records or sicknesses.
WHAT ARE THE PROCESSING TIMES AND PRICES FOR THE ETIAS?
This document is quite new, which is why we cannot offer you information related to the price. However, we can give you general information about iVisa.com's processing alternatives so you can be ready when the Estonia ETIAS for citizens of Seychelles is launched:
Standard Processing Time: This is the least expensive option and also the preferred option for those who are not in a rush because you wait only a few days and from there you can get your document easily.
Rush Processing Time: With this alternative, you can receive your ETIAS faster, but only if you agree to pay a higher amount than before.
Super Rush Processing Time: This option is the most expensive of the three, but that's because the ETIAS is ready to use in less time than the previous options.
HOW CAN I GET MY ESTONIA ETIAS?
You can also apply for your Estonia ETIAS for citizens of Seychelles on the official government site, but it may be more time-consuming since you'll need to answer long questions about your personal details. But, with iVisa.com, you won't need to stress about that because you'll just have to complete this 3-step method:
First, answer the questions in the online application form and select the processing time you prefer.
Second, check all the information you offered at the beginning of the process and use your credit/debit card or your Paypal account to pay for iVisa.com's service.
Third, upload the requirements needed according to your nationality and send the application form.
Once you're ready with this process, you'll receive your ETIAS depending on the processing time you elected.
Begin your online form here.
HOW LONG DOES IT TAKE TO APPLY FOR THE ESTONIA ETIAS?
What's good about iVisa.com's service is that you'll only need 20 minutes to complete the request form for the Estonia ETIAS for citizens of Seychelles. While completing it, you can enjoy a nice cup of your favorite drink because it'll be faster than you can imagine!
WHAT SHOULD I DO IF I TRAVEL WITH MY CHILDREN?
Don't worry if you're planning to visit Estonia with your kids, in that case, they'll also need an Estonia ETIAS for citizens of Seychelles. We recommend you contact our agents to receive additional details.
DO I NEED THIS DOCUMENT IF I'M JUST PASSING THROUGH ESTONIA?
Even if you need to travel to Estonia to complete a stopover, you still need to apply for the Estonia ETIAS for citizens of Seychelles to pass through the country. Otherwise, you could get into trouble and risk losing your connecting flight.
IS IT SAFE TO USE IVISA.com TO GET MY ETIAS?
Totally! iVisa.com has a modern and reliable system with advanced technology that keeps your information safe and prevents unauthorized access to it. You can relax when you enter your information on this website.
I HAVE MORE UNRESOLVED QUESTIONS, WHERE CAN I FIND MORE INFO?
You can contact our work team via chat if you still have questions or doubts about this online process. You can also receive more information by checking iVisa.com's webpage, including other useful FAQs.
Get ready for your journey with no pressure and travel in the most comfortable way possible by applying for your Estonia ETIAS for citizens of Seychelles here in a few minutes!