The hidden gem of Estonia holds an intriguing history, captivating architecture, and some of the best-preserved natural areas. You can go for a different experience of travel such as bog-walking or even try night-canoeing while admiring the local wildlife.
Compared to other European and Scandinavian destinations, Estonia is an affordable place to visit and stay in. And with over 1000 islands, it's the perfect destination for anyone in search of a variety of white sandy beaches right next to Nordic and medieval history attractions.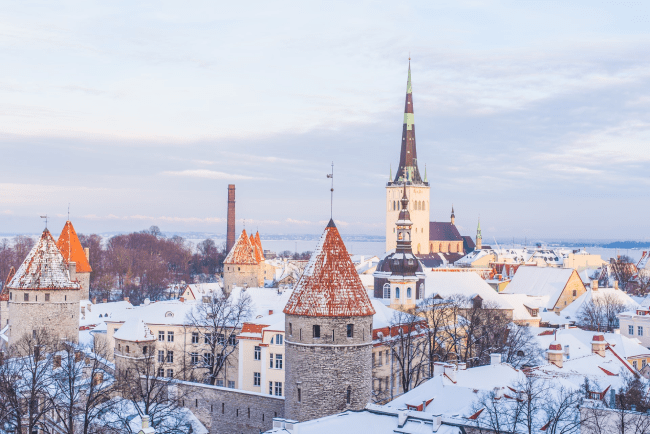 With time, its culture has changed and adapted to the arrival of German, Swedish, and Russian citizens, which makes it a very diverse yet inclusive destination. So you'll get to experience the traditional and modern lifestyle of the locals.
And these are only a few things that citizens from New Zealand get to enjoy with their Schengen visa-free advantages. But soon, travelers arriving at the Schengen region from a visa-exempt country will require an ETIAS authorization pass.
The ETIAS is a government process that will pre-screen incoming visitors to ensure that they're in no way a threat to the state members. It will be required for those traveling for short periods, and yet be more manageable than applying for a visa.
Do you want to know more information about the Estonia ETIAS for citizens of New Zealand? Keep reading our FAQs about the topic and discover how iVisa.com can make your application easier.
Frequently Asked Questions
What is the Estonia ETIAS?
The Estonia ETIAS is a new travel authorization document created for the Schengen region's protection. It will work as pre-screening documentation of all incoming travelers who currently do not require any kind of visa to enter Schengen states. The ETIAS application is a simple step every visitor will need to go through before boarding their flights to the old continent.
Do all travelers need an ETIAS to enter Estonia?
Every traveler that wants to enter Estonia and other Schengen states will need to request an ETIAS before departing. But this is only for visitors traveling from countries that are currently visa-exempt to enter the Schengen region. The document will allow you to enter any Schengen state freely and with a multiple entries option while the ETIAS is valid.
For how long is an ETIAS valid for citizens of New Zealand?
The final ETIAS validity is subject to the information you provide on your ETIAS application form. Once you submit the questionnaire, the data is reviewed by international immigration databases, and then you are notified of the results. The application results include an ETIAS validity for the traveler, which can be for no more than the programmed time of travels or for a total of 3 years. During this time, the travelers can only stay up to 90 days in every 180 days.
What should I know before applying for the ETIAS?
When requesting your Estonia ETIAS for citizens of New Zealand, you must ensure that the information you provide is complete and has no typing errors in digits or letters to avoid any rejection. Additionally, there are three key details you need to have to complete your application form are:
A valid email address to receive the final results of the ETIAS and any additional documentation.
Your passport which will be used to fill out the application form.
Debit/credit card or PayPal account to make the online payment of the ETIAS fee.
What are the processing times for the Estonia ETIAS?
There are no official details on the processing speeds of your documents or the price of the ETIAS. The iVisa.com services do, however, offer faster ways to get your Estonia ETIAS application submitted and deliver the results.
These are the 3 processing options iVisa.com has for its users:
Standard processing alternative: to get your results delivered at a regular speed for an affordable price.
Rush processing alternative: will process your application faster and send your ETIAS results in less time but as a more expensive option.
Super rush processing alternative: is the fastest processing option to deliver your results, which means it costs more than the previous options.
How can citizens of New Zealand apply for the Estonia ETIAS?
Although you can obtain the Estonia ETIAS though the official website, it may seem to be a bit of a tedious process. To make your process easier you can apply with the iVisa.com website. Its services also include choosing a faster processing option so that you receive the ETIAS results in less time.
The steps to applying for the Estonia ETIAS for citizens of New Zealand with iVisa.com are:
Start by completing the digital questionnaire with personal information, and select a processing option that you prefer.
Then review the details you just presented and verify that it's correct. The following task is to pay the online fee.
Finally, upload any document requested at the beginning of the application and send the form.
Is it safe to apply for ETIAS through the iVisa.com website?
The iVisa.com platform is designed with a reliable security system that keeps your information safe throughout the ETIAS application process. The details put into the website are protected from digital threats, and the databases are also secure.
Find more details about our services and website security on our clients' reviews here.
Where can I get more information about the Estonia ETIAS?
If you need help while surfing through the iVisa.com webpage or want guidance on how to find information about Estonia ETIAS for citizens of New Zealand, you can send us a message or call our customer service team.
Start researching Estonia as a destination and find everything you need to know about ETIAS to plan your trip.